See Yves Klein's Experimental Art Take Over the Palatial Blenheim Estate
Paintings and sculptures rendered in Klein's signature blue stand alongside Old Masters, 18th-century baroque stylings
There's an obvious dissonance between Yves Klein's ethereal ultramarine artworks and the baroque setting of England's Blenheim Palace, a sumptuous 18th-century country house built for military commander John Churchill, 1st Duke of Marlborough, following his 1704 victory at the Battle of Blenheim. (It's also where British Prime Minister Winston Churchill, a descendant of the duke, was born in 1874.) Blenheim is the kind of place where one expects to see a traditional art collection, not the experimental art of Klein, a 20th-century French painter and sculptor who once philosophized that blue was "beyond dimensions."
Yet more than 50 of Klein's works, most of which are rendered in his officially trademarked International Klein Blue (IKB) pigment, are currently spread throughout the palace. The contemporary-meets-baroque affair is thanks to the Blenheim Art Foundation, a non-profit launched by Lord Edward Spencer-Churchill that has showcased an art exhibition in the palatial estate every year since 2014.
According to the Guardian's Maev Kennedy, Klein is the fifth contemporary artist to be featured at Blenheim, and his retrospective, entitled Yves Klein at Blenheim Palace, brings together paintings, sculptures and large-scale installations, most of which are draped in blue—the color that the artist viewed as bridging the gap between reality and the sublime.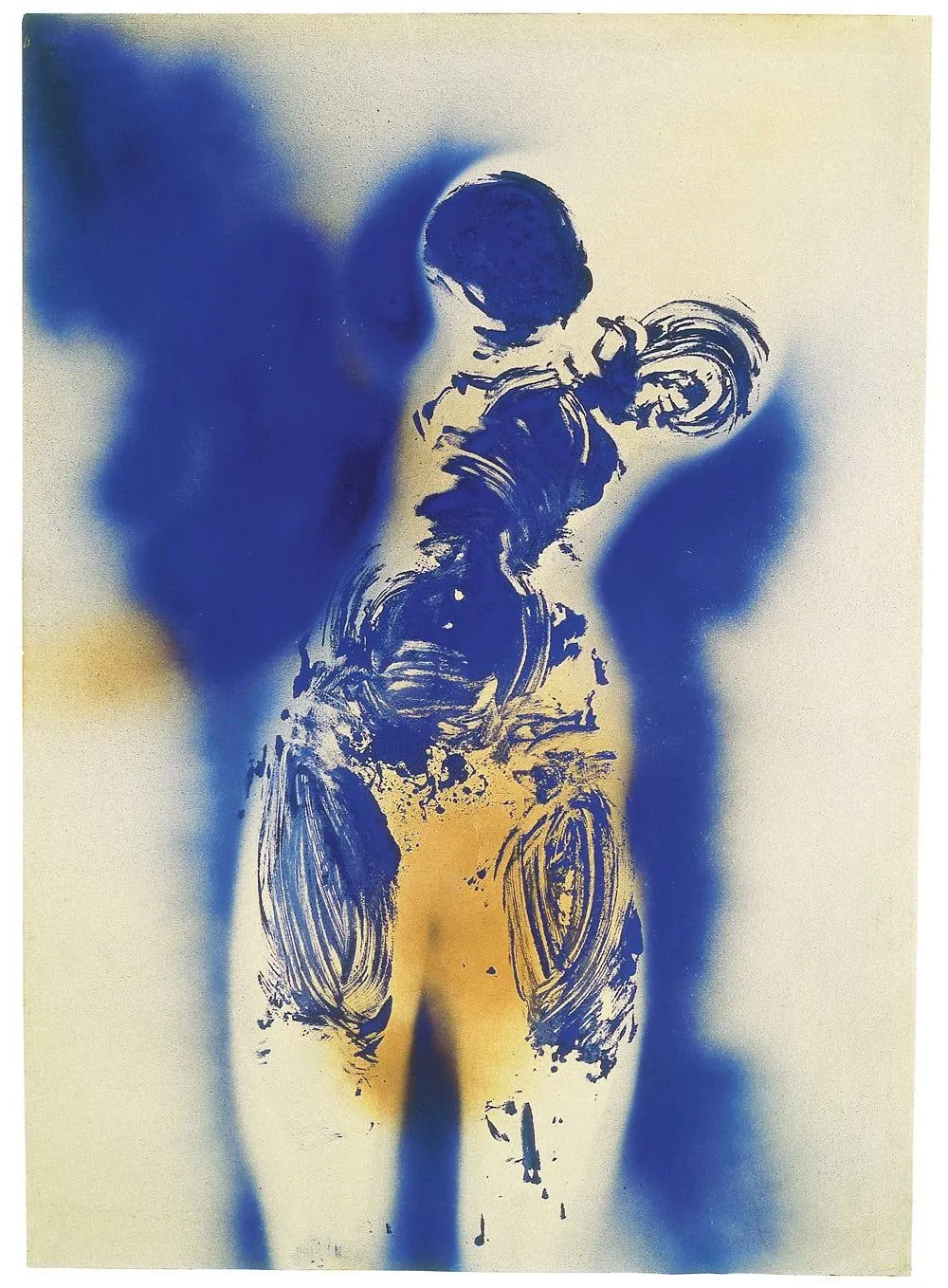 Exhibition highlights include an "Anthropometry" painting that evinces sexuality through its IKB-covered curves, a pool-like "Pure Pigment" installation that covers the floor of the palace's Great Hall and several of Klein's signature "Monochrome Paintings." Also on display are a series of sculptures inspired by Ancient Greek classics such as "Venus de Milo"—unlike the original white marble statues, Klein's are, like most of his work, covered in shades of blue.
Daniel Moquay, head of the Yves Klein Estate, tells Architectural Digest's Tom Morris that the show, which marks the 90 anniversary of Klein's birth, "respect[s] the artist and the spirit of his work while being something of an adventure."
This description is perhaps an understatement, as Klein's art feels decidedly out-of-place at Blenheim. His "Anthropometry" painting hangs beside John Singer Sargent's portraits of high-society Americans, while a 1960 abstract work entitled "Jonathan Swift" adorns the luscious red walls of a drawing room otherwise dominated by stately portraits.
"The works will be in a very different setting to a traditional museum, which will make people look at the work in a different way," Blenheim Art Foundation director Michael Frahm explains to Morris. "Some people that walk in will know who Yves Klein is, others will have no idea and will probably stop and wonder, 'What is this blue painting doing in the middle of a 300-year-old palace?'"
The estate has previously challenged visitors' expectations by welcoming exhibitions by major living artists Ai Weiwei, Jenny Holzer, Michelangelo Pistoletto and Lawrence Weiner. Weiwei, who took over Blenheim back in 2014, juxtaposed works such as "Marble Surveillance Camera," a statement on China's political climate, and Han dynasty vases adorned with the Coca-Cola logo against the palace's collection of Old Master paintings. Comparatively, Pistoletto's 2016 show placed incongruous installations like "Venus of the Rags" and other examples of arte povera, literally translated as "poor art," amidst the rich setting of Blenheim.
"I don't like the way stately homes are sometimes frozen at 'Downton Abbey' time...," Spencer-Churchill of the Blenheim Art Foundation told the Art Newspaper's Cristina Ruiz in 2014. "I love the juxtaposition of the old and the new. Contemporary art is too often presented only in a white cube, and putting it in a historic setting makes it more interesting for the artist and much more interesting for the viewer."
Yves Klein at Blenheim Palace is on view at the Blenheim Palace in Oxfordshire, England, through October 7. Tickets cost £27.50.