Artist Willard Wigan is famous for his recreations of famous paintings like the Mona Lisa and The Last Supper, as well his depictions of famous figures like William Shakespeare and Robin Hood.
But in order to view them, you'll need a microscope.
Wigan's new show, "Miniature Masterpieces," is currently on display at Wollaton Hall in Nottingham, England. The free exhibition features 20 tiny sculptures, each of which sits in the eye of a needle.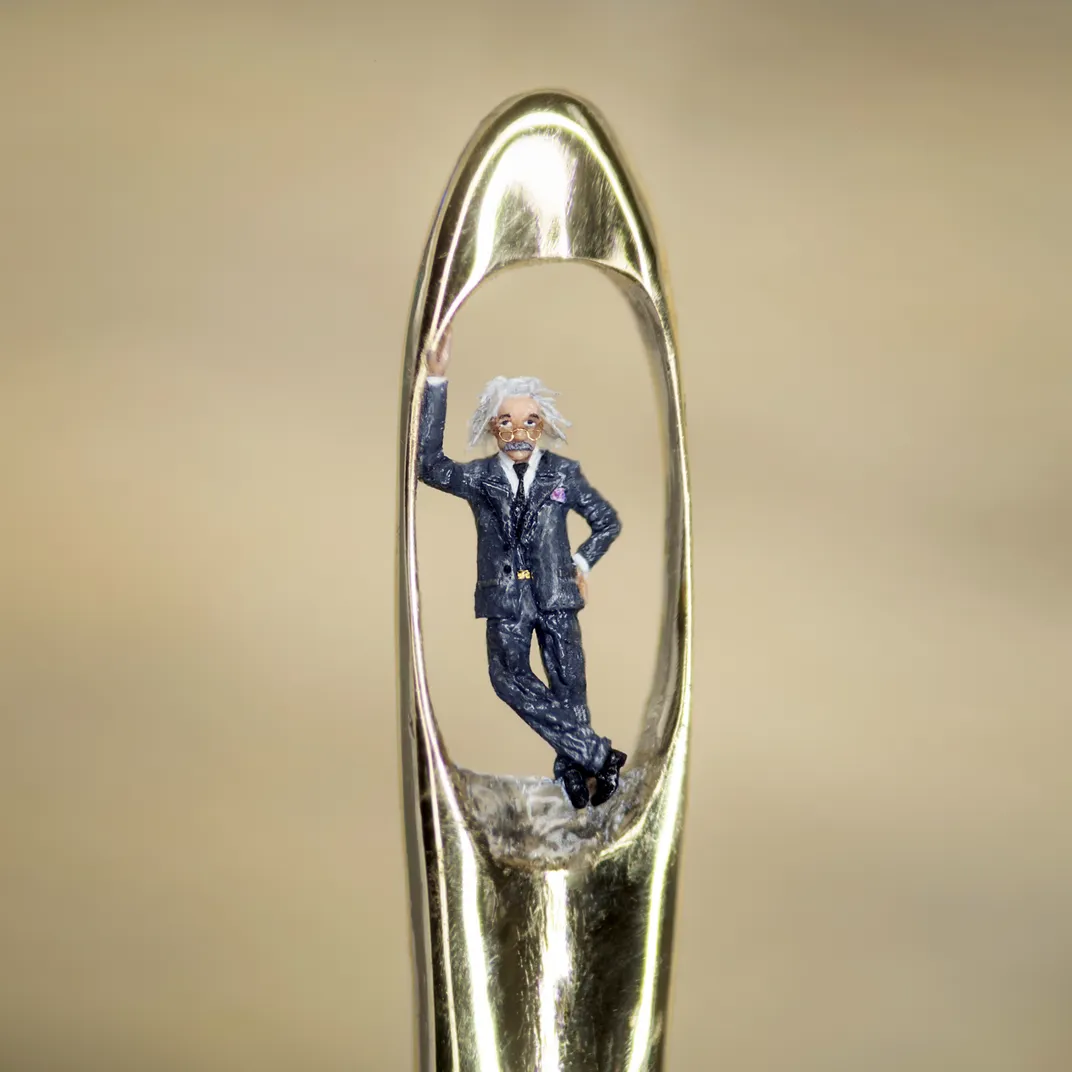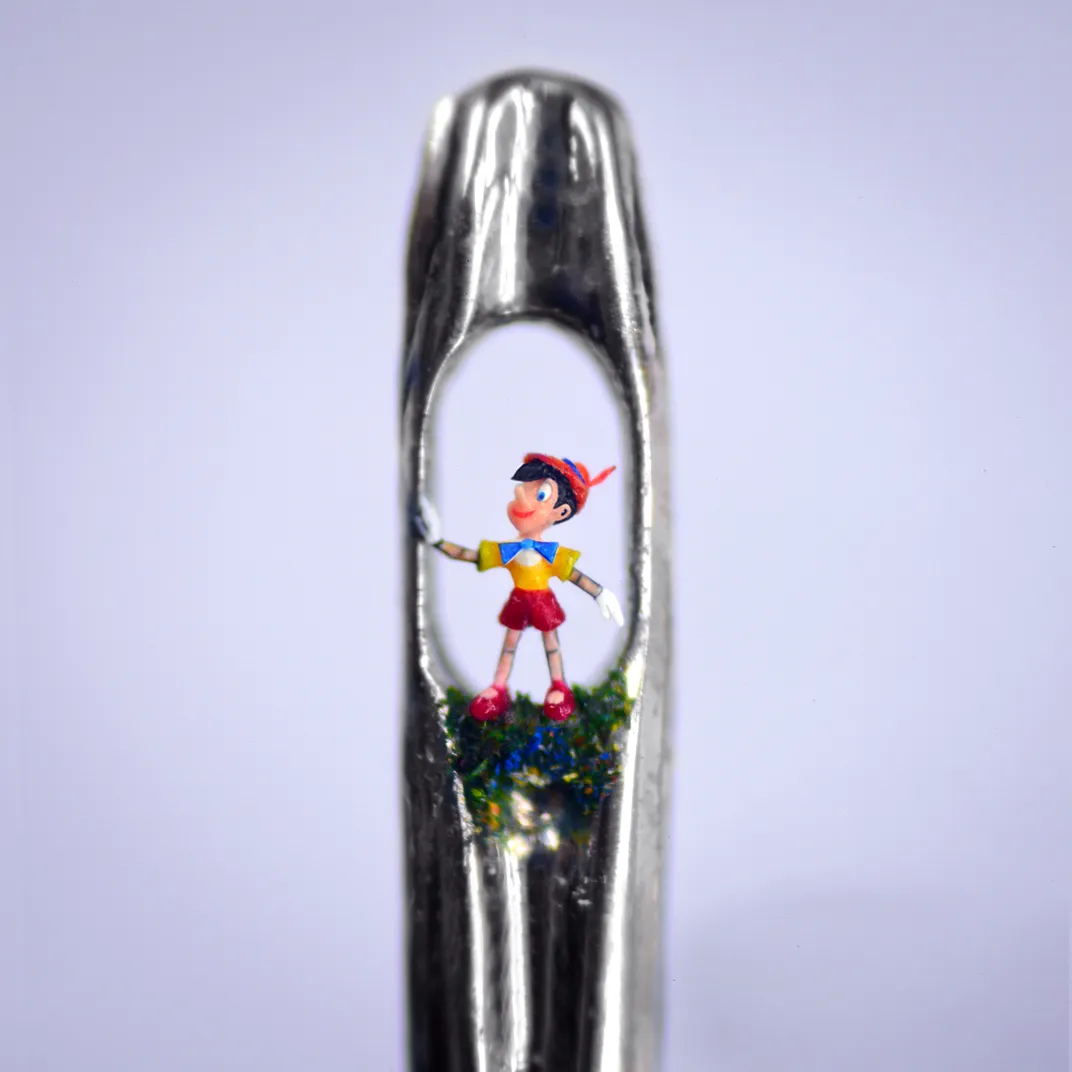 "This is more complicated than any microsurgery," Wigan tells Wired in a video interview. "I don't care what anybody says. You have to have a more stable hand than any surgeon to do this work."
Perhaps this sounds like an exaggeration, but careless mistakes can put an end to weeks of progress. Once, after finishing a sculpture depicting a scene from Alice in Wonderland, Wigan's phone rang.
"I went, 'Who's that?' And as I breathed in, I inhaled Alice," he tells Wired. "Gone. Somewhere in my cavities."
Before beginning work, Wigan does breathing exercises. He uses a microscope to better see the material he's handling, and he only works between heartbeats; the pulse in his fingers is big enough to cause problems. He uses his own unique tools, sometimes MacGyvering hypodermic needles or diamond shards so he can work on sculptures at such a small scale.
"I don't actually enjoy making them. I just enjoy when I finish them because they stress me out," Wigan tells CNN's Amarachi Orie. "But once they're made, the glory is when other people see it. When you see people with disbelief on their face, not being able to kind of explain what they're seeing, that gives me so much pleasure."
Wigan holds the record for the smallest hand-made sculpture ever created: a human embryo made from a fiber off of Wigan's carpet, according to Guinness World Records. It fit inside a hollowed out strand of the artists' hair. He's also personally gifted a tiny British crown to the late Elizabeth II.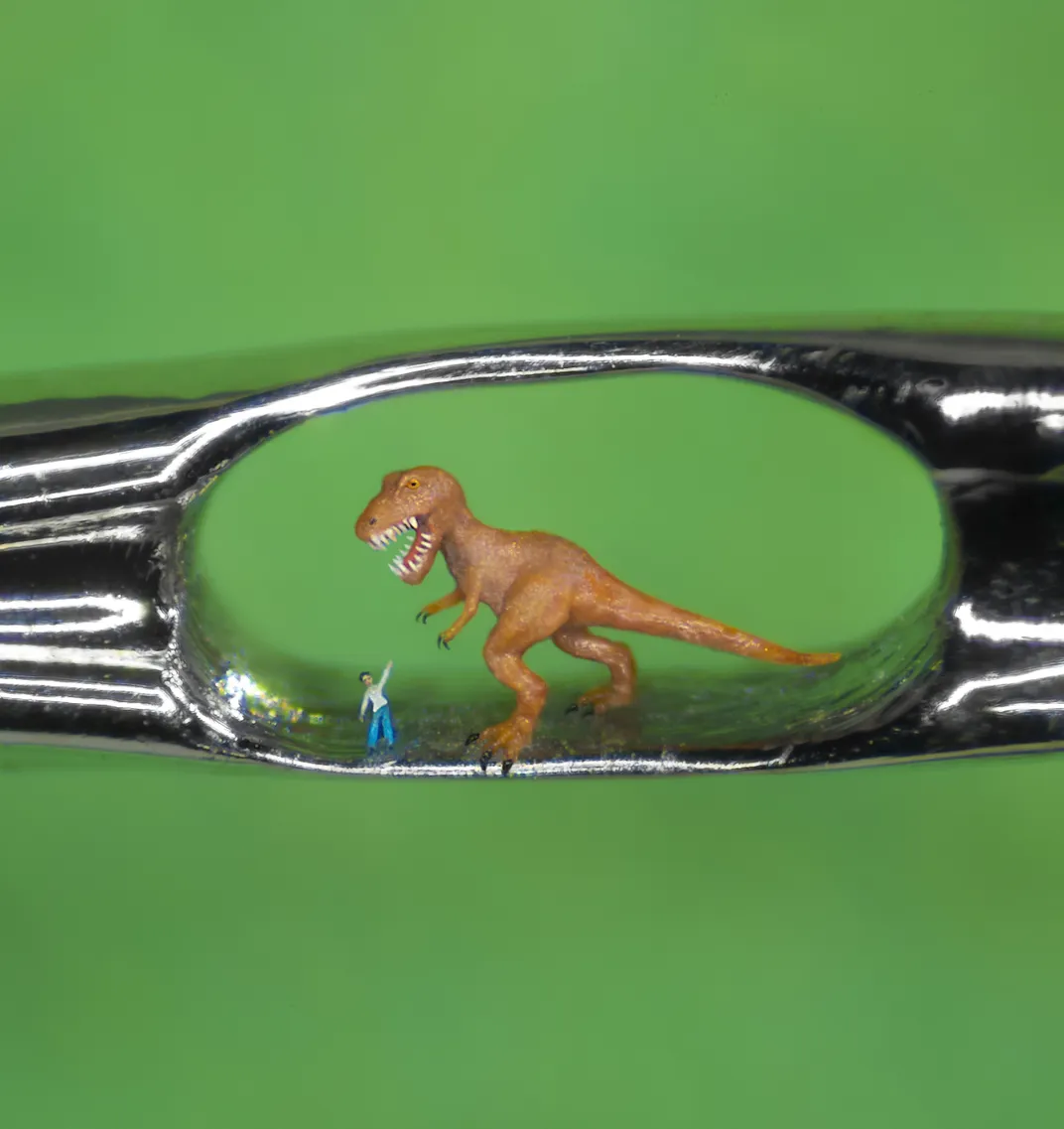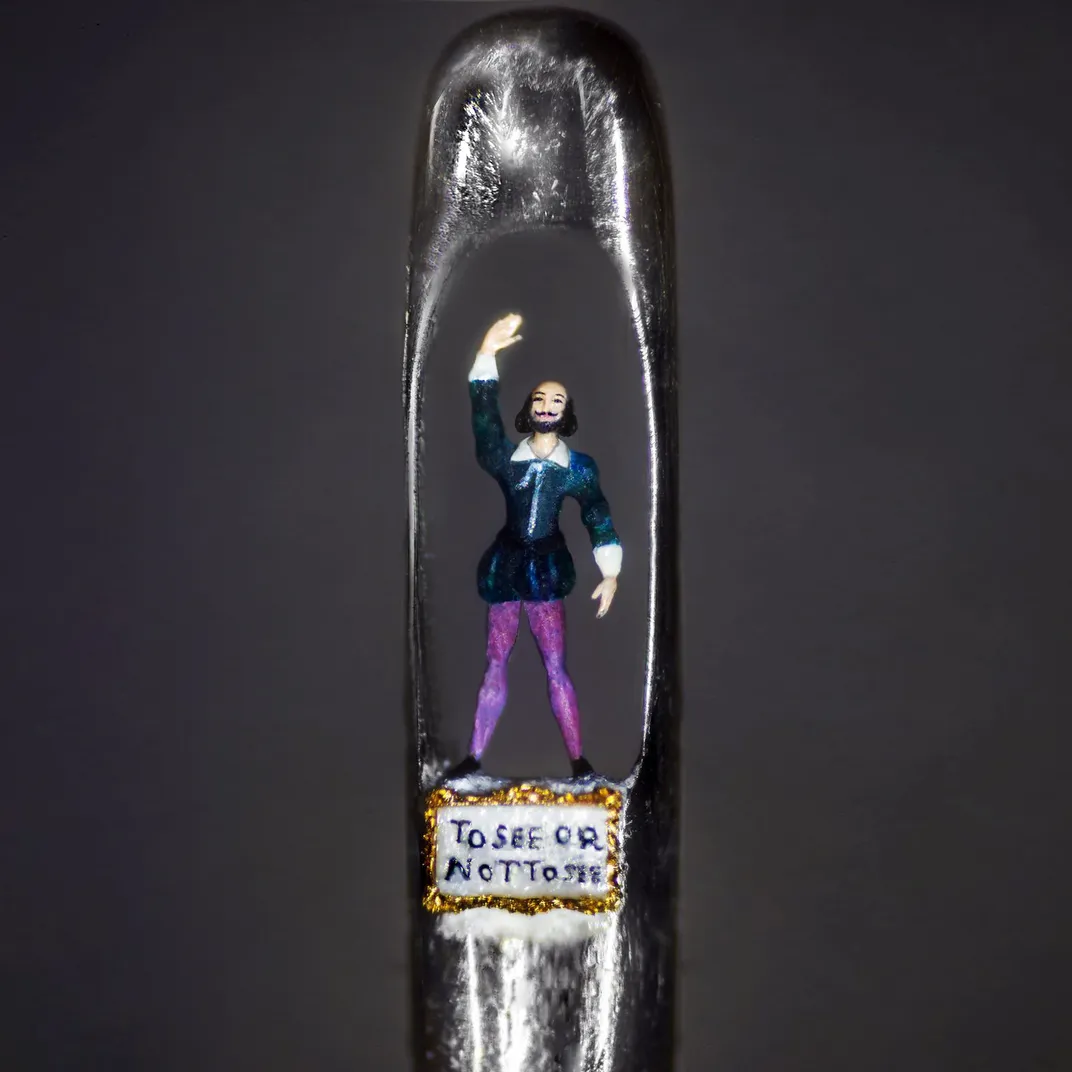 Four of the sculptures in "Miniature Masterpieces" are new works that are part of Wigan's Disappearing World collection, which is meant to highlight the threats facing biodiversity and encourage environmentalism. One piece depicts a tiny Tyrannosaurus rex—a complement to the real fossilized T. rex the museum displayed a few years ago.
As a child, Wigan struggled with reading and writing, which he later realized was related to his undiagnosed autism and dyslexia. Making miniscule sculptures became a refuge. When Wigan's mother saw his works, she encouraged him to make them tinier and tinier. Per the artist's blog, before her death in 1995 she told him, "The smaller you make things, the bigger your name will become."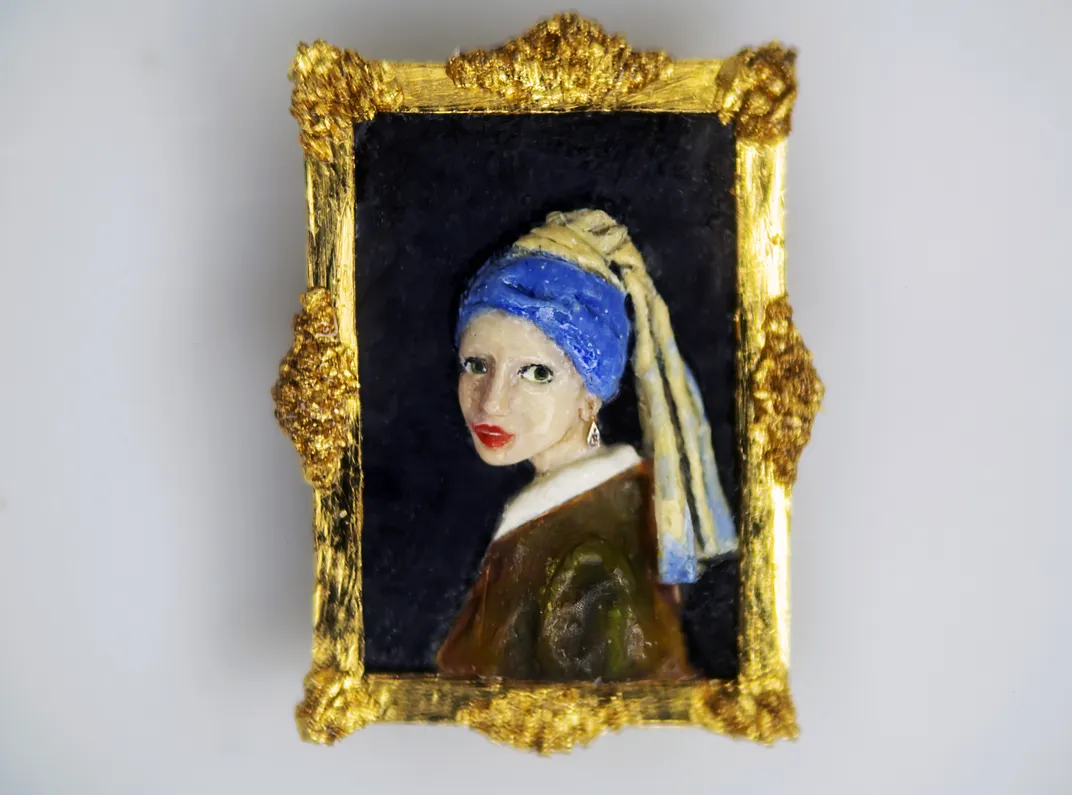 Wigan's art celebrates the ability to see the world from new perspectives. Via an outreach program, he will be showing off Disappearing World at local Nottingham schools to spread the ideas behind his art.
"These micro-sized sculptures convey a much bigger message," Wigan writes on his website, Small Things Matter. "An artful reminder our world is disappearing, and we need to make changes."
"Miniature Masterpieces" will be on view at Wollaton Hall in Nottingham, England, through October.