Women's Soccer League Stunted by Low Pay Rates
While Thierry Henry is guaranteed to make $4.3 million in the MLS this year, a NWSL player will be lucky to make $30,000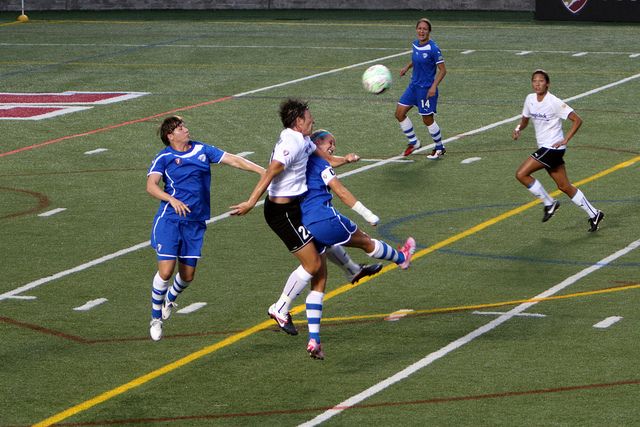 In just a few weeks, the National Women's Soccer League will kick off its second season. This is the third time the United States has tried to build a professional league for women since 1999. But soccer is a hard sell in this country, and women's soccer even more so. Those other two leagues never made it past season three.
Why don't these women's leagues stick around longer? According to Allison McCann over at FiveThirtyEight, one of the fatal faults is how much the athletes get paid. While Thierry Henry is guaranteed to make $4.3 million in the MLS this year, a NWSL player will be lucky to make $30,000. Some of them will only make $6,000. McCann writes:
To keep the league afloat, it is paying preposterously low salaries. And who can afford to play professional soccer for $6,000 per year? Mostly women in college or only a few years out, as well as those with minimal national-team-level experience. And though this modest budget has helped the league's bottom line, it has made it more difficult to attract high-level players — well, high-level players who are not members of the U.S. national team.
The NWSL teams are still making final cuts to their rosters, and McCann took a close look at the experience of the 228 women still in the running for those spots. Unsurprisingly, the league is dominated by young players just out of college, and McCann argues that it's because these are the women who are still willing to pursue an extremely low-paying dream. "For most players, and people in general, there are only so many years you can do the thing you love on a $15,000 annual salary before you have to move on," she writes. And inexperienced players simply won't play as well—you need veteran stars to get people in the stands and play the sort of soccer that fans will pay good money to see.