Is Winter Storm Stella a "Weather Bomb"?
The storm battering the northeastern U.S. is expected to undergo "bombogenesis." Just what does that mean?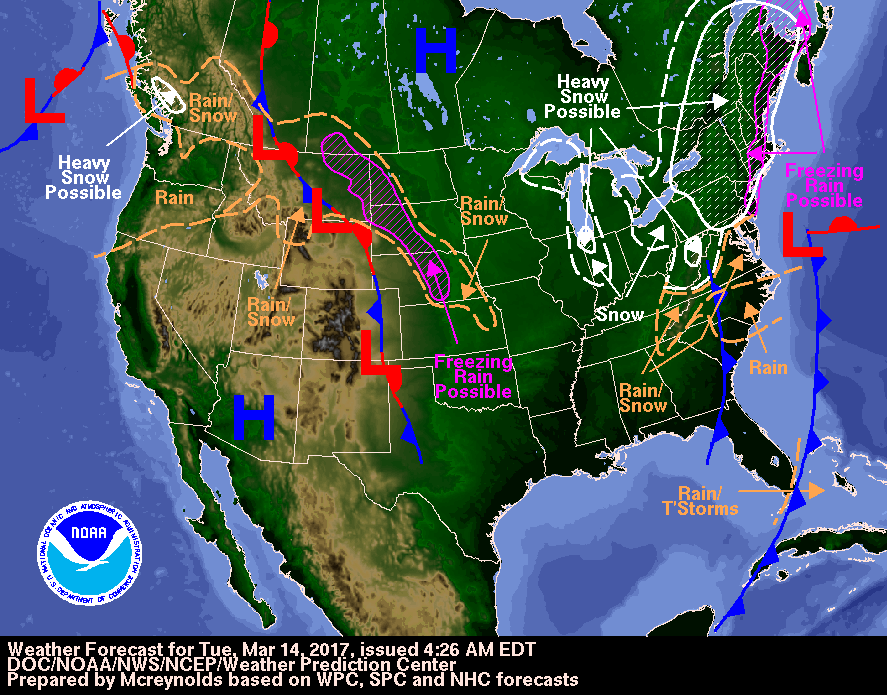 As Winter Storm Stella continues walloping the northeast U.S. today, meteorologists and the media keep referring to the storm as a "weather bomb." Though the term doesn't sound very technical, it turns out a weather bomb is an actual meteorological event, and Stella is expected to reach "bomb" status by this evening.
According to Brian Donegan at Weather.com, a storm is classified as a weather bomb after it has undergone bombogenesis—a process that begins with cyclogenesis, or development of a low pressure region. In bombogenesis, two air masses with large temperature differences meet, resulting in a large drop in pressure which triggers an intense weather system like a nor'easter or, in winter, a massive blizzard. To be officially classified as a weather bomb, the pressure needs to drop 24 millibars in 24 hours, writes Donegan.
Between 11 P.M. last night and 5 A.M this morning Stella's pressure dropped from 1003 millibars to 992. It's expected to reach 979 millibars this evening, which will push it into the bomb category, Donegan reports.
Bob Henson, a meteorologist at Weather Underground tells Ryan F. Mandelbaum at Gizmodo that nothing particularly special happens when storms reach those pressures, the term is just a way to categorize a storm's intensity.
"Bomb is a fancy way of saying a really quickly intensifying storm," he says. "There's nothing magic about 24 millibars in 24 hours. It's like saying a high fever is over 101. You still have a fever if it's 100.9 and 101.1, but you need a level to say what's extreme."
Mandelbaum reports that March is the time of year when temperature differences are greatest between cold northern air masses and warm moist air in southern areas of the U.S. As the two weather fronts meet, it causes the warmer air to rise, carrying ocean moisture with it. This causes a low pressure area that draws in surrounding air masses, often setting off a swirling cyclone. The moisture being pulled from the ocean condenses into snow, sleet and rain, which, when combined with the wind from the swirling air mass creates a blizzard or intense storm. Once the temperature of the two air masses begins to equalize, the power of the storm will peter out.
"They're very much like hurricanes," Weather Underground co-founder Jeff Masters tells Mandelbaum. "It won't have winds as strong at the center because hurricanes have eyewalls which concentrate the energy in. [This storm] will have energy spread over a much longer area."
Still, weather bombs are powerful, and last year researchers discovered that the weather systems actually slosh around the water on the ocean floor, setting off a unique type of seismic tremor in the North Atlantic.
According to Donegan, several storms have undergone bombogenesis in recent years, including Winter Storm Mars in February, 2016, Winter Storm Iola in January, 2015, and Winter Storm Nemo in February, 2013.
According to the latest forecast, Stella is has dumped over a foot of snow in some areas, which may receive two feet of snow total. The heaviest accumulations are taking place in central Pennsylvania and central New York State. Areas along the coast are also experiencing rain and sleet along with wind gusts up to 60 miles per hour.  The bad weather is expected to continue throughout the day along the I-95 corridor between Boston and Washington, D.C.