Wildfires Have Already Charred Over 2 Million Acres This Year
The fire season has gotten off to its fastest start in over a decade, with massive grass fires charring the southwest and plains states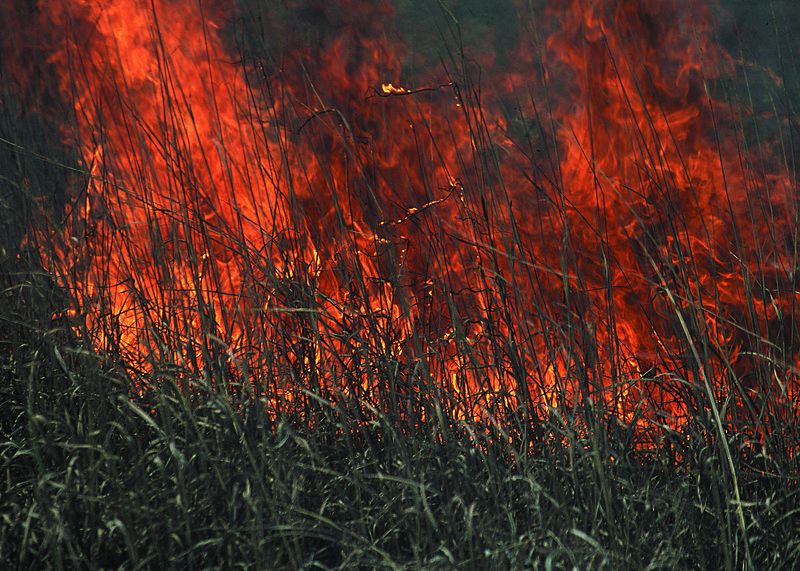 As of this week, over 2 million acres of wild lands have burned across the United States, marking a fast start to the wildfire season. As Doyle Rice at USA Today reports, this number is ten times the average typically burned by March and the biggest number since 2006, which had the second most wildfires on record. By this time last year only 289,663 acres had burned and in 2015 (the year with the most wildfires on record) only 114,186 acres were affected, according to the National Interagency Fire Center.
This burst of fires early in the year mostly took place in the plains states. According to Jack Healy at The New York Times, massive grass fires have scorched over 1 million acres of drought-plagued range land in Oklahoma, Texas and Kansas during the month of March. Those fires were so fast and so intense they burned thousands of head of cattle alive. 
As Rice reports, parts of Oklahoma have received less than one percent of their average precipitation for March, and three quarters of the state is currently in drought conditions. Over the next two days, the situation likely won't improve, reports Faith Eherts at Accuweather. Before storms bring some relief, gusty 50 to 70 mile per hour winds and temperatures 10 to 20 degrees hotter than normal will ramp up the danger of more fires in Oklahoma, eastern Colorado and New Mexico.
The other notable fire is the Sunshine Fire just outside Boulder, Colorado. That blaze, which is believed to have been sparked by a campfire, began last Sunday. Though it was contained by Monday evening, it hints at a potentially bad fire season in the coming months. Rice points out that March is usually Colorado's snowiest month. But Boulder County Sheriff's Commander Mike Wagner tells him that conditions in the mountains are reminiscent of early summer. "June is a more typical fire season, hotter and drier," he tells Rice. "But around here it seems that fire season goes all year long."
The new fires reinforce predictions about increasing wildfires due to climate change. According to the Union of Concerned Scientists, increasing temperatures, earlier snow melt and changes in rainfall patterns (all patterns observed as the climate changes) are likely to increase fires. According to a recent study, 84 percent of wildfires are set off by humans—either through arson, campfires or sparks from vehicles. But the length of the fire season and size and duration of fires have increased in recent decades likely due to changes in climate.