What Killed More Than Half a Dozen of the Bahamas' Swimming Pigs?
Drought and sand-tainted snacks might be the reason for the recent deaths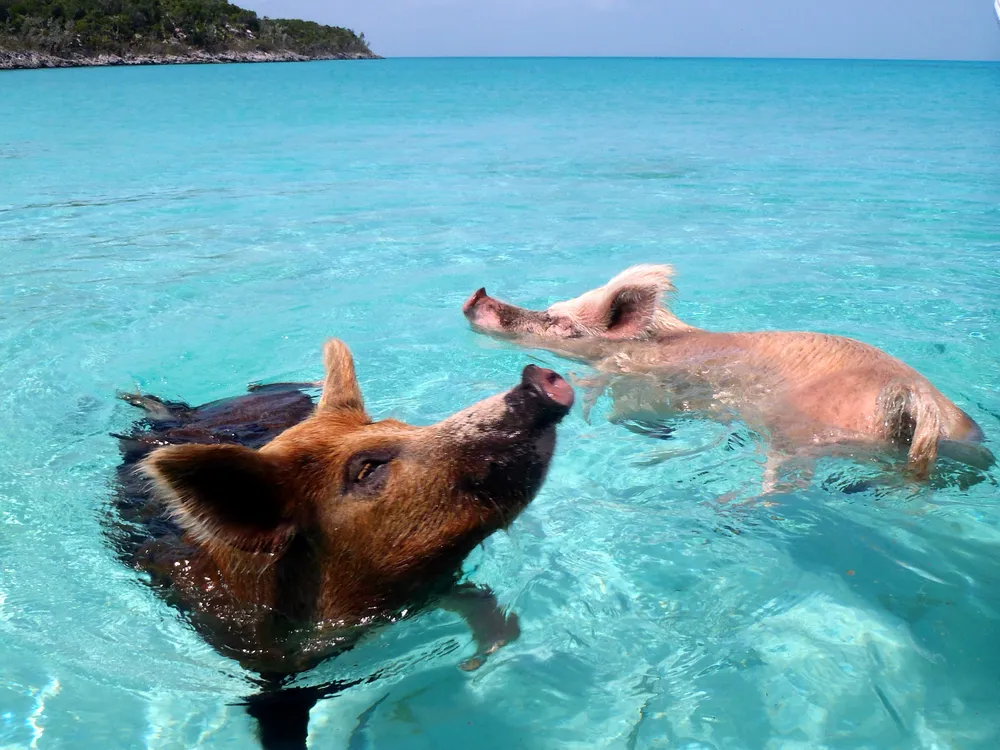 There are many reasons to visit the Bahamas—beautiful beaches, conch fritters, killer snorkeling. But in recent years one of the biggest attractions has been the island nation's pigs. The swimming pigs of Exuma to be exact, a group of porkers on a small island called Big Major Cay, who over the years have taken up the hobby of paddling around in the area's crystal blue waters. Recently, however, at least seven members of the now-famous pig colony mysteriously died, their bodies found floating in the sea, reports Ben Guarino at The Washington Post.
Wayde Nixon, one of the farmers that originally brought pigs to the island about 30 years ago, told Sloan Smith at the Nassau Guardian in late February that he initially believed tourists, who interact with the pigs and feed them, may have caused the deaths by giving the pigs alcohol and junk food. Kim Aranha, president of the Bahamas Humane Society, also speculated on the cause. "It could just be a horrible accident where they ate something poisonous," she told local news source Tribune 242 in late February. "It could be malicious but I don't really see why someone would go out of their way to hurt those lovely animals."
Now, Delaney Chambers at National Geographic reports on March 4 that a preliminary examination shows that the pigs likely died from ingesting too much sand.
"The pigs have been on the island so long, they are used to foraging for natural food," Ventoi Bethune, an inspector with the Bahamas Humane Society, tells Chambers. The pigs would occasional prance down onto the beach for a snack from visitors. But increased popularity and big influx of tourists have changed the pigs' habits. In recent years, the pigs have even been featured on the reality show The Bachelor. "Now [the pigs] stay on the beach and aren't living in the forest."
Instead, the porkers eat small bits of food thrown by tourists, which means they probably get a snoutful of sand each time they take a nibble. An ongoing drought on the island which has dried up the pigs' water supply may have also contributed to the deaths.
Despite the die-off, tourists will still be able to visit the remaining pigs, though they may not be able to swim or pet the porkers as they did in the past. Bethune tells Chambers that a warden will now be stationed at Pig Beach. V. Alfred Gray, the Bahamas' Minister of Agriculture and Marine Resources tells Smith that the agency will soon establish rules for interacting with the pigs, including a boundary around the pigs and restricted feeding by the public.