What Happens When There's a Tie at the Olympics?
Until they start 3D printing golds on demand the IOC will have to prepare for ties, regardless of how unlikely they are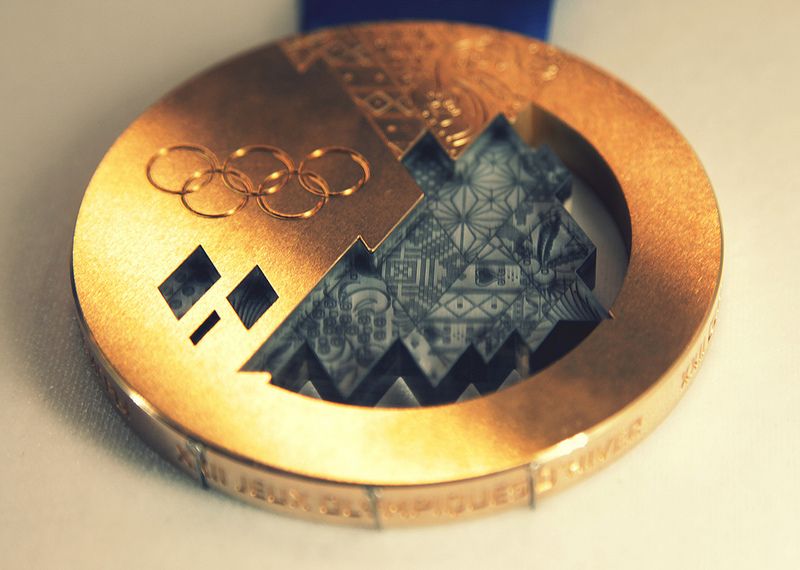 On Wednesday, two women tied for a gold medal. Tina Maze from Slovenia and Dominique Gisin from Switzerland both finished the downhill alpine course—1.6 miles of snow that drops them 2,600 vertical feet at a 30 percent pitch—in 1:41:57 exactly. They stood together on the podium, each holding a gold medal. 
Sara Germano at the Wall Street Journal explains that Sochi is ready for this kind of thing. There are 46 extra gold medals on hand in Sochi just in case something like this were to happen. Germano writes:
Making the Sochi medals is a detailed, elaborate process, so extras aren't easy to whip up on a moment's notice. The prizes feature a transparent polycarbonate insert that is laser-engraved with the intricate logo pattern of these games, and the entire production involves 25 stages, taking more than 18 hours. The medals are smelted, cast, cut, drilled, etched and polished in Moscow, roughly 1,000 miles away from Sochi.
Which means they can't just crank one out on demand. But even though the Games' organizers are ready for them, ties aren't common at the Winter Olympics. This was the first time that Alpine skiing has seen one.
And according to OlympStats.com, it was only the 8th time that two gold medals have been awarded in a single event at the Winter Olympics. In the most famous case, both Russia and Canada won gold in the pairs figure skating event in the 2002 Olymipcs, after a judging controversy. OlympStats lists the seven ties that came before Wednesday's tie:
| Year | Sport | Gender | Event |
| --- | --- | --- | --- |
| 1928 | Speedskating | Men | 500 metres |
| 1956 | Speedskating | Men | 1500 metres |
| 1960 | Speedskating | Men | 1500 metres |
| 1972 | Luge | Men | Doubles |
| 1998 | Bobsledding | Men | Two |
| 2002 | Cross-Country Skiing | Men | Pursuit |
| 2002 | Figure Skating | Mixed | Pairs |
There have also been ties for other medals. The silver has been shared eleven times, and two athletes have both received bronze seven times. Ties are more common in the Summer Olympics, according to OlympStats:
At the Summer Olympics, a tie for first, or two or more gold medals awarded, has occurred 26 times. One of those was also controversial – the 1992 women's solo synchronized swimming where American Kristen Babb-Sprague was initially ruled the champion, but a judging error caused officials to elevate Canadian Sylvie Fréchette to equal first with Babb-Sprague.
Until they start 3D-printing gold medals on demand, the International Olympic Committee will have to prepare for these kinds of events, regardless of how unlikely they are.