Victorians Made Jewelry Out of Human Hair
Hair work went out of fashion around 1925, but it was popular for hundreds of years before that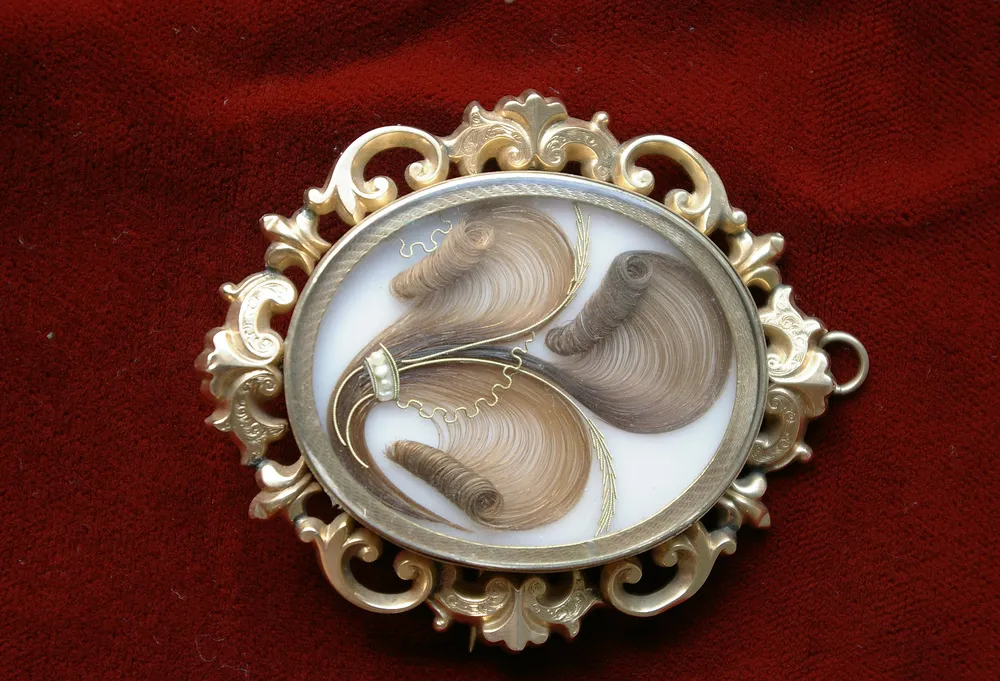 It's hard to imagine being interested and enraptured by some of the things the Victorians were into. Fans made out of preserved birds, stuffed cats in human poses and visits to the public morgue aren't exactly common diversions today. And hair work— making jewelry and art out of hair—went out of fashion around 1925. But it was popular for hundreds of years before that. According to the blog Victorian Gothic, all sorts of people wore hair jewelry:
Husbands went to work wearing watch fobs fashioned of their wives hair. Locks from the dearly departed were mounted into rings and brooches. Ladies filled their autograph books with snippets from their friends. At a time of rising commercialism, sentimental hairwork became a way both to signal one's sincerity and, paradoxically, to stay in style.
People made wreaths, rings, necklaces and all sorts of pieces out of human hair. One of the most famous guides to doing hair work was published in 1867, called Self-Instructor and the Art of Hair Work. The author writes:
The necessity for a comprehensive work, giving a full and detailed explanation of the Art of manufacturing Hair Work in all its various branches, has been so frequently urged upon the attention of the author, that, in compliance with an almost universal demand, he has concluded to publish a book which will clearly illustrate the Art of Hair Dressing, and making Hair Jewelry and Hair Work of every description.
Today, there are small organizations dedicated to preserving the craft of hairwork. There's a hair museum, containing 159 wreaths and 2,000 pieces of jewelry made of hair. You can even take a class on hair jewelry at the Morbid Anatomy Museum. You just have to bring your own hair:
Students are requested to bring with them to class their own hair, fur, or feathers; all other necessary materials will be supplied. Hair can be self-cut, sourced from barber shops or hair salons (who are usually happy to provide you with swept up hair), from beauty supply shops (hair is sold as extensions), or from wig suppliers. Students will leave class with their own piece of hair jewelry and the knowledge to create future projects.
More from Smithsonian.com:
Exquisite Jewelry from Van Cleef and Arpels
Meet Mrs. Obama's Inaugural Jewelry Designer Loree Rodkin