Venomous Sea Snake Washes Up on California Beach, and El Niño May Be to Blame
The lost sea snake isn't the only problem the California can expect to face during a strong El Niño year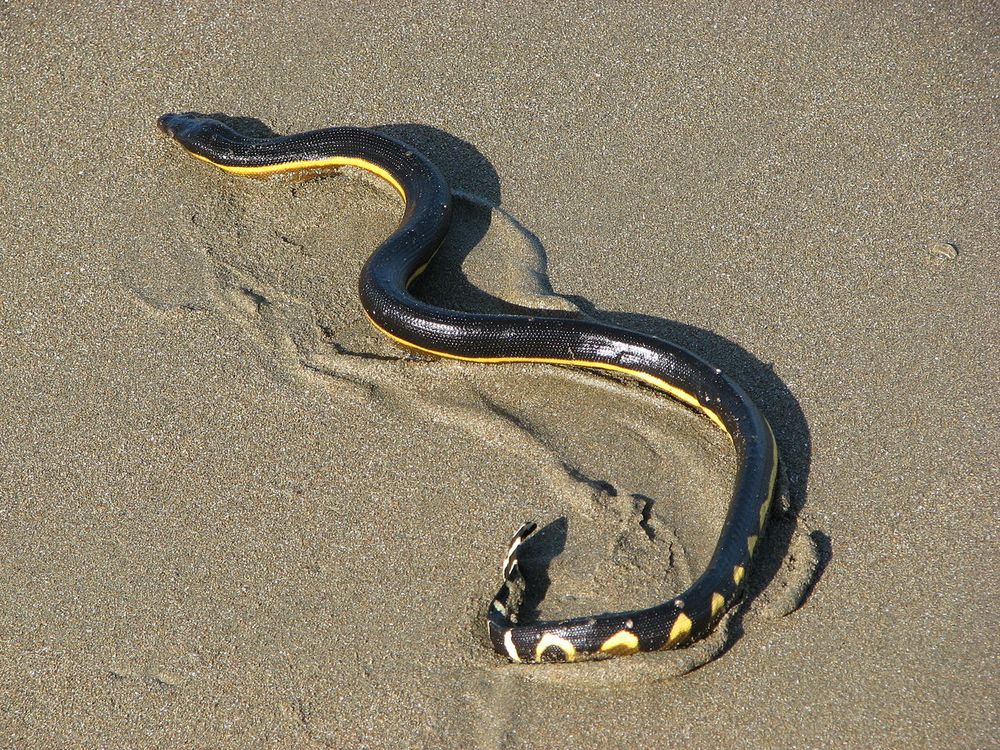 Two beach goers visiting the Silverstrand Beach in Ventura Country, in Southern California spotted something unusual: A highly venomous yellow-bellied sea snake, typically a denizen of more tropical waters. This snake seems to have strayed thanks to the warmed waters of El Niño, reports Larry Gordon for The Los Angeles Times.
The snake species (Pelamis platurus) hasn't been spotted in California since the early 1980's, which was another El Niño year. But this particular encounter is the first report in Ventura County and the northernmost record along North America's Pacific coast. 
While strolling with her family on Thursday evening, Anna Iker found the snake struggling to get back to the ocean but wisely left it alone, reports Emily Shapiro for ABC News. Surfer Bob Forbes later spotted the same snake on the beach in Oxnard and called Greg Pauly, the herpetology curator at the Natural History Museum of Los Angeles County. By the time Pauly arrived, the snake had died.
These snakes usually stay out in the ocean and rarely come ashore. Well-adapted swimmers, these serpents can absorb roughly 20 percent of their oxygen through their skin, allowing them to make deep dives, submerging themselves for up to three hours.
This particular yellow-bellied sea snake washing ashore probably suggests that it was ill or injured, herpetologist Pauly said in a statement, according to The Los Angeles Times.
While the sighting is rare, it was enough to provoke the nonprofit Heal the Bay organization to warn people about the potential for more snakes. They add that people shouldn't touch them, but pictures are welcome. In fact, pictures with GPS coordinates are even better and can be sent to iNaturalist and Herp Mapper to help understand El Niño's effect on marine life. 
Experts expect more than sea snake sightings during this year's strong El Niño. "This definitely has the potential of being the Godzilla El Niño," Bill Patzert, a climatologist with NASA's Jet Propulsion Laboratory in La Cañada Flintridge, told Rong-Gong Lin Il of The Los Angeles Times in mid-August.
Fishermen are noticing the warmer waters in their catch. Just off San Diego's coastline, bluefin tuna, yellowtail, and dorado (all typically fished in Mexico) are giving California fisherman an unusual season, reports Susan Murphy for KPBS.org.
Other changes already underway include seabirds dying because fish swimming deeper than normal in search of cooler waters and crabs dying as they crawl ashore fleeing the warm waters, writes Samantha Cowan for Takepart.com (via Yahoo! News). To top it off, sharks may be appearing closer to shore.
While the strong El Niño isn't caused by climate change, it is exacerbated by it. Heal the Bay also warns that shoreline erosion, flooding and disappearing beaches should be expected.
While the venomous snake seems like a problem, it's just a small part of larger effects that may mean more trouble is ahead.