Using Pig Fat as Airplane Fuel Could Hurt the Environment, Study Says
Though it's generally seen as sustainable, using animal fat to power planes could force other industries to rely on more harmful palm oil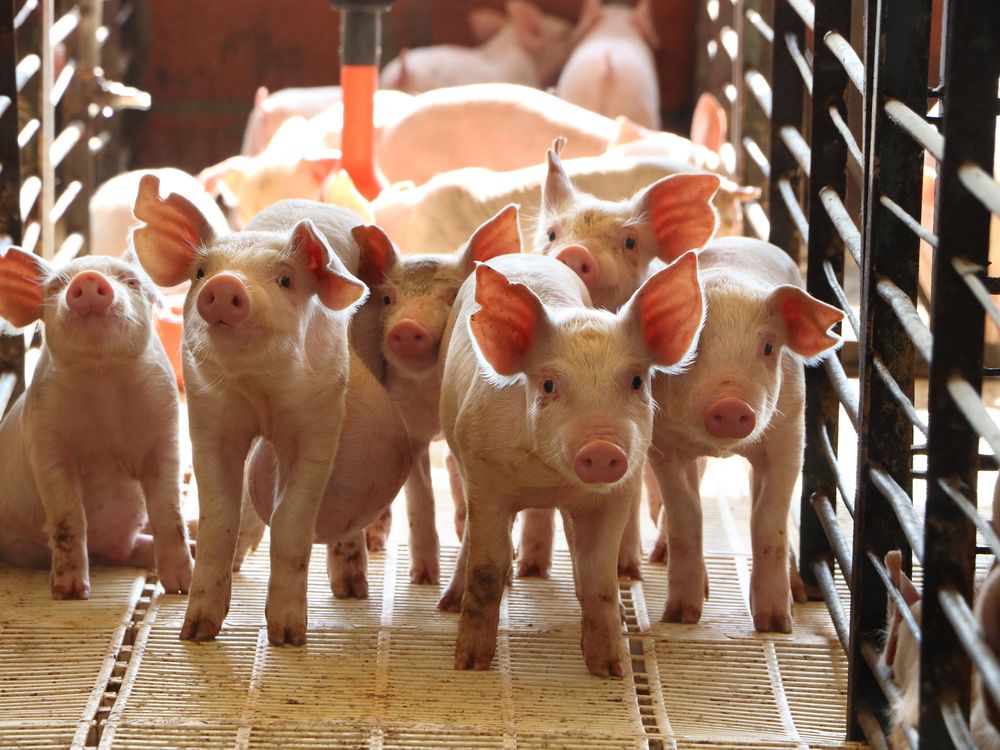 As the aviation industry works to cut back on fossil fuels, some airlines have turned to a greener alternative: animal fat. By 2030, demand for fuel made from animal byproducts is expected to triple. But now, a new report from the Brussels-based nonprofit Transport and Environment warns that powering planes with animal fat could actually end up worse for the planet. 
"It turns out pigs will fly," Barbara Smailagic, a biofuels expert at Transport & Environment, tells Euronews' Scott Reid. But using animal fat in airplane fuel "can't be sustained without depriving other sectors, which will in turn likely switch to damaging alternatives like palm oil."
Other products, such as pet food, candles, cooking oils and soap, use animal fat, which is considered a byproduct of industrial meat production. In this way, repurposing the fat for other uses cuts down on the meat industry's waste. But despite 70 billion animals being slaughtered every year—mostly for humans to consume—there simply isn't enough animal fat to go around. The study estimates that a flight from New York to Paris, fueled entirely by pig fat, would require 8,800 dead pigs each way. And killing more pigs doesn't seem like a viable option either, per the report. 
If airlines used this much animal fat, other industries would be forced to scale back. Pet food manufacturers, for example, see animal fat as a hard-to-replace, crucial ingredient. "Diverting [animal byproducts] to biofuels is actually creating another problem. It would put us in competition with the aviation industry," Nicole Paley, deputy chief executive of U.K. Pet Food, the manufacturers' trade association, tells BBC News' Matt McGrath. "And when it comes to the purse strings of the aviation sector, the pet food industry would find it really difficult to compete."
Instead, the "most likely substitute" other industries would turn to is palm oil, because its properties are similar to animal fats—and it's cheap, per the report. Palm oil has been a large driver of deforestation, especially in Southeast Asia. Millions of acres of large, old-growth trees, which help combat climate change, have been razed and turned into palm oil plantations, driving some species to the brink of extinction. In just the last two decades, nearly 25 million acres of forest in Indonesia have been cut down, with palm oil responsible for about a third of that, reports Benji Jones for Vox.
Countries including the United Kingdom and the United States have announced goals for replacing jet fuel with sustainable alternatives. In 2021, the Biden Administration set a target of 100 percent sustainable jet fuel by 2050. The U.K. plans to replace 10 percent of its jet fuel with sustainable aviation fuel by 2030, and the E.U. aims for 6 percent, per BBC News. Some say this will place an additional strain on the market for animal byproducts, per the publication.
Already, the use of animal fats in biofuels has increased fortyfold since 2006 in Europe. But if palm oil were to replace animal fats in other sectors, it could undermine the sustainable fuel's benefits—and as a result, net carbon emissions would increase worldwide, per the report.