U.S. Proposes Cuts to Colorado River Water Usage
Negotiations between states have not produced an agreement on how to allocate the dwindling water, so the federal government has offered tentative plans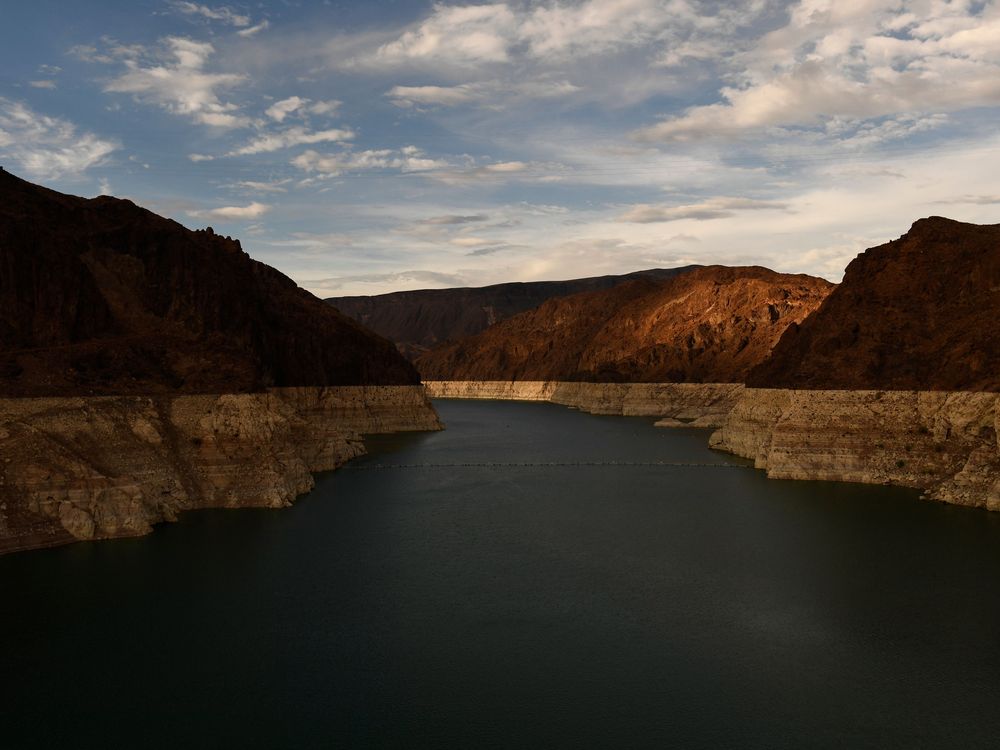 As the Colorado River and its reservoirs dry up, Western states that depend on the waterway have been scrambling to come up with a plan to conserve it. Now, the federal government is one step closer to imposing mandatory water use restrictions.
Seven states in the river's basin—Arizona, California, Colorado, New Mexico, Nevada, Utah and Wyoming—have been negotiating a plan to reduce water usage since last year. But they missed an August deadline to come up with their own solution and let another deadline pass by in January.
In response, the Department of the Interior has now outlined its own proposals for reducing water use in the river basin. The possible cuts were listed in an environmental impact statement released Tuesday, which will be open for a 45-day public comment period.
If the federal government imposes these cuts on states, the scale of mandated water reduction would be unprecedented in the country's history, writes the New York Times' Christopher Flavelle.
But state officials hope to reach their own agreement before the federal government steps in, writes the Washington Post's Joshua Partlow. Interior Secretary Deb Haaland is expected to pick a plan this summer.
"They're showing that they will tell the states what to do," Sharon Megdal, director of the University of Arizona's Water Resources Research Center, tells the Times. "It will now be up to the states to say, well, we have a better idea—and here it is."
"It is our hope and our fervent desire that the tools laid out in the supplemental [environmental impact statement] never have to be used," Deputy Interior Secretary Tommy Beaudreau tells Politico's Annie Snider. "At the end of the day, though, it's the Secretary's responsibility to keep this system operating and continue providing services."
The Colorado River Basin supplies water to nearly 40 million people and irrigates almost 5.5 million acres of agricultural lands. Around 4 million Americans get electricity from hydroelectric power generated by the Hoover Dam at Lake Mead and the Glen Canyon Dam at Lake Powell.
But a combination of drought and overuse has caused water levels in the two lakes to fall so low that they may soon be unable to create electricity. Last summer, Lake Mead's water level dropped to just 27 percent of its capacity, the lowest it has been since 1937.
States have been tasked with coming up with a solution for cutting water use to increase the amount stored in these natural reservoirs, but they have so far been unable to do so. As a result, the Department of the Interior proposed three potential options for how to divide the river.
One alternative prioritizes older claims to water, per Jennifer Yachnin of E&E News. Much of California, including its farming regions, would receive priority for water, while large parts of Phoenix and Los Angeles' allotments would "get taken virtually to zero," Beaudreau tells the Post.
Nevada would also face significant cuts in this scenario, especially Las Vegas, which gets 90 percent of its water supply from the river, per CNN's Ella Nilsen. If Arizona has to absorb the bulk of the cuts, the burden would also fall heavily on Native American tribes that are guaranteed rights to the water by treaty, writes the Times.
A second proposal would divide cuts evenly between states. In this case, users in Arizona, California and Nevada would face equal cuts, per the Post. These are the only three states the federal government can impose cuts on, though applying them equally could lead to lawsuits from some states.
Under a third proposal, no action would be taken—this alternative is unlikely to become policy, since it would likely invite further drops in water levels and electricity production.
Federal officials say states could try to find a compromise between the first two options, treating each alternative as a "bookend" on a spectrum of possible policies, according to the Post. The cuts under both alternatives could total as much as 2.1 million acre-feet, a vast amount of water that roughly equals what Arizona is expected to draw from the river this year, writes CNN.