Swifties Can Now Study Literature (Taylor's Version)
At a Belgian university, Taylor Swift fans can expect intertextual analysis beyond their wildest dreams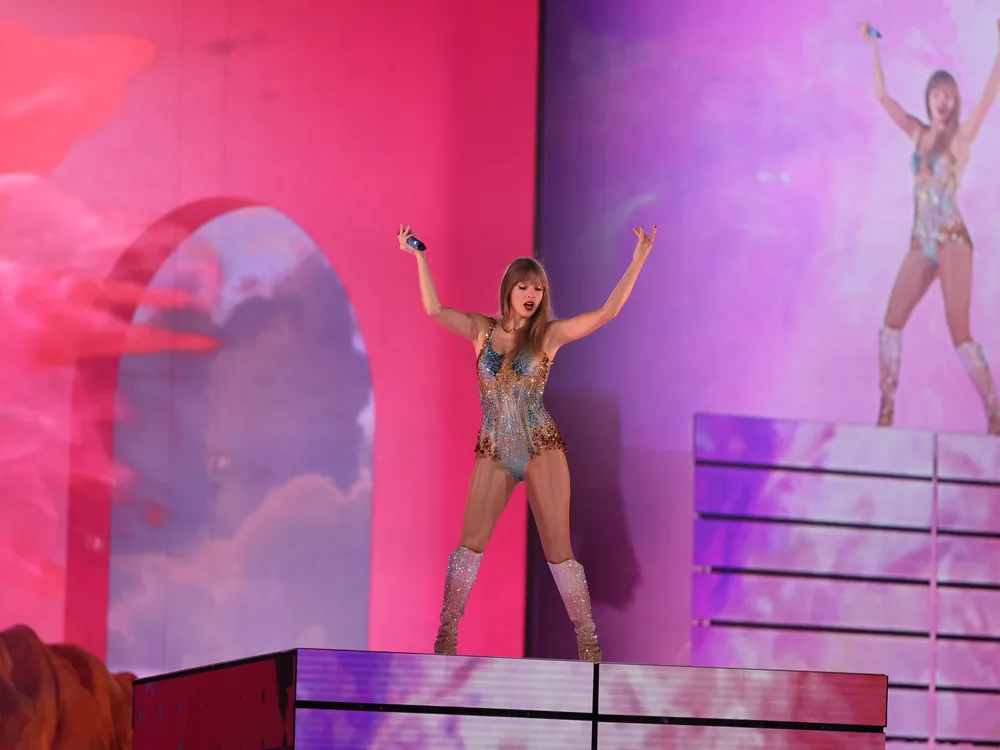 Lectures on "Love Story." Papers on "Paper Rings." This fall, a professor at Belgium's Ghent University will ask fellow Swifties: Are you ready for it?
Elly McCausland is the literary scholar behind "Literature (Taylor's Version)," a class devoted to unpacking the work of the world-renowned pop star and placing it in conversation with great English literary works.
She is also the writer of the blog "Swifterature," where she explores the connections between Swift's lyrics and works by Sylvia Plath, Charles Dickens, William Shakespeare and others.
Her interest intensified when she started thinking about "The Great War," a bonus track from Swift's most recent album, Midnights.
"[The song] uses the First World War as an analogy for heartbreak," she tells CNN's Leah Dolan. "That made me think of Sylvia Plath's poem 'Daddy,' in which she uses the Holocaust to discuss her troubled relationship with her father. This appropriation of historical pain and war as a metaphor (for love and loss)—I started thinking about other literary parallels, and that's where the course came from."
Per a description of the course, students will read texts from the "medieval period to the Victorian." These will include selections from Geoffrey Chaucer's Troilus and Criseyde, Shakespeare's The Tempest, Charlotte Brontë's Villette and Margaret Atwood's Hag-Seed, among others.
"What I want to do is show students that although these texts might seem inaccessible, they can be accessible if we look at them from a slightly different angle," says McCausland to Ashifa Kassam of the Guardian.
Not everyone was immediately sold on the idea; she tells CNN, "I imagined there would be some raised eyebrows, and there were."
Still, she says she's been overwhelmed by the amount of support she's received from fans of Swift across the university—and around the world.
"I've never had so many emails from excited students asking if they can take the course," McCausland tells the Guardian. "And actually non-students as well, people who are not part of the university and who want to participate in some way."
"Literature (Taylor's Version)" is thought to be the first course of its kind in Europe. But in the United States, several institutions—including New York University, Arizona State University, Rice University, Stanford University and Berklee College of Music—have introduced coursework centered on Swift's music.
Ava Jeffs, who attends Stanford, is preparing to teach a student-led course on the pop star. She tells Cari Spencer of the Los Angeles Times that she hopes classes like this can lend some legitimacy to the artist's work.
"A lot of the time artists like Taylor Swift aren't taken seriously because they're seen as mainstream or because they're seen as girly, but she's been really successful," she adds. "We should look into why and take that seriously."
McCausland's class will begin this fall amidst Swift's Eras Tour, a series of wildly popular, record-breaking concerts. In Seattle, two recent shows caused the ground to shake enough to register on a nearby seismometer. McCausland wants her students to interrogate this popularity.
"I want the students to realize that the media they consume on a daily basis, whether that is music, Netflix, podcast, TikTok or whatever, I want them to think about that in the same way that they might think about the topics they study," she tells the Guardian. "Why is this so zeitgeisty? Why does it speak to so many people?"