A Heat Wave is Revealing Centuries-Old Sites in Wales
Hot, dry weather creates perfect conditions for crop marks to form above historic settlements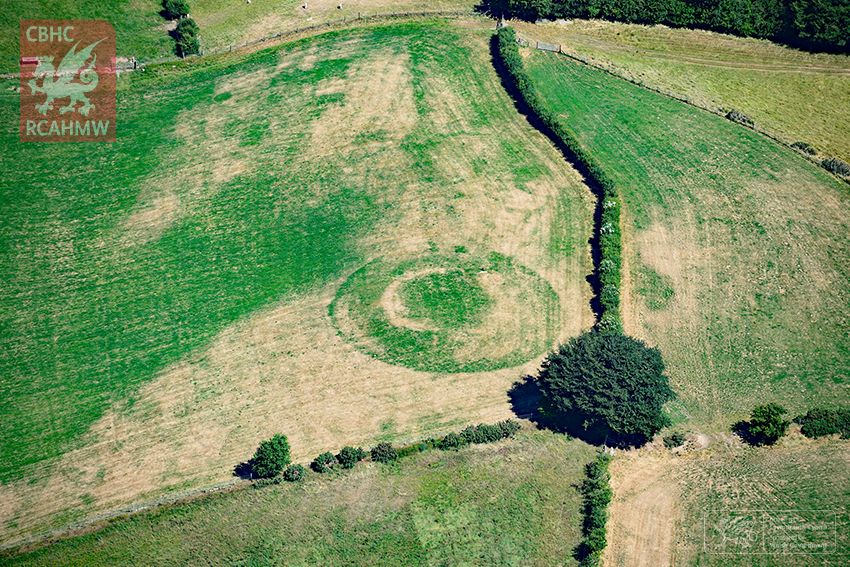 The typically temperate U.K. is in the midst of a sweltering heat wave. While the hot weather has depleted water supplies and sparked a kiddie pool shortage, it has been a happy occurrence for archaeologists in Wales. As the BBC reports, verdant crop marks have appeared in the midst of parched fields, revealing several ancient settlements—some of which were previously unknown to archaeologists.
Heat waves create the perfect conditions for spotting crop marks, which form in fields that overlay ancient buildings, from the air. Ancient settlements were usually surrounded by fortifications or drainage ditches. Though the ditches were filled in during subsequent centuries, deep trenches remain beneath the surface of the ground. These trenches hold on to nutrients and moisture—and when the weather gets scorching, plants draw on the deeper topsoil for sustenance. As a result, the plants that sit atop historic structures stay lush and green during a heat wave, while the surrounding plant life becomes brown and crisp.
Dr. Toby Driver, aerial commissioner for the Royal Commission on the Ancient and Historical Monuments of Wales, has spent the past few days flying over north and south Wales, recording traces of centuries-old sites that have sprung up in recent weeks.
Some of these sites were already known to archaeologists. Driver was able to spot, for instance, circular crop marks where the Iron Age fort of Gaer Fawr was once located. The ruin was built atop a hill and once spanned 33,000 square meters. Driver could also see extensive crop marks denoting the presence of the Roman or Iron Age settlement of Trewen, which was once either a farmstead or a villa. Patterns amid the fields show that the site consisted of five main enclosures, with a curious ring inside the main one. Archaeologists aren't quite sure how to classify this ring; it may have been a roundhouse, a temple, or even an enclosure of a Bronze Age burial monument known as a barrow.
But perhaps more exciting was the discovery of several new sites. Crop marks revealed what appears to be a prehistoric or Roman farm near Langstone, Newport in South Wales, along with a small Roman fort near the village of Magor.
"It's like a painting that comes out into the fieldscapes," archaeologist Louise Barker of the Wales royal commission tells Phoebe Braithwaite of Wired. "We're seeing new things with all of these crop marks—we probably haven't seen anything like this since the 1970s, the last time there was a really, really dry summer like this."
Archaeologists will need to excavate these newly found sites to gain a deeper understanding of their history, as well as confirm their ages. But at the moment, Driver is focusing on recording the discoveries before a hurricane that is fomenting along the U.S. east coast brings rain to the U.K., possibly breaking the heat wave and erasing traces of Wales' ancient past.
​See how crop marks form in these graphics from the Wales monuments commission.