Twenty Years Ago Today, the Montana Freemen Started Its 81-Day Standoff
The impasse informed the federal government's reaction to the recents standoffs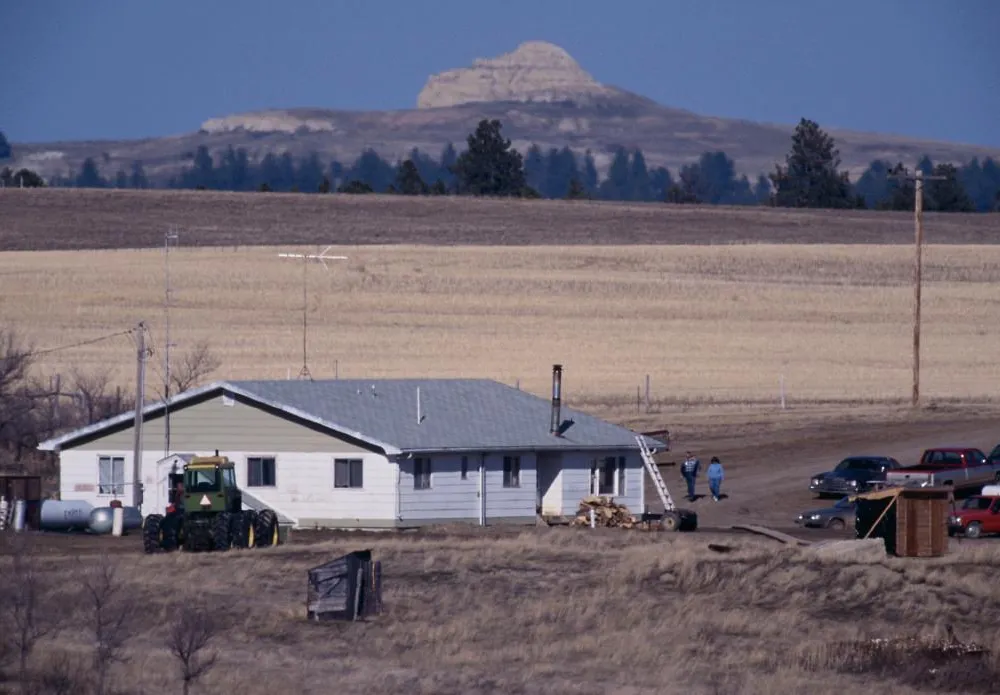 On March 25, 1996, an armed, anti-government militia known as the Montana Freemen began a months-long standoff with agents from the Federal Bureau of Investigation. The confrontation lasted 81 days, dominating international headlines, as well as giving the federal government a template to react to similar situations, like the recent 41-day standoff in Oregon. 
For several years, the Freemen had been a thorn in the side of the U.S. government. Led by a former crop duster and con man named LeRoy Schweitzer, the group believed that government institutions should not exist above the county level and frequently acted out against local officials. When armed members of the Montana Freemen holed up in their compound in 1996, it was just the latest in a string of showdowns between federal agents and anti-government protesters.
In 1992, federal agents tried to arrest a white supremacist named Randy Weaver on firearms charges at his home in Ruby Ridge, Idaho. The confrontation between Weaver and the agents resulted in the deaths of Weaver's wife and son, as well as a U.S. Marshal. Just a year later, the FBI engaged in a disastrous siege of the Waco, Texas, compound of the religious extremist Branch Davidian sect that resulted in 80 deaths. Then, in 1994, the Freemen briefly took over a courthouse in Garfield County, and at one point offered $1 million bounties for officials, including a federal judge, to be brought to them "dead or alive," reports Lorna Thackeray for the Billings Gazette. Anti-government sentiment was on the rise, and for some in rural Montana, the elements for a conflict were lined up perfectly in 2006.
Finally, tensions exploded on March 25, when undercover FBI agents lured Schweitzer and two other militia members away from their compound and arrested them under charges that they refused to leave property that they had been legally evicted from. The arrests sparked the almost three-month standoff between 100 federal agents and the 10 militiamen housed inside the compound. 
As the events from Waco and Ruby Ridge were fresh in recent memory, the FBI wanted to avoid another armed conflict if at all possible, CNN reported at the time.
"The FBI has gone to great pains to ensure that there is no armed confrontation, no siege, no armed perimeter, and no use of military assault-type tactics or equipment," then-Attorney General Janet Reno said in a statement. "The FBI is trying to negotiate a peaceful solution."
After months of waiting and negotiations, the FBI's decision to play it safe paid off when the remaining Freemen surrendered peacefully the following June. Since then, the federal government's response to armed conflicts like as the recent occupation of the Malheur National Wildlife Refuge headquarters in Oregon has been to be patient and cautious, even if it draws criticism for acting too slowly, Alex Altman wrote for TIME magazine in January.
"You don't want to do anything precipitous that would heighten the degree of confrontation," former FBI special agent Tom Kubic, who was in charge of the Montana Freemen standoff, told Altman. "The key is to be very cautious, go slow, and take a look at and understand what is being asked for."
The Oregon occupation ended peacefully in February, after two of its leaders, Ammon and Ryan Bundy, were arrested. According to the FBI, the militia's unofficial spokesman, LaVoy Finicum, was shot and killed by FBI agents after he tried to run from a traffic blockade and reached for a gun, Kirk Johnson reported for the New York Times.
Dealing with tense and potentially dangerous situations like these is a delicate thing, to say the least. But the FBI is taking a cautious approach in order to avoid violent encounters, something that might become more frequent in the future. As an annual report of militias released in 2016 by the Southern Poverty Law Center identified, there's been a 37 percent increase in militia groups in the United States, up from 202 in 2014 to 276 today.
Update, March 25, 2016: This piece has been updated to reflect that the Ruby Ridge standoff was in Idaho.