Traute Lafrenz, Last Surviving Member of Anti-Nazi Resistance Group the White Rose, Dies at 103
During World War II, the rest of the movement's core members were executed for distributing leaflets critical of the Nazi regime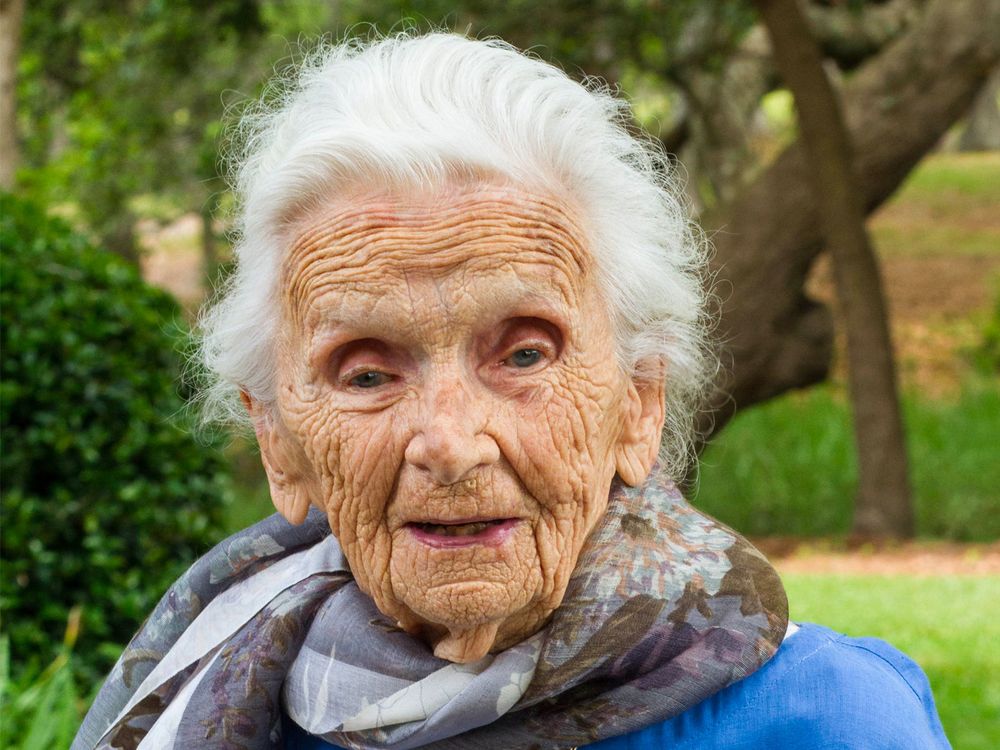 When German university student Traute Lafrenz met a young man named Alexander Schmorell during an afternoon bike ride in Switzerland in the summer of 1939, she had little reason to anticipate the role he would soon play in her life.
"We were talking and chatting when he suddenly started laughing," she later recalled. "'The sun just came up!' I thought at the time."
The pair bonded over their shared love of Russian literature, speaking for several hours before parting ways. Their paths crossed again in May 1941, this time in Munich, where both were studying medicine. Schmorell introduced Lafrenz to some of his friends, among them Christoph Probst and Hans Scholl. The group spent the summer together, attending concerts, hiking and swimming, and discussing topics ranging from art to politics, Lafrenz told the Bild newspaper's Tomas Kittan in 2018.
Two years later, all but Lafrenz were dead, executed by the state for distributing a series of anti-Nazi leaflets. The White Rose, as the friends' resistance group was known, had staged one of the only fundamentally political protests against Adolf Hitler's regime to take place in Germany during the dictator's 12 years in power. Of the movement's seven core members—Hans and his sister Sophie, Probst, Schmorell, Willi Graf, Lafrenz, and philosophy professor Kurt Huber—only Lafrenz escaped the guillotine. She died earlier this week at age 103, 80 years after the rest of the White Rose.
According to the German Resistance Memorial Center, Lafrenz's main contribution to the White Rose was carrying copies of its third leaflet from Munich to her hometown of Hamburg. As biographer Peter Normann Waage writes in Long Live Freedom!: Traute Lafrenz and the White Rose, she "had a central role in the White Rose, but always just behind the frontline. She participated in everything except the writing and copying of the leaflets."
Lafrenz, for her part, consistently downplayed her efforts, telling Bild, "I am just a contemporary witness. Given the fates of the others, I am not allowed to complain."
---
Born in Hamburg in May 1919, Lafrenz was the youngest of three sisters. Her father was an accountant, and her mother was a homemaker. The family "rarely discussed" politics, Lafrenz told Waage, but both of her parents eventually joined the Nazi Party.
Lafrenz's first brush with anti-Nazi politics arrived in the mid-1930s, when she studied under a teacher named Erna Stahl. "She passed her insight on to us through a pedagogical practice that aimed at inspiring independent thought," Lafrenz recounted to Waage. "She woke me up at any rate. I had been a dreamer earlier."
In 1935, Stahl was fired from Lafrenz's school and banned from teaching elsewhere by the Nazis. To circumvent this ban, the educator hosted informal lessons in her home, using art and literature as avenues for discussing the dangers of the Nazi regime. Lafrenz attended many of these sessions, basing later "literary evenings" with the Scholl siblings on Stahl's classes.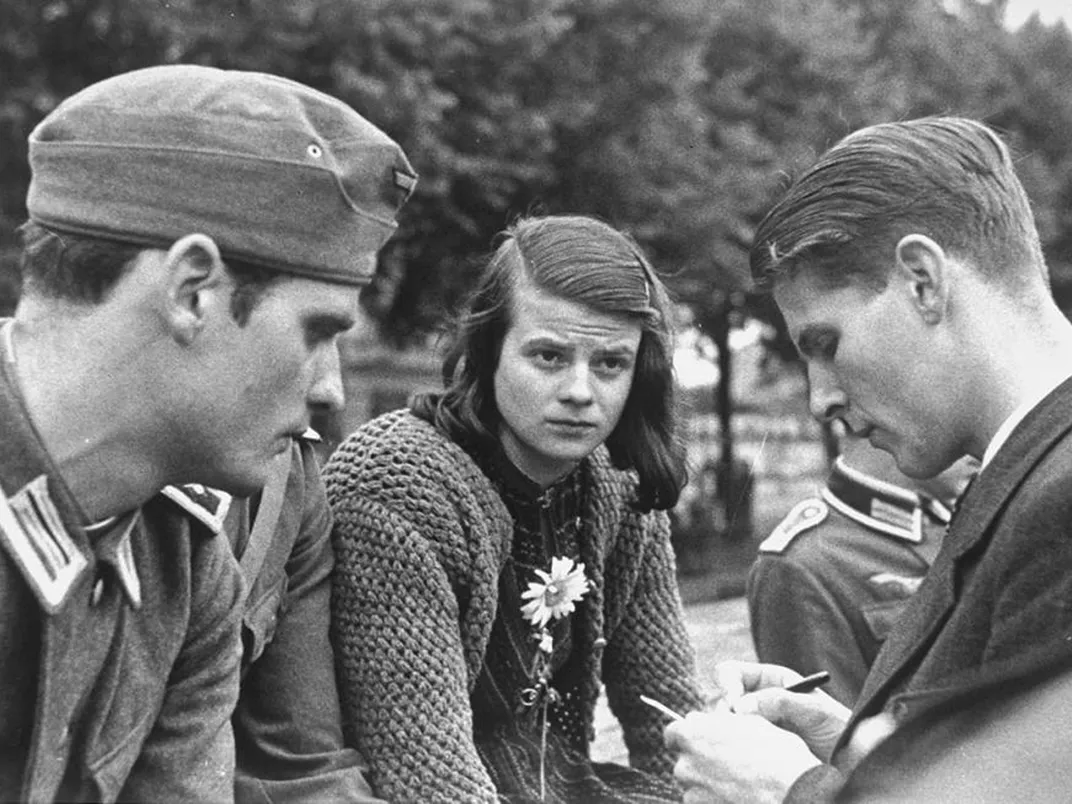 Though she was a member of the Hitler Youth, Lafrenz later told the Gestapo she "was neither prominent nor excellent in that organization." As Denise Elaine Heap of the Center for White Rose Studies notes in a blog post, Lafrenz was not content to "silently watch in disapproval as bad things happened all around her." In 1937, she and a few friends distributed copies of an open letter written by novelist and essayist Thomas Mann, a vocal critic of the Nazis, after the University of Bonn rescinded his honorary doctorate.
After graduating in 1938, Lafrenz enrolled at the University of Hamburg, where she studied medicine. She met Schmorell at a student work camp in Switzerland in the summer of 1939, then reconnected with him after moving to Munich to continue her studies in 1941. It was around this time that she reportedly embarked on a romantic relationship with Schmorell's friend Hans, enjoying "one short, beautiful summer" together, as she described it to Bild. (Hans' sexuality is a matter of debate: Speaking with Robert Zoske, author of Be a Flame!: Hans Scholl and the White Rose, in 2018, Lafrenz stated that she and Hans had never engaged in any sexual activity and alluded to a "deep problem" that "tormented him greatly," writes Jud Newborn for Smithsonian magazine.)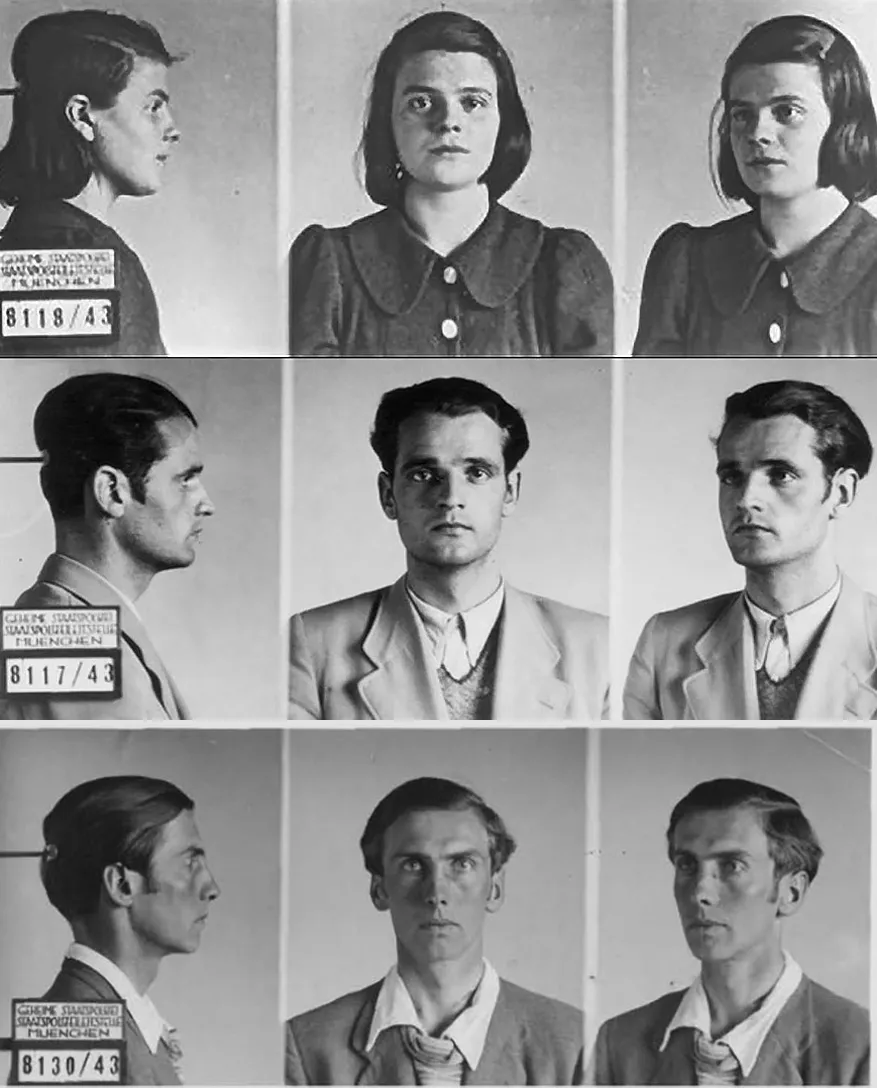 The White Rose was born out of political discussions held by the Scholls and their friends. Between June 1942 and February 1943, the movement distributed six leaflets criticizing Nazi tyranny and the mass murder of Jews. Hoping to inspire passive resistance by the German public, the group, in its fourth leaflet, declared, "We will not be silent. We are your bad conscience. The White Rose will not leave you in peace!"
Lafrenz wasn't involved in the production of these early leaflets, though she later said she recognized Hans as their author "from the terms used, the topic and the formulations," according to Frankfurter Allgemeine's Peter Philipp Schmitt. By fall 1942, however, she'd been welcomed into the clandestine movement, serving as a key link between operations in Hamburg and Munich.
In the months that followed, Lafrenz attempted to obtain a duplicating machine for the group; she and Sophie also purchased paper and envelopes used to scale up leaflet distribution efforts.
---
On February 18, 1943, Lafrenz and Graf ran into Hans and Sophie while leaving a lecture held by Huber, a professor who'd written the White Rose's sixth anti-Nazi leaflet. The siblings were carrying a large suitcase packed with copies of this very pamphlet, which they planned to distribute around the university building. But a janitor caught them in the act and turned them in to the Gestapo.
Four days after their arrest, the notorious People's Court ruled that Hans, Sophie and Probst were guilty of treason. They were beheaded by guillotine later that afternoon. Lafrenz, in defiance of a Nazi ban on non-family members attending the funerals, accompanied the Scholl family to the burial. She was arrested in March and sentenced to a year in prison for "complicity" in the White Rose's illicit activities. Schmorell and Huber, who were indicted alongside Lafrenz, were sentenced to death and executed on July 13. Graf followed them to the scaffold on October 12.
Lafrenz was released from prison in March 1944, only to be rearrested shortly thereafter. She was held in four separate prisons before being liberated by American troops on April 15, 1945. Two years later, she emigrated to the United States, where she continued her medical studies and started a family. Later in life, she served as the director of a school for disadvantaged children and embraced the spiritualist movement anthroposophy.
In 2019, Germany awarded Lafrenz its highest civilian honor, the Order of Merit. Praising the 100-year-old as a "hero of freedom and humanity," German President Frank-Walter Steinmeier said she was one of the few who, "faced with the crimes of the Nazis, had the courage to listen to the voice of her conscience and to rebel against the dictatorship and the genocide of the Jews."