Teenage Tourist Carves His Name Into 1,200-Year-Old Temple in Japan
The UNESCO World Heritage site is one of several historical landmarks around the world to be vandalized this summer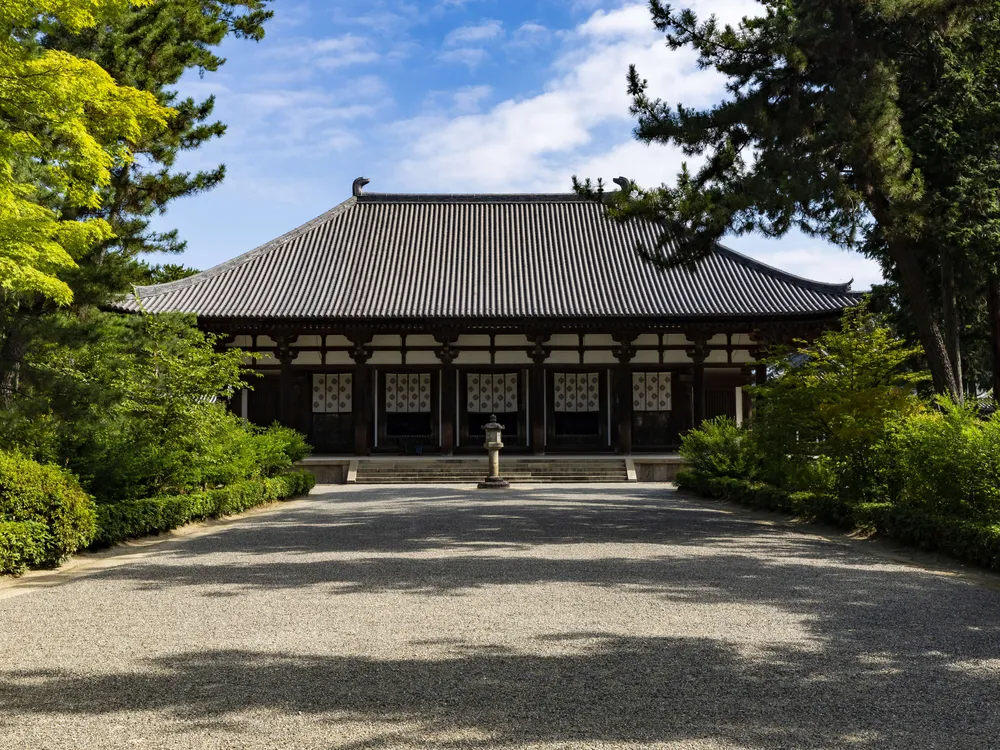 A Canadian teenager has admitted to carving his name into an eighth-century Buddhist temple in Nara, Japan, according to police. While visiting the Toshodaiji Temple—a UNESCO World Heritage site—earlier this month, he used his fingernail to carve the letter "J" and the name "Julian" onto a wooden pillar.
"We are worried that the same thing could happen again," a monk from the temple tells the Kyodo News Agency. "Even though it may have been done without malice, it is still regrettable and sad."
BBC News' Nadine Yousif reports that after the incident, Japanese officials questioned the teenager on suspicion of violating the cultural properties protection law. Under the law, anyone who causes damage to an object of "important cultural property" may face up to five years in prison along with thousands of dollars in fines.
The tourist was in the temple's Golden Hall, which Toshodaiji's website calls the "greatest structure" of its era still standing today; its beauty "is such that it has been written about in many famous old poems."
Compared to smaller cultural missteps, "desecrating an important temple or shrine is a whole other level of disrespect," says Catherine Heald, chief executive of the luxury tour operator Remote Lands, to the Washington Post's Natalie B. Compton and Julia Mio Inuma. "It's like writing nasty graffiti on a church."
The boy, who is currently with his parents, says that he hadn't intended to harm Japanese culture, a police official tells CNN's Karla Cripps and Eru Ishikawa.
The vandalism comes just weeks after a similar incident at Rome's Colosseum. In June, a tourist carved "Ivan+Hayley 23/6/23" on the ancient amphitheater's walls—and now, he's facing up to $16,300 in fines and five years in prison. In a letter to Rome's mayor, the tourist claimed he wasn't aware of how old the structure was, per BBC News' Jasmine Andersson. "I admit with profound embarrassment that only after what regretfully happened did I learn of the antiquity of the monument," he wrote. And just this week, another teenage tourist was filmed committing an almost identical crime, carving a letter "N" into the Colosseum. Both tourists are currently under investigation.
According to a report from Historic England's Catherine Woolfitt and Jamie Fairchild, removing graffiti on ancient structures can be a complex challenge. "Inappropriate cleaning by inexpert contractors can cause significant damage to building surfaces and may result in visual disfigurement, including stains and marks," they write, adding that "building local appreciation and understanding of the historic environment" is one of the most effective ways to prevent future incidents.
In the wake of pandemic closures, Japan has made efforts to remind tourists to act respectfully through various public service announcements. The Washington Post reports that the day after the incident, officials put up a sign at the Toshodaiji Temple's entrance: "Please do not damage the hall. You will be punished for violating the Cultural Property Protection Law," it reads.