The Touching Story Behind This Award-Winning Wildlife Image
Taken by Jo-Anne McArthur, the photo shows a rescued baby gorilla hugging her caretaker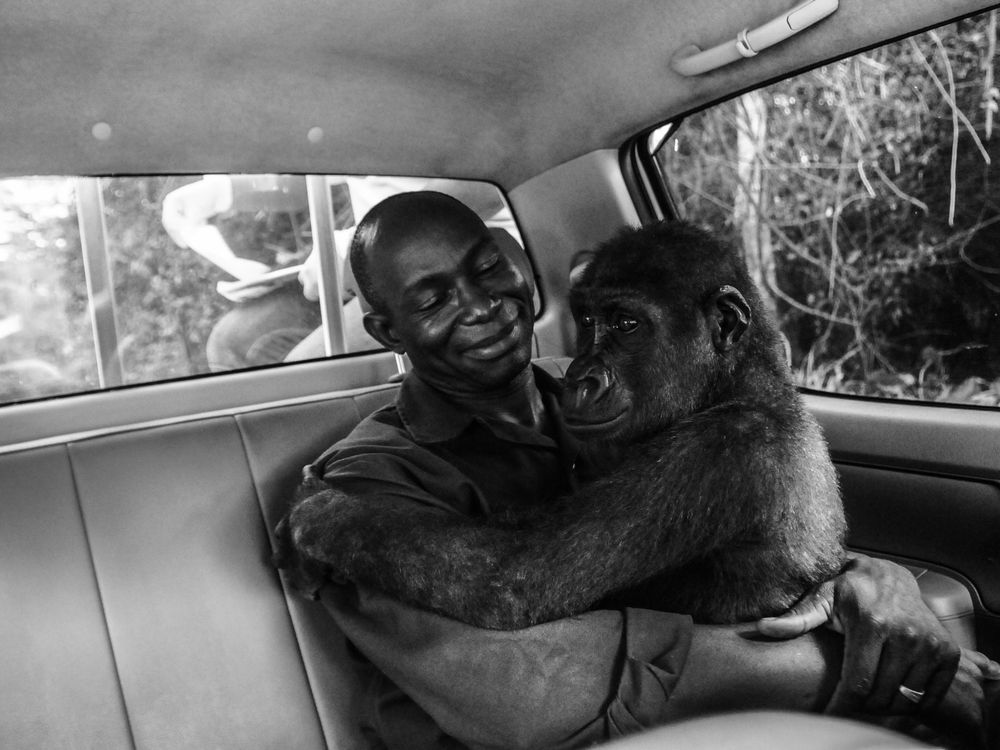 In October, a heartbreaking image of a slain and dehorned rhino won the 2017 Wildlife Photographer of the Year Competition, an annual contest hosted by the National History Museum in London. As Kelly Richman-Abdou of My Modern Met reports, contest organizers recently announced that its "People's Choice" award had been granted to another photograph—one that depicts a more tender side of humans' complex relationship with animals.
The winning image, shot in black and white by photojournalist Jo-Anne McArthur, shows a rescued baby gorilla named Pikin hugging her caretaker, Appolinaire Ndohoudou. According to Christopher Brito of CBS News, the photo was one of 24 entries selected by museum staff and voted on by the public.
McArthur, who has documented animals in human environments across the globe, took the photo of Pikin and Ndohoudou while doing a six-week volunteer placement at the Ape Action Africa sanctuary in Cameroon. Pikin had been rescued from the bushmeat trade, which drives the hunt of wild animals for their meat. The trade affects more than 500 species in Africa, but great apes—gorillas, chimpanzees, orangutans and bonobos—are particularly threatened by overhunting.
At the Ape Action Africa sanctuary, Pikin met Ndohoudou, a caretaker who is originally from Chad, but fled to Cameroon during a civil war. They shared an instant connection.
"When Pikin arrived I saw that she was very clever," said, according to a Natural History Museum blog. "She really loved me and I loved her. She didn't like the other gorillas coming near me as she was jealous and she would shout if they tried to come and give me hugs. I was her father, I belonged to her."
On the day that the photograph was taken, Pikin was sedated for a veterinary health check and transported to a new and larger enclosure. McArthur sat in the front seat of the vehicle that was carrying the gorilla, while Pikin and Ndohoudou sat in the back. Much to everyone's surprise, Pikin woke up partway through the journey to her new enclosure
McArthur was nervous—"I think it goes without saying that one should never get in a car with an alert gorilla," she writes in the blog post—but Pikin, still groggy, remained calm.
"[S]he was drowsy and felt safe in the arms of her friend and caretaker, Appolinaire," McArthur writes. "I continued to nervously snap pictures, and she fell back asleep."
Tragically, Pikin was injured while playing with other gorillas in the forest not long after McArthur took the photograph. Sanctuary staff were unable to save her. The image of Pikin is an indelible reminder of this little gorilla, who was cruelly uprooted from her natural environment, brought into unnatural contact with humans, and touched the hearts of the people who tried to rectify the harm that had been done to her.
"When Pikin died I was very sad for a long time," Ndohoudou said, according to the museum blog. "Now I know Pikin never left me, as she is always with me every day in my head and in my heart."