Tragedy and Beauty of Nature on Display in This Year's Best Wildlife Photos
The 16 award-winning images range from whimsical birds to the tragic aftermath of a poaching raid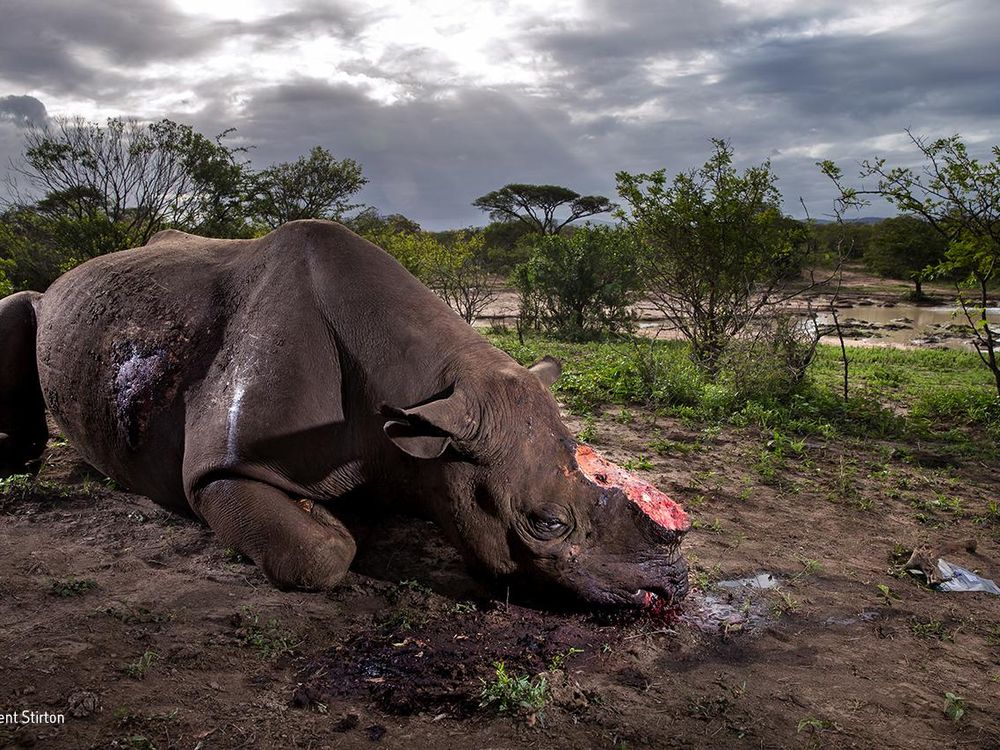 This week the London Natural History Museum announced the winners of the 2017 Wildlife Photographer of the Year competition this week. While the finalists include beautiful, whimsical and serene images, this year's grand-prize winner is Brent Stirton's Memorial to a species—a somber reminder that wildlife faces incredible challenges from human development, hunting, habitat degradation and more.
Stirton's image, which shows a black rhino recently killed and dehorned by poachers in South Africa's Hluhluwe Imfolozi Game Reserve would be beautiful if not for the grizzly butchering that has taken place on the rhino's face. "To make such a tragic scene almost majestic in its sculptural power deserves the highest award," says competition judge Roz Kidman Cox, former editor of the BBC Wildlife Magazine. "There is rawness, but there is also great poignancy and therefore dignity in the fallen giant. It's also symbolic of one of the most wasteful, cruel and unnecessary environmental crimes, one that needs to provoke the greatest public outcry."
Stirton, who witnessed 30 similar scenes while investigating the illegal wildlife trade, says: "For me to win this, for the jury to acknowledge this kind of picture—it's illustrative that we are living in a different time now, that this is a real issue," he tells Jonathan Amos at the BBC. "The sixth age of extinction is a reality and rhinos are just one of many species that we are losing at a hugely accelerated rate and I am grateful that the jury would choose this image because it gives this issue another platform."
Sirton's image beat 50,000 entries from 92 countries, which includes winners in 15 other categories. Here are some of the others that caught our eye.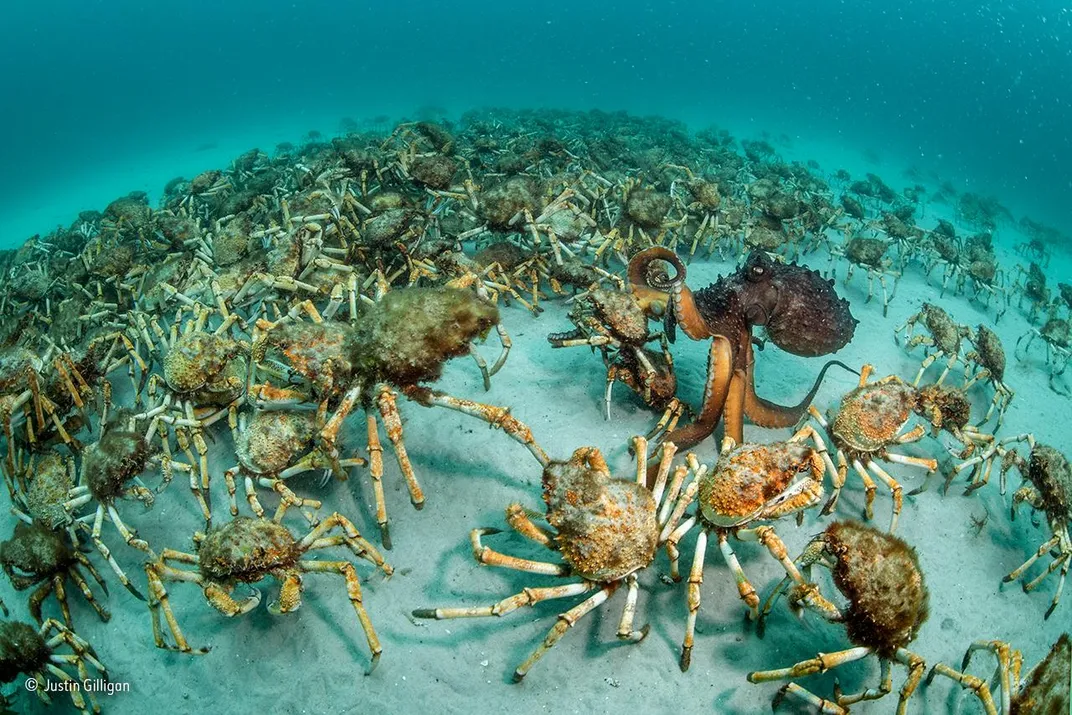 Justin Gilligan was in the Mercury Passage off the east coast of Tasmania when a congregation of giant spider crabs marched across the sea floor, covering a region about the size of a football field. This kind of mass gathering has been recorded in other parts of Australia, but never in the passage. After watching the crabs walk thorough, Gilligan noticed something else: a Maori octopus trying to grab one of the crabs for dinner. Gilligan was able to snap the picture just as the octopus succeeded in snatching its meal.
"I wish I could say it took weeks of planning and days in the field to capture the shot," the freelance photographer tells Tom Fedorowytsch at the Australia Broadcasting company, "but with this image I was fortunate it was a total surprise."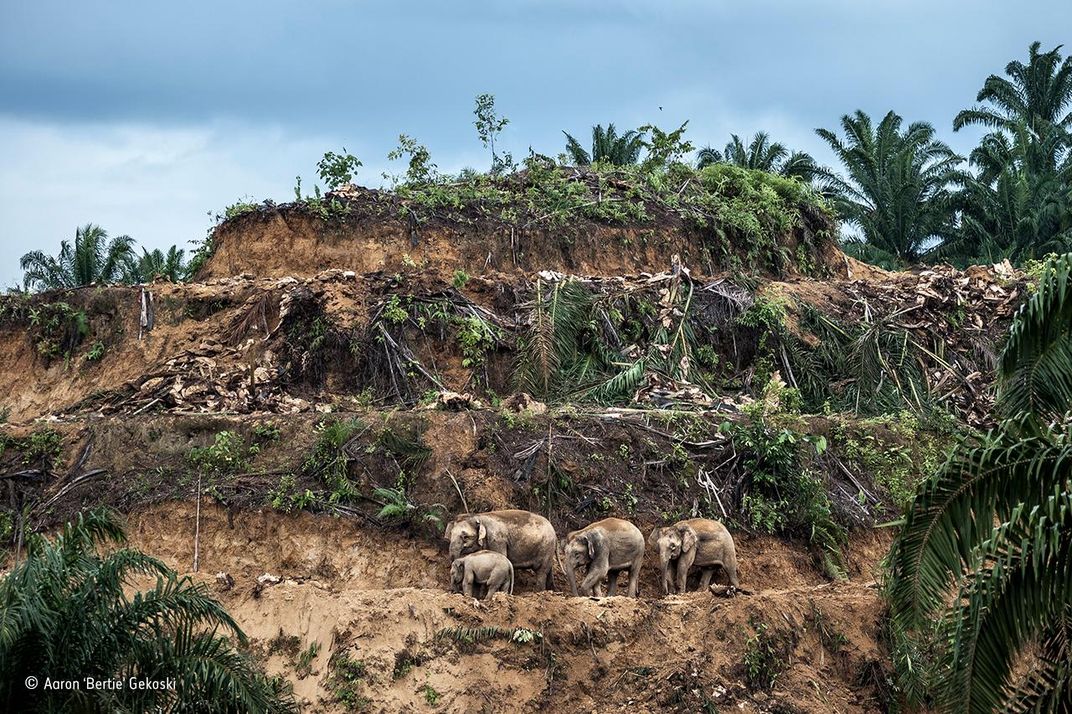 Palm oil is used in almost half the processed food in the supermarket, creating a huge demand that has decimated the rainforests of the Malaysian state of Sabah. Only eight percent of the forest remains intact with oil-palm plantations replacing them. That loss of habitat has pushed the region's subspecies of Asian elephants into smaller and smaller slices of forest and into conflict with native villagers. One evening, Aaron 'Bertie' Gekoski found a group of elephants as they navigated the terraces of an oil palm plantation that had been cleared for replanting. The group consisted of what he believes was a mother elephant, her two daughters and a grand baby.
"They huddled together, dwarfed by a desolate and desecrated landscape. A haunting image," he says.
Gekoski, who formerly ran a modeling agency, now travels the world, documenting its endangered animals and ecosystems for his online platform SZtv. This image was captured while filming Borneo Wildlife Warriors, a series in which Gekoski trains with Borneo's Wildlife Rescue Unit, which rescues and rehabilitates injured or displaced animals.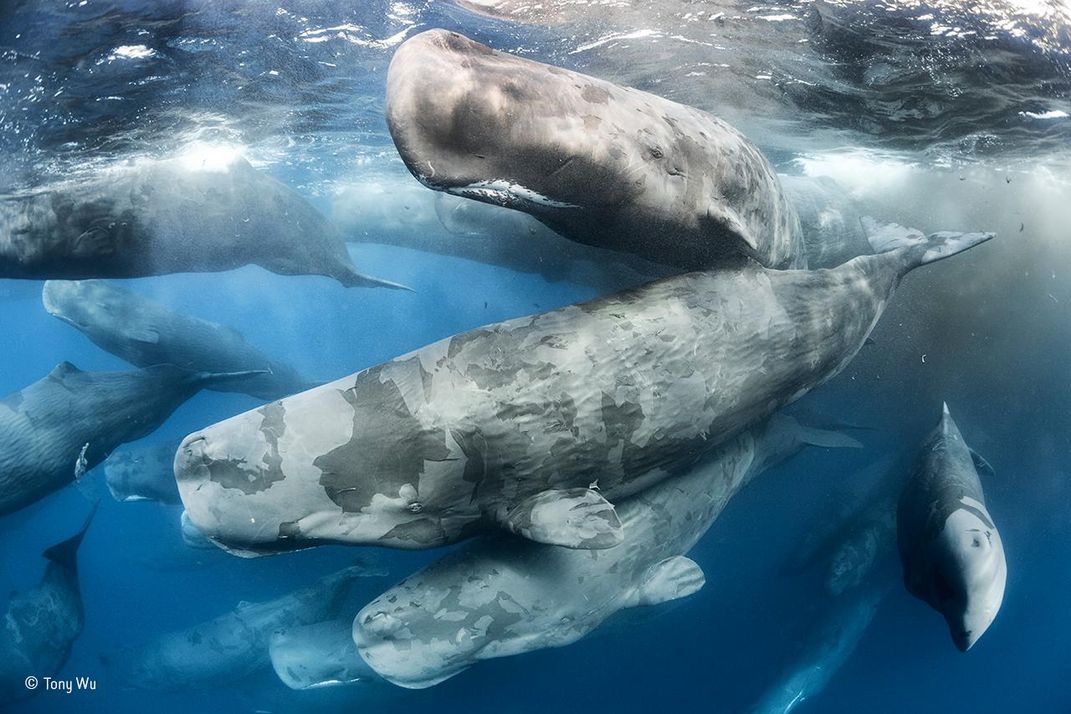 Tony Wu has spent 17 years researching and photographing sperm whales, so the massive gathering of the creatures he witnessed off the northeast coast of Sri Lanka was a welcome site. Dozens and perhaps hundreds of the whales belonging to many different pods congregated for something of a family reunion.
"As my eyes took in this secret spectacle, my ears were assaulted by a cacophony of excited whale chatter," he writes for Biographic. "Creaking and crackling, clicks, buzzes, and pops permeated the water as the whales pinged one another with sound. Pulsating rhythms pregnant with meaning penetrated my body. I 'felt' the connection between the congregated cetaceans as powerfully as I heard it."
The gathering was also a spa day for the cetaceans—rubbing against one another helps the whales slough off dead skin, which can be seen floating in the water, along with oily secretions and dung, which made getting a clear picture all the more difficult. 
The gathering hints that after centuries of being hunted by humans, the sperm whale population is on the rise and the species could be regaining some of its social habits.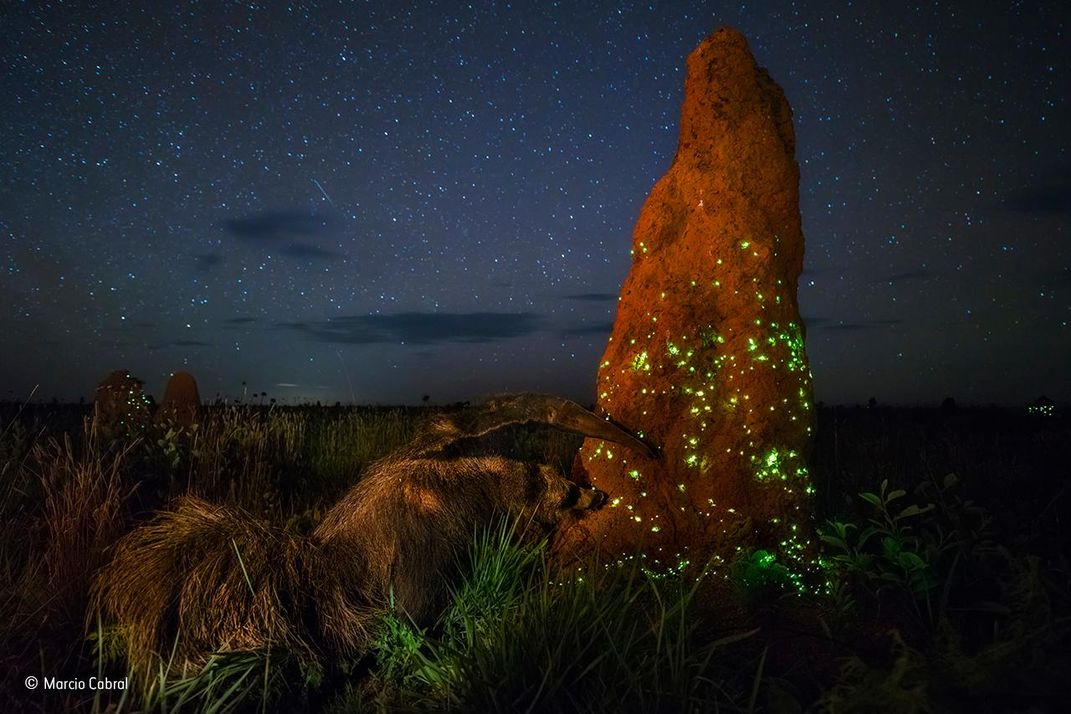 Most people have seen the flicker of a firefly. Some have also experienced the eerie glow of a bioluminescent bay or the gleam from another glow-in-the-dark creature. But not many realize that click beetles living in termite mounds also light up. That's why Marcio Cabral staked out a termite mound in Emas National Park in Brazil, hoping to catch a light show. The beetles poke their lights out of the exterior of the mound, hoping to attract and eat the mating termites as they fly around their mound. Cabral endured days of rain before the skies finally cleared and he witnessed the mounds light up. As an added bonus, a giant anteater made an appearance, hanging around long enough to take center stage in his long-exposure image.
Revel in the beauty of the natural world with more of the winning images below: