Times Square's Iconic Billboards May Be Illegal
Bright lights, big city, breaking the law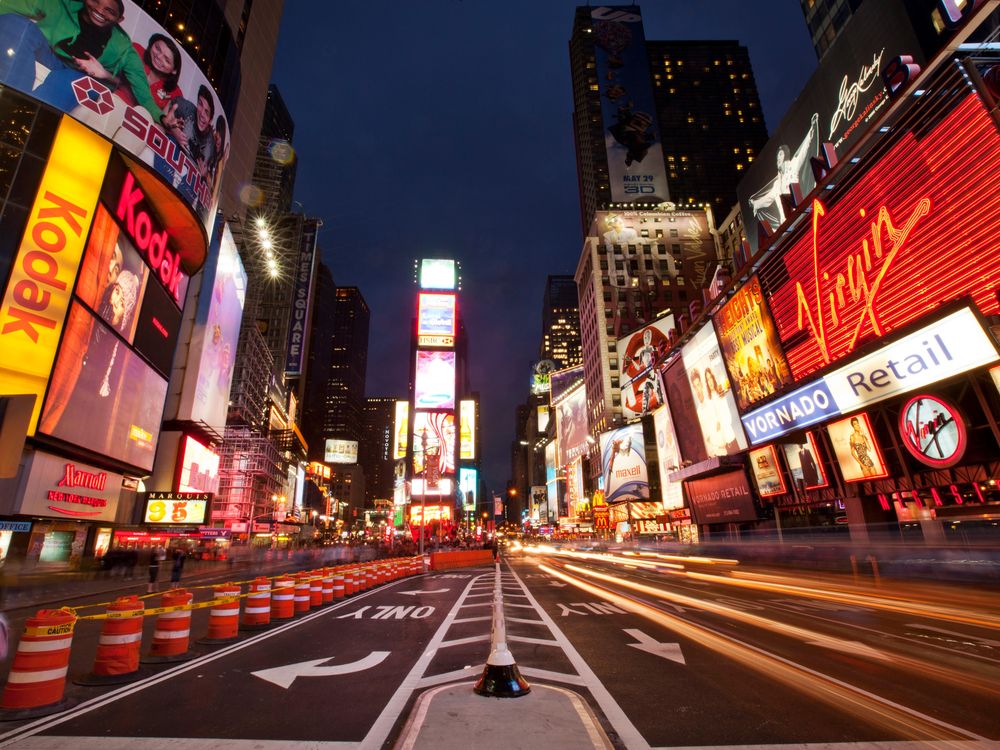 Times Square's bright, flashing billboards are beloved by tourists and hated by locals, but there's no questioning that they are one of New York City's iconic symbols. It's too bad they may be illegal under federal law, Dan Lewis writes for Now I Know.
It all comes down a little thing called the "Highway Beautification Act of 1965," reports Lewis. In January 1965, President Lyndon B. Johnson mentioned a program to beautify America's highways in the State of the Union address – the existing program keeping advertisements from swamping the roads had about six months before it expired and Johnson was concerned that ad men would go wild. The law was designed to prevent billboard ads from becoming too large, distracting, or ugly while preserving and promoting the nation's natural beauty, according to the text of the law. It limited the size of billboards to 1,200 square feet – smaller than many of the signs that cluster about the sidewalk in Times Square.
But neither Broadway nor 7th Avenue (the roads that go through Times Square) are highways. So what's the big deal? In May of 2012, the U.S. government passed a law intended to transform the National Highway System, writes Lewis. Part of that transformation was to include "urban principal arterial routes" under the law — routes like Broadway and 7th Avenue.
Whoops.
The billboards in Times Square aren't just an iconic symbol of the city: they also bring in loads of money, netting building owners millions of dollars a year, Kelly Weill reports for Capital New York. While the billboards are an accidental casualty of the new law, the federal government is threatening to dock New York State for 10 percent of its federal highway funds unless the billboards are made to comply with the Highway Beautification Act. 
However, the city government is determined to keep the billboards up; Weill reports that city, state and federal officials are trying to figure out a way to make the ads work without losing federal funding. One way or another, it's doubtful that the lights over Broadway will go down any time soon.