Art Made With A.I. Won a State Fair Last Year. Now, the Rules Are Changing
Artists who submit to the competition will need to disclose whether they used A.I. tools like Midjourney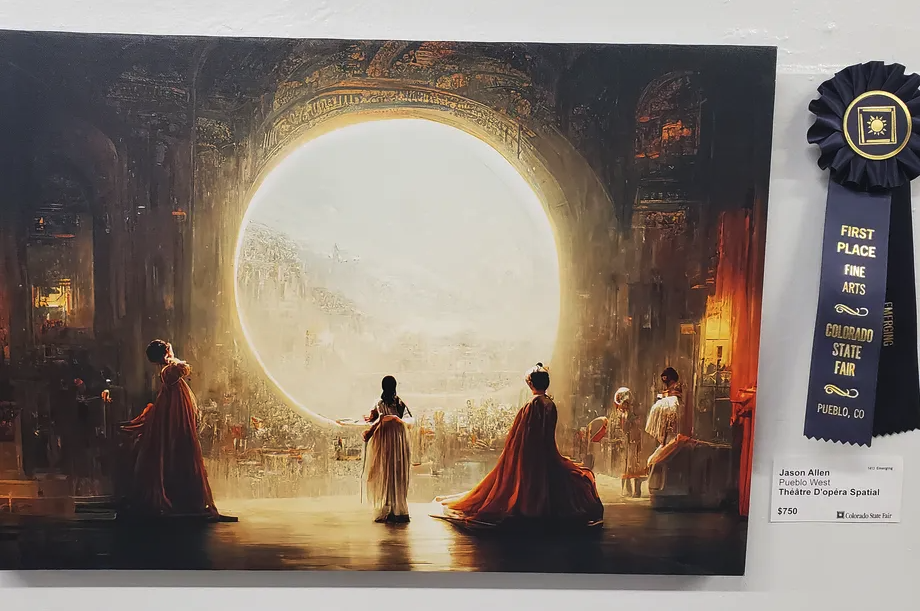 One year ago, the Colorado State Fair made headlines for unknowingly awarding first place to an artwork created with help from artificial intelligence. Now, officials with the 151-year-old fair have amended the contest's rules: Artists must disclose whether they used A.I. to make their submissions, reports the Denver Post's John Wenzel.
The saga began last August, when game designer Jason Allen won the top spot in the fair's digital arts competition. When he shared his victory online, he mentioned that he'd used Midjourney—an A.I. program that turns text into images—to help create his piece, titled Théâtre D'opéra Spatial.
Allen maintains he was open about using A.I. from the beginning, though judges say they didn't know until after the fact. Either way, disclosure wasn't necessary at the time, meaning Allen never broke any rules.
His victory was controversial—and now, as a result, officials have decided to tweak the submission requirements. At this year's fair, which took place in Pueblo between August 26 and September 4, artists needed to "disclose if art or artwork was created using an Artificial Intelligence Generator," per the 2023 eligibility requirements.
Allen wasn't happy about the new requirement, telling the Denver Post that it was essentially a "discriminatory mark" against A.I. artworks. Despite the change, he decided to submit once again to the digital arts category. This time around, his work didn't make the top three spots. (One of his pieces, titled Grand Finale, did win a sponsored award from the Pueblo Arts Alliance, per the Pueblo Chieftain's James Bartolo.)
The fair received 55 submissions in its digital arts category this year—and of those, 19 were made using A.I., reports the Colorado Springs Gazette's O'Dell Isaac. Most of those submissions didn't take home top prizes.
The winner of the digital arts category in the professional division was Ashley Martin, who didn't use A.I. for her piece, Disco Dan. Nor did Christine Truesdell, who won the emerging division with Lake View. One A.I.-generated work, titled Sedimental and created by Lise Swanson, did place, winning third prize in the professional division, reports the Pueblo Chieftain.
The fair's leaders say they plan to continue adapting as technology advances. As Scott Stoller, the fair's general manager, tells the Denver Post, the digital arts category itself has only been around for a few decades. In the future, officials may even decide to add a separate A.I. category, depending on how popular tools like Midjourney become.
"That's the beauty of art—that it's always evolving," says Trisha Fernandez, the fair's fine arts coordinator, to the Gazette. "Art can be anything, and anything can be made into art."