This License Plate Just Became the Most Expensive in the World
The vanity plate, which features the characters "P7," sold for $15 million at an auction in Dubai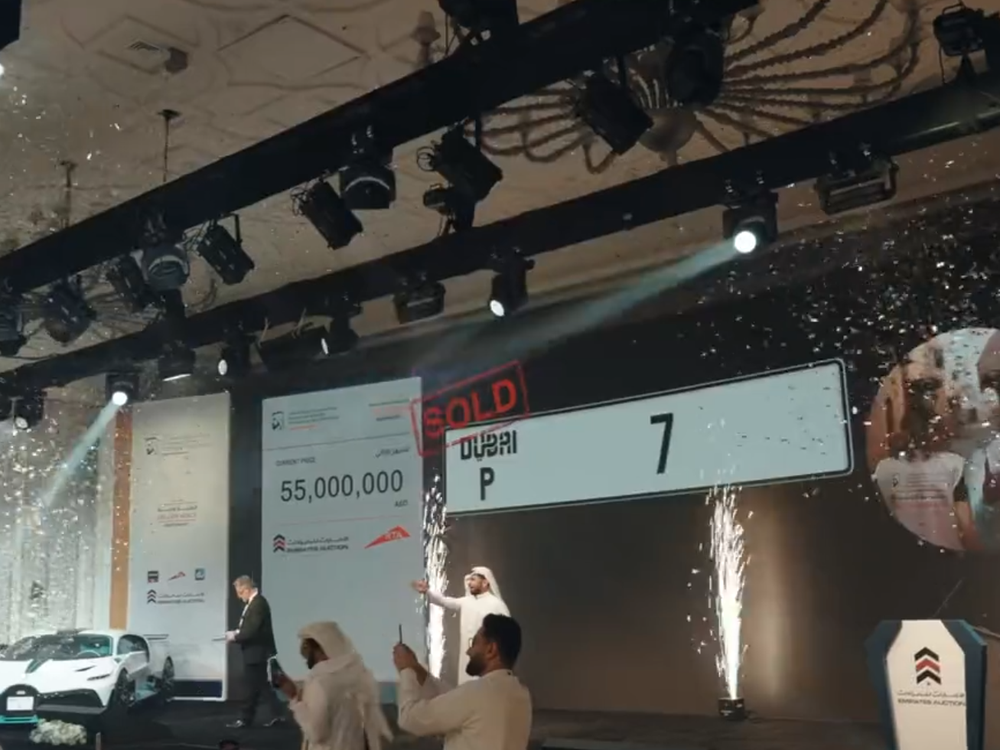 A license plate brought in a record-breaking $15 million (55 million dirhams) at a Dubai auction over the weekend. The all-white vanity plate, sold by Emirates Auction, features just two characters: "P7." It is likely the most expensive license plate in the world.
The auction house announced the sale on Twitter on April 8. So far, officials have not revealed the identity of the winning bidder.
مزاد أنبل رقم الخيري الذي نظمته الإمارات للمزادات يسجل رقما قياسيا جديدا على مستوى العالم ويدخل موسوعة جينيس للأرقام القياسية، ببيعه رقم اللوحة p7، بـ55مليون درهم ليصبح بذلك أغلى رقم في العالم، والذي سيعود ريعه كاملا لدعم جهود حملة "وقف المليار وجبة" pic.twitter.com/8qi77HiKmG

— Emirates Auction الامارات للمزادات (@emiratesauction) April 8, 2023
"P7" is not the first United Arab Emirates vanity license plate to go for such a high price. The previous record was set in 2008, when a license plate sold for around $14 million (52 million dirhams). Bearing only the number "1," that plate went to Saeed Abdul Ghafour Khouri, a billionaire businessman, per Robb Report's Abby Montanez.
Guinness World Records has not yet confirmed the new record. Its website still lists the "1" plate as the current record holder.
Why are license plates commanding such high prices in Dubai? Much of the answer boils down to bragging rights. Dropping large sums of money on vanity plates is a way for the "ultra-rich to show off their status and wealth," write Lisa Fleisher and Low De Wei for Bloomberg. On top of that, Dubai has no income tax, which helps residents' money go further.
"Dubai is a city of gold," says businessman Balvinder Singh Sahni, who spent $9 million (33 million dirhams) on a license plate in 2016, to Bloomberg. "It's a city of big people, secure people, nice people. So everybody wants to show their status."
مزاد أنبل الخيري الذي نظمته الإمارات للمزادات يسجل رقما قياسيا جديدا على مستوى العالم ويدخل موسوعة جينيس للأرقام القياسية، ببيعه رقم اللوحة p7، بـ55مليون درهم ليصبح بذلك أغلى رقم في العالم، والذي سيعود ريعه كاملا لدعم جهود حملة "وقف المليار وجبة" pic.twitter.com/jo4M0DNmdi

— Emirates Auction الامارات للمزادات (@emiratesauction) April 8, 2023
Typically, license plates are most valuable when they contain fewer characters, as Sarwat Nasir and Jasmine Al Kuttab reported for Khaleej Times in 2017. Some buyers snag low-number license plates and hold on to them, hoping to sell them for a profit in the future. When that's the end goal, buyers may not even install them on their vehicles for fear of lessening their value.
Other buyers, however, do put the license plates on their cars—particularly when they're driving flashy models, according to Esquire Middle East. The combination of a fancy vehicle and expensive license plate acts as a "biometric swipe card into any opulent establishment," writes the publication.
As CNN's Issy Ronald points out, vanity plates in the United States are usually relatively cheap. Still, exceptions exist: In 2018, a Delaware license plate fetched more than $400,000. Elsewhere, rare license plates are similarly expensive. Just a few months ago, a Hong Kong plate sold for roughly $3 million (26 million Hong Kong dollars).
Proceeds from last weekend's auction will go to the 1 Billion Meals Endowment, an initiative that fights food insecurity across the globe. In total, the license plate and other items brought in roughly $27 million (100 million dirhams).