This Exoplanet May Be a Distant Ocean World, James Webb Telescope Finds
The observatory detected evidence of methane and carbon dioxide—and tentatively observed a molecule that, on Earth, is only made by living things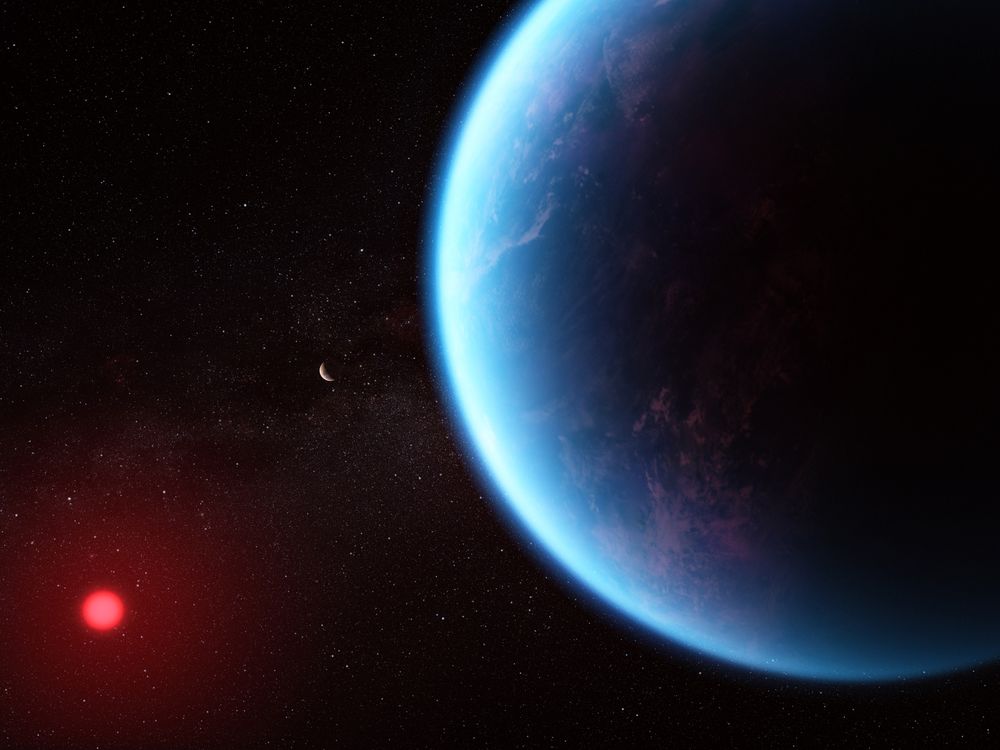 The James Webb Space Telescope has inspected a planet in a far-off solar system, and its data suggests the world may have a surface covered in water.
Scientists detected the presence of methane and carbon dioxide within the exoplanet's atmosphere, supporting the idea that the orb—which is between the size of Earth and Neptune—may host a watery ocean beneath an atmosphere rich with hydrogen.
Astronomers call worlds with these traits "Hycean"—a portmanteau of hydrogen and ocean. Hycean planets are good candidates for searching for signs of life beyond Earth, according to a statement from NASA. The researchers' findings have been accepted for publication in the Astrophysical Journal Letters.
"Our findings underscore the importance of considering diverse habitable environments in the search for life elsewhere," Nikku Madhusudhan, an astronomer at the University of Cambridge in England and the lead author of the upcoming paper, says in NASA's statement. "Traditionally, the search for life on exoplanets has focused primarily on smaller rocky planets, but the larger Hycean worlds are significantly more conducive to atmospheric observations."
The exoplanet, called K2-18 b, orbits the star K2-18 in the constellation Leo around 120 light-years from Earth. It's roughly 8.6 times as massive as our home planet and has a radius about 2.6 times larger than Earth's, making it about half the size of Neptune. Our solar system does not host any planets of this size, so scientists have much to learn about this world's characteristics.
NASA's Kepler Space Telescope first discovered K2-18 b in 2015, and since then, other observations have pointed to its potential to host life. In 2019, researchers used the Hubble Space Telescope to find that K2-18 b has water vapor in its atmosphere. The exoplanet lies in its star's habitable zone, the area where a planet's surface temperature would be suitable for hosting liquid water.
Scientists have found evidence of water outside our solar system before. In 2020, for example, researchers suggested two exoplanets in the constellation Lyra could be largely made up of water. And astronomers previously detected water vapor on a Neptune-sized planet in the constellation Cygnus, writes the Guardian's Richard Luscombe.
In fact, of the thousands of known exoplanets, scientists estimate that more than a quarter may host liquid water, according to the National Oceanic and Atmospheric Administration. But the 2019 discovery made K2-18 b the first exoplanet in a habitable zone to show evidence of water vapor, according to NASA.
The Webb telescope has detected carbon dioxide and methane in the atmosphere of exoplanet K2-18 b, a potentially habitable world over 8 times bigger than Earth. Webb's data suggests the planet might be covered in ocean, with a hydrogen-rich atmosphere: https://t.co/qN1SqCfFt1 pic.twitter.com/yoXF3flsUl

— NASA Webb Telescope (@NASAWebb) September 11, 2023
Planets like K2-18 b are hard to observe, because the stars they orbit are so bright. For the new research, the scientists looked at K2-18 b as it passed between its host star and the Webb telescope. The high-tech observatory examined the wavelengths of starlight that passed through the planet's atmosphere, and because different gases absorb and emit particular wavelengths of light, researchers could determine the gases that blanket the planet by studying that light, writes Space.com's Robert Lea.
The planet's atmosphere appeared to contain an abundance of methane and carbon dioxide, as well as a shortage of ammonia, per NASA. The data also pointed to the presence of a molecule called dimethyl sulfide, which on Earth is only produced by living creatures, particularly by tiny marine algae called phytoplankton. But that finding remains preliminary.
"Upcoming Webb observations should be able to confirm if [dimethyl sulfide] is indeed present in the atmosphere of K2-18 b at significant levels," Madhusudhan says in NASA's statement.
While the new evidence suggests an ocean of water could lie below the exoplanet's atmosphere, that ocean may be too hot for the water to be in liquid form or for life to survive.
Additionally, K2-18 b would need to have a rocky surface in order for liquid water to sit on it. "It might have a rocky surface, but it is more likely a giant ball of liquid and gas, like Neptune," NASA wrote in 2019.