These Drum Pants Might Help People Who Can't Speak
An electronic drum kit could give a voice to some people who can't talk.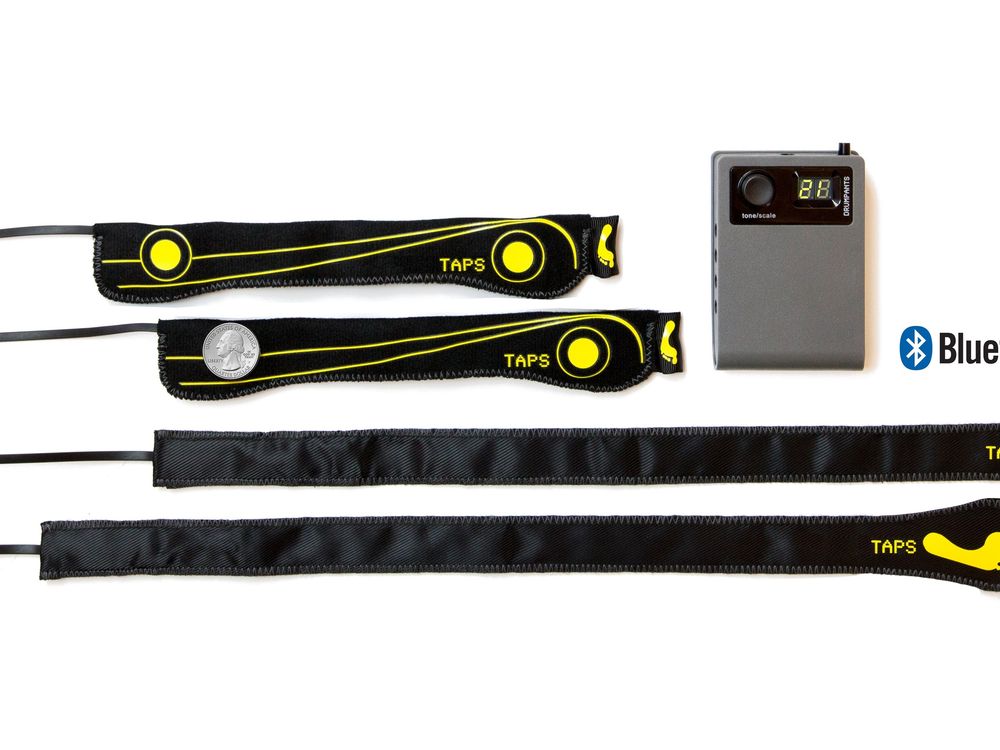 For people who are unable to speak, communication can be difficult. While text-to-voice synthesizers have been around for decades, they can still be a struggle to use. Typing out even a simple sentence can be an arduous task, especially for someone with limited mobility. But now, an electronic drum kit could help some people speak their mind faster.
DrumPants first gained national attention when its creators, Lei Yu and Tyler Freeman, brought the wearable electronic drum kit to ABC's entrepreneurial pitch show, Shark Tank. While their invention didn't win favor with the sharks, a rehabilitation specialist named Michael Zinn realized that the DrumPants could help people with nonverbal disabilities communicate more easily, Ellie Kaufman writes for Mic.
"We gave him a couple of DrumPants kits, and we worked with him to create this app," Yu tells Kaufman. "You can type in a custom phrase. It can be as simple as 'yes' or 'no,' or as complicated as 'I want donuts,' and then all they need to do is tap on [a sensor], and it can trigger that phrase to be spoken."
The DrumPants sensors were originally designed to be worn on top of or underneath the user's clothing, which makes them less conspicuous. Text-to-voice interfaces can be clunky for someone with limited mobility, such as Stephen Hawking, who would take 20 minutes to type out a 30-word-long phrase before a recent equipment upgrade, Joao Medeiros writes for Wired. The DrumPants sensors can be attached to a person's leg, the arm of a wheelchair, or the handle of a cane. "There's a mom in Canada who has ALS. She can communicate with you as long as she can look at you, but if her kids are in the other room, and she needs them for some reason, she can tap on her leg and her phone will call out to her children," Freeman tells Kaufman.
But there are some hurdles. The sensor could come with pre-programmed phrases, but if they did each sensor could only trigger one phrase at a time, limiting the user's ability to easily converse. 
While prosthetic voices can help people who are physically unable to speak to communicate, their relationship with the synthetic voice can be interesting. When Stephen Hawking got his first synthetic voice box, the English physicist was surprised to hear his words spoken by an American-accented voice. But in the decades since, he has come to think of that voice (which is called "Perfect Paul")  as his own, and has asked software engineers to keep the synthesized voice intact, Medeiros writes. At the same time, Rupal Patel, a speech scientist at Northwestern University, is working with patients to develop personalized voices that better reflect how they sound in their heads, Alix Spiegel writes for NPR.
Though the DrumPants are far from perfect, the sensors could help some people speak their minds, one tap at a time.