There Are Obese Dogs, So, Naturally, There Are Dog Weight Loss Camps
For these companions, shedding hair is easy, shedding the pounds, not so much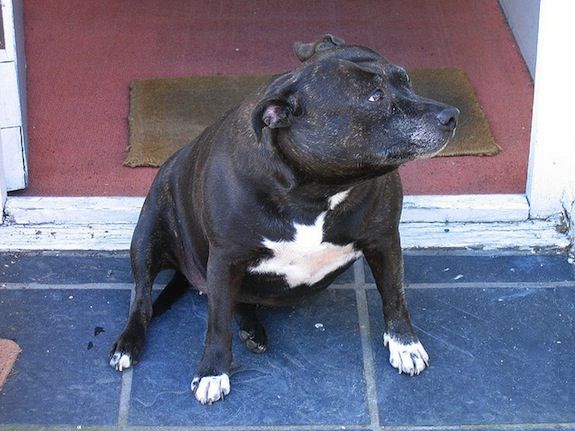 People love dogs. They love to play with them, scratch their bellies and feed them. And that last part can get some dogs into trouble. Pet Obesity Prevention estimates that about 55 percent of dogs in the United States are overweight or obese. And in yesterday's New York Times, Stacey Stowe visited a doggie gym full of dogs trying to slim up.
Of course, feeding your dog less is the first step. But Stowe writes that, just like with people, diet without exercise isn't enough. Stowe writes:
Exercise is vital to a pet and to any weight-loss program, said Cesar Millan, the dog trainer. Basically, anything "that makes a dog a dog is good exercise," Mr. Millan said. That means walking, running, swimming, herding, jumping in agility training, search-and-rescue work. The optimal amount and intensity of exercise depends on the age, breed and health of the dog; some are so overweight that short walks are the only option. And shorten exercise and increase access to water in hot weather.
But not everybody does the exercising for their dogs themselves. This is where dog gyms come in. For a hefty hunk of cash, trainers will try to make your dog less hefty. Some of these programs cost $100 a day. Loyalville, a kennel and training center in Florida, charges $1,250 a month for 24-hour one-on-one time with your pup.
At the Times, they have a video of chubby dogs going through their paces at the gym. For these companions, shedding hair is easy, shedding the pounds, not so much.
More from Smithsonian.com:
Invasive Lionfish Are Such Effective Predators They're Becoming Obese