The National Zoo's Giant Pandas Bid Washington, D.C. Farewell
The three beloved bears will depart for China later today, traveling in style on a FedEx cargo plane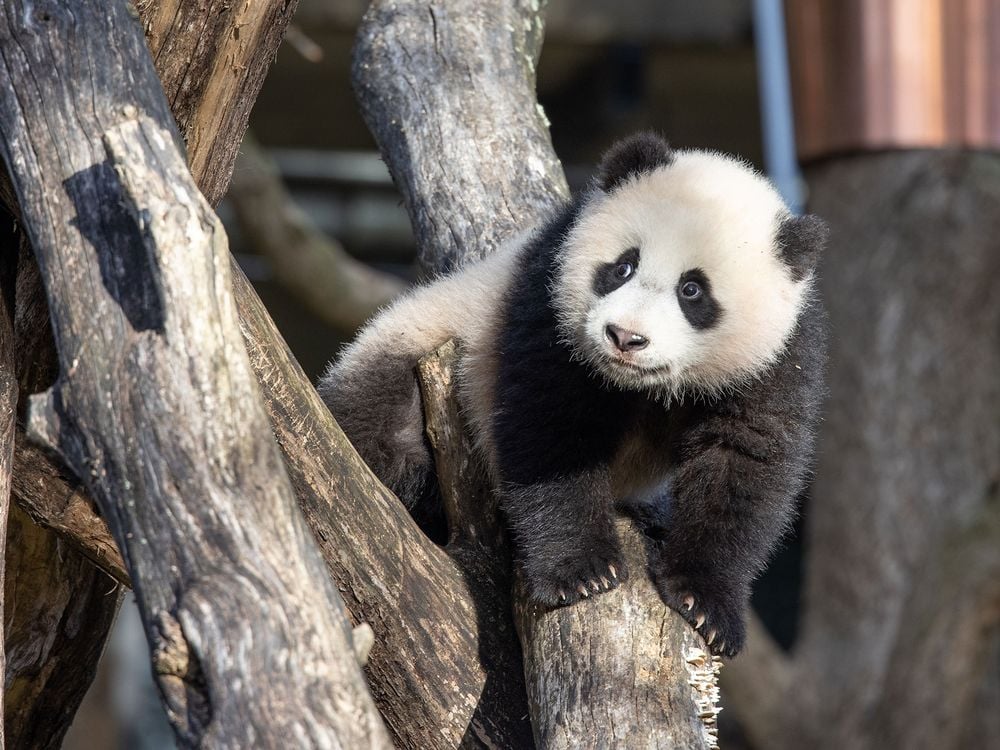 By the time the Smithsonian's National Zoo and Conservation Biology Institute (NZCBI) opens to the public today at 10 a.m., three of its most popular residents will be en route to their new home: China. Giant pandas Mei Xiang, Tian Tian and Xiao Qi Ji are leaving Washington, D.C. earlier than expected, just under a month before NZCBI's agreement with the China Wildlife Conservation Association (CWCA), which owns the animals, expires on December 7. The trio's departure will leave the nation's capital without pandas for the first time in 23 years.
The bears will fly from Washington to Chengdu, China, on a custom-decorated "FedEx Panda Express." Per a statement, the flight will take 19 hours, with the Boeing 777F cargo plane stopping to refuel in Anchorage, Alaska. Russian airspace is currently closed to the United States due to the war with Ukraine, so the Panda Express is taking a longer trans-Pacific route. Previous panda transports—including the voyages of 3-year-old Xiao Qi Ji's three older siblings—took closer to 16 hours, flying nonstop across the Atlantic Ocean.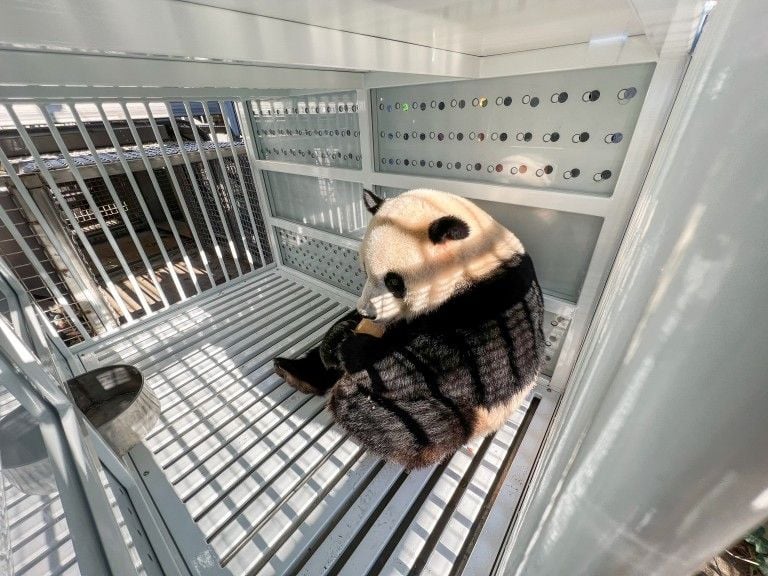 Each of the pandas will travel in their own steel-and-plexiglass shipping container. As senior curator Bryan Amaral tells the Washington Post's Michael E. Ruane, keepers trained Mei Xiang, Tian Tian and Xiao Qi Ji to enter the crates on their own, allowing them to get used to their in-flight accommodations.
"Pandas are pretty remarkable," Amaral says. "They're pretty easygoing, so it does not take long."
According to NZCBI's statement, workers will use forklifts to transport the three shipping containers from the Asia Trail to FedEx trucks waiting to drive them to Dulles International Airport in Virginia. The pandas will then be loaded onto the aircraft, which is slated to take off around 1 p.m.
Two keepers and a veterinarian will accompany the panda family on the flight. To keep the bears in good spirits, the team is bringing more than 200 pounds of bamboo, as well as nutrient-rich biscuits and favorite snacks like pears and butternut squash, Axios' Anna Spiegel reports.
"The whole reason we fly [with the pandas] is so we can go back and offer them whatever they need—food, water, you name it," keeper Mariel Lally tells Axios.
Upon their arrival in China, 25-year-old Mei Xiang and 26-year-old Tian Tian will enjoy "a luxurious retirement," while their son Xiao Qi Ji will have the opportunity to find a mate of his own, NZCBI's director, Brandie Smith, tells NBC Washington's Maggie More.
The three bears were far from the first pandas to take the capital by storm. Ling-Ling and Hsing-Hsing, a pair gifted to the U.S. by China in 1972, attracted more than one million visitors during their first month in town. After Hsing-Hsing's death in November 1999, NZCBI's Panda House remained empty for just over a year, with negotiations for replacement animals stalling over money. Ultimately, NZCBI agreed to pay China $10 million (raised through private donations) for a ten-year loan of two young pandas: Mei Xiang and Tian Tian.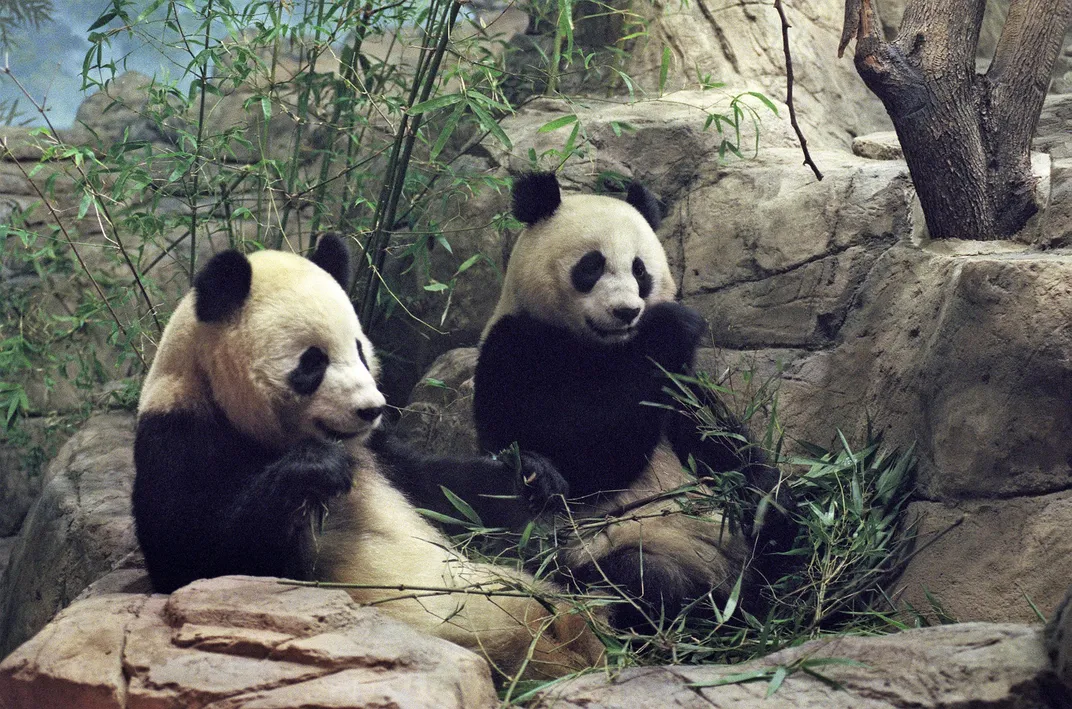 During their two decades in Washington, the proud panda parents produced four cubs who survived past infancy: Tai Shan, born in July 2005; Bao Bao, born in August 2013; Bei Bei, born in August 2015; and Xiao Qi Ji, born in August 2020. By the time Xiao Qi Ji, whose name translates to "little miracle," was born, all three of his siblings were back in China. NZCBI's agreement with the CWCA, which was renewed three times, most recently in 2020, stipulated that any cubs born to Mei Xiang and Tian Tian be sent to China around age 4. There, the pandas participate in a breeding program designed to ensure their species' survival.
Whether pandas will return to Washington in the near future remains unclear. Relations between the U.S. and China are tense at the moment, and pandas are a key tool in China's diplomacy playbook. NZCBI officials tell DCist's Jacob Fenston they have yet to begin talks with China, but a $2.5-million renovation of the panda enclosure suggests staff are cautiously optimistic about the chances of a comeback.
"We're looking at a list of animals that may work in here" if pandas aren't back by the time work is completed next year,
Mike Beglinger
, NZCBI's associate director of planning, facilities and exhibits, tells
DCist
. Still, he adds, "We all have pandas in our hearts."