The Most Isolated Tree in the World Was Killed by a (Probably Drunk) Driver
The acacia was the only tree for 250 miles in Niger's Sahara desert and was used as a landmark by travelers and caravans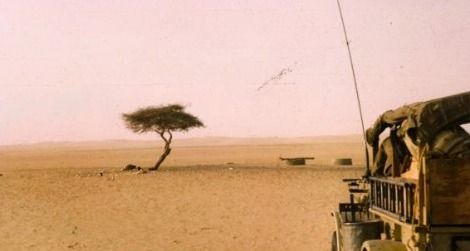 For around 300 years, the Tree of Ténéré was fabled to be the most isolated tree on the planet. The acacia was the only tree for 250 miles in Niger's Sahara desert, and was used as a landmark by travelers and caravans passing through the hostile terrain. The tree sprouted when the desert was a slightly more hospitable place, and for years was the sole testament to a once-greener Sahara.
In the 1930s, the tree was featured on official maps for European military campaigners, and a French ethnologist Henri Lhote called it, "an Acacia with a degenerative trunk, sick or ill in aspect." But he noted, as well, that "nevertheless, the tree has nice green leaves, and some yellow flowers." The hardy tree, a nearby well showed, had reached its roots more than 100 feet underground to drink from the water table.
But then, in 1973, the centuries-old survivor met its match. A guy ran the tree over with his truck. The Libyan driver was "following a roadway that traced the old caravan route, collided with the tree, snapping its trunk," TreeHugger reports. The driver's name never surfaced, but rumors abound that he was drunk at the moment that he plowed into the only obstacle for miles—the tree.
Today, the tree's dried trunk rests in the Niger National Museum, and a spindly metal sculpture has been erected in the place it once stood. The loneliest tree in the world is now this sad spruce on New Zealand's subantarctic Campbell Island.
More from Smithsonian.com:
Things Are Looking Up for Niger's Wild Giraffes 
Born Into Bondage