Covid-19 Surpasses 1918 Flu to Become Deadliest Pandemic in American History
But national population numbers have tripled since then. Influenza killed one in 150 Americans, while one in 500 people have died from the coronavirus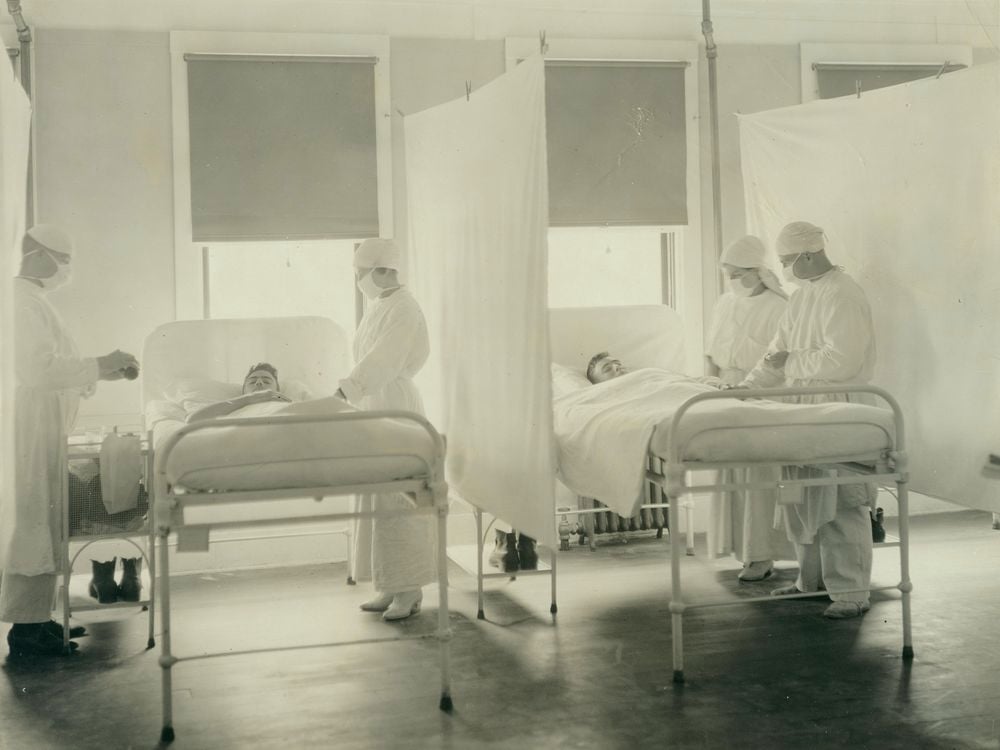 The coronavirus pandemic has become the deadliest disease outbreak in recent American history with tolls surpassing the estimated deaths of the 1918 flu. According to data from Johns Hopkins University, 681,253 individuals in the United States have died from Covid-19 infections, while over a century ago, the country lost an estimated 675,000 people during the 1918 influenza pandemic, reports Holly Yan for CNN.
Many health experts suspect that the Covid-19 pandemic's high death tolls are a result of America's insufficient response to control the pandemic early on—despite modern day scientific and medical advances—and consider the phenomenon a tragedy, reports Carla K. Johnson for the Associated Press. Currently, an average of 1,900 deaths are reported per day in the U.S. Experts suspect the recent surge is due in part to the persistence of the deadlier Delta variant, reports CNBC's Berkeley Lovelace Jr.
"It's generally known around the world that America didn't do a very good job in the early stages of controlling the pandemic," says David Morens, a medical historian at the National Institutes of Allergy and Infectious Diseases, to Helen Branswell for STAT News.
The 1918 flu, also known as the Spanish flu, spread worldwide during 1918 and 1919. In the U.S., it was first identified in military personnel in the spring of 1918 and mostly affected children less than five years old, adults between 20 to 40 years old, and seniors 65 years of age or older. Mortality rate was high in healthy people between 20 and 40 years old, making this a unique and devastating feature of the influenza virus, per the Centers for Disease Control and Prevention.
When looking at two separate pandemics that occurred in different time periods, understanding the context of all technological, medical, cultural, and social advances that occurred over the past century is important, reports CNBC.
American population numbers were vastly different. In 1918, the population was less than a third of today's at 103 million people living in U.S. right before the 1920s. Now, there are 303 million people living in the country. So, while the 1918 flu killed one in every 150 Americans, Covid-19 has killed one in 500 people so far, per CNBC. Globally, Covid-19 has taken the lives of 4.7 million people, whereas the 1918 pandemic killed an estimated 20 million to 50 million people. When looking at the national population-level data during the two events, the 1918 influenza still tops Covid-19, per Stat News.
Medicine was also not as advanced during 1918, and a vaccine against influenza was not available, according to CNN. To control infections a century ago, non-pharmaceutical interventions—like isolation, quarantine, use of disinfectants, cloth masks and limits of public gatherings—were enforced, according to the CDC.   
However, Covid-19 cases are still rising despite the availability of vaccines, and other modern medicine practices. Currently, millions of Americans have still not been vaccinated, per CNN.
"Remember, we're still counting," Morens tells STAT News. "In 1918, the pandemic became not so deadly within two years. We have no idea — I don't, and I don't trust anybody who says they do — where this Covid-19 will go."
Epidemiologist Stephen Kissler from the Harvard T. H. Chan School of Public Health suggests that another reason for high rates of Covid-19 infection is from the misinformation that spread through the internet, per CNN.
"The truth is we have no historical precedent for the moment we're in now," writes Howard Markel, the director of the Center for History of Medicine at the University of Michigan School of Public Health, last month in the Atlantic. "We need to stop thinking back to 1918 as a guide for how to act in the present and to start thinking forward from 2021 as a guide to how to act in the future."