Take a Virtual Tour of the 'Doomsday' Seed Vault
The impressive depository carefully preserves over one million seed samples in its Arctic location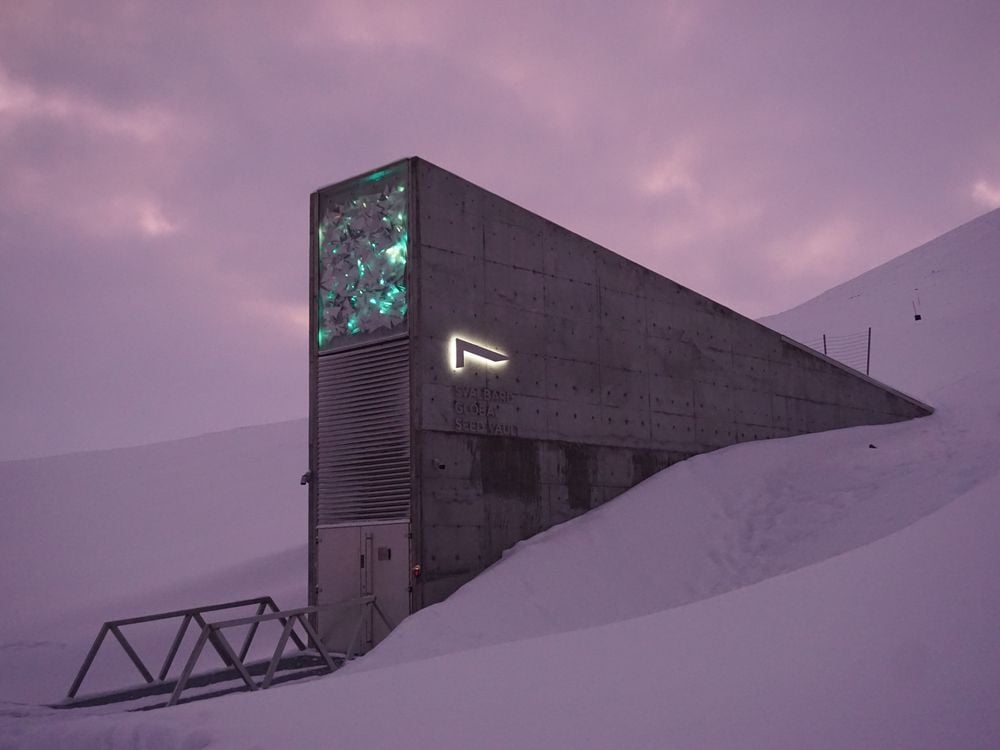 In the frigid Norwegian Arctic, a gray wedge-shaped building protrudes from a mountain. Snow blows across the small metal bridge that leads to its entrance, above which a pattern of steel, mirrors and prisms reflect a ghostly green light. Large letters on the building's side hint at the precious collection that's held within, declaring that here is the entrance to the "Svalbard Global Seed Vault."
Only a handful of people are allowed inside the vault, and its five metal doors are only opened a few times each year for new entries of seeds. But now, in honor of its 15th anniversary, you can catch a rare glimpse of the vault's interior through a virtual tour.
Carved into Plateau Mountain on the Norwegian island of Spitsbergen, it holds more than 1.2 million seed samples from almost every country in the world, including recent first-time depositors Albania, Croatia, North Macedonia and Benin. Meant to protect crop biodiversity in case of localized catastrophe, this curious depository is often referred to as the "doomsday seed vault."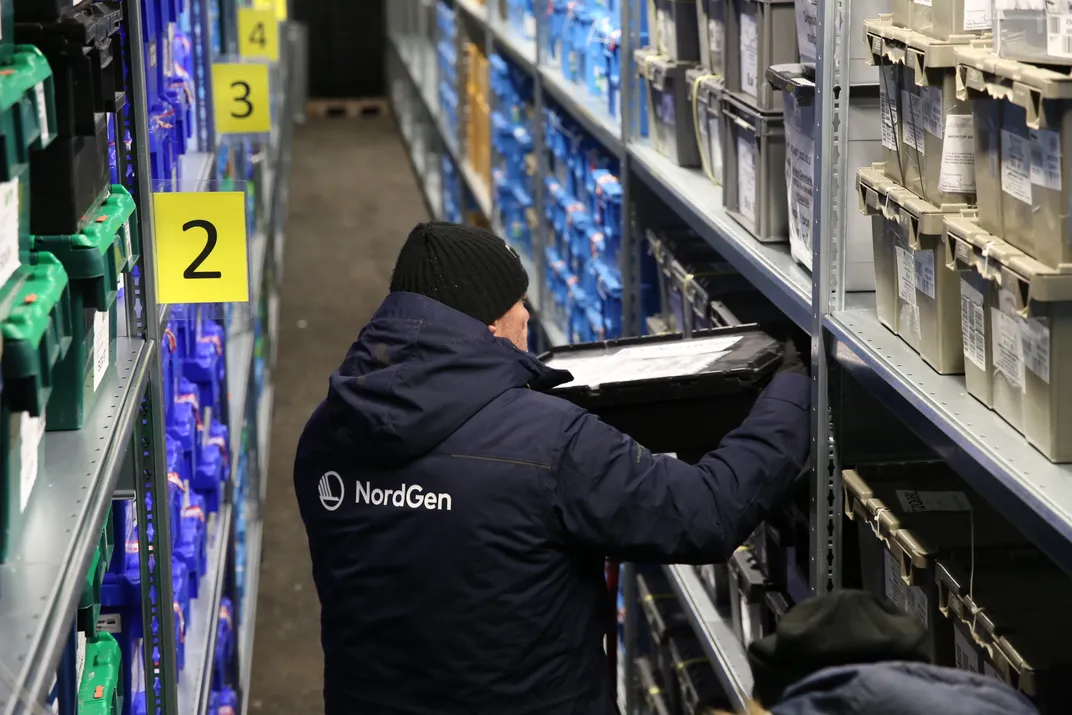 "From here in Svalbard, the world looks different. This seed vault represents hope, unity and security," says Stefan Schmitz, executive director of the Crop Trust, a co-manager of the vault, in a press release. "In a world where the climate crisis, biodiversity loss, natural catastrophes and conflicts increasingly destabilize our food systems, it has never been more important to prioritize safeguarding these tiny seeds that hold so much potential to adapt our future food to such global threats."
The contents of this doomsday vault are effectively backup storage for a global network of more than 1,700 smaller vaults called gene banks. Countries deposit copies of the seeds they hold in their own banks, and the Svalbard facility keeps them safe. This year, new seed deposits of wild strawberries, wheat, maize and rice have joined the ranks of other preserved plants. An organization from North Macedonia deposited seeds from an ajvarka red pepper variety used to make a popular traditional relish.
The seeds remain the property of the depositing country, to be withdrawn in the event their own stockpile is compromised. In 2015, for example, seeds from the vault were used to restart the International Center for Agricultural Research in the Dry Areas after its Aleppo seed bank had to be abandoned during the Syrian civil war.
To preserve its contents, the Arctic vault is protected by almost 400 feet of rock at its deepest point. Even virtually, its floor-to-ceiling shelves with the space for thousands of seed boxes are an impressive sight to behold.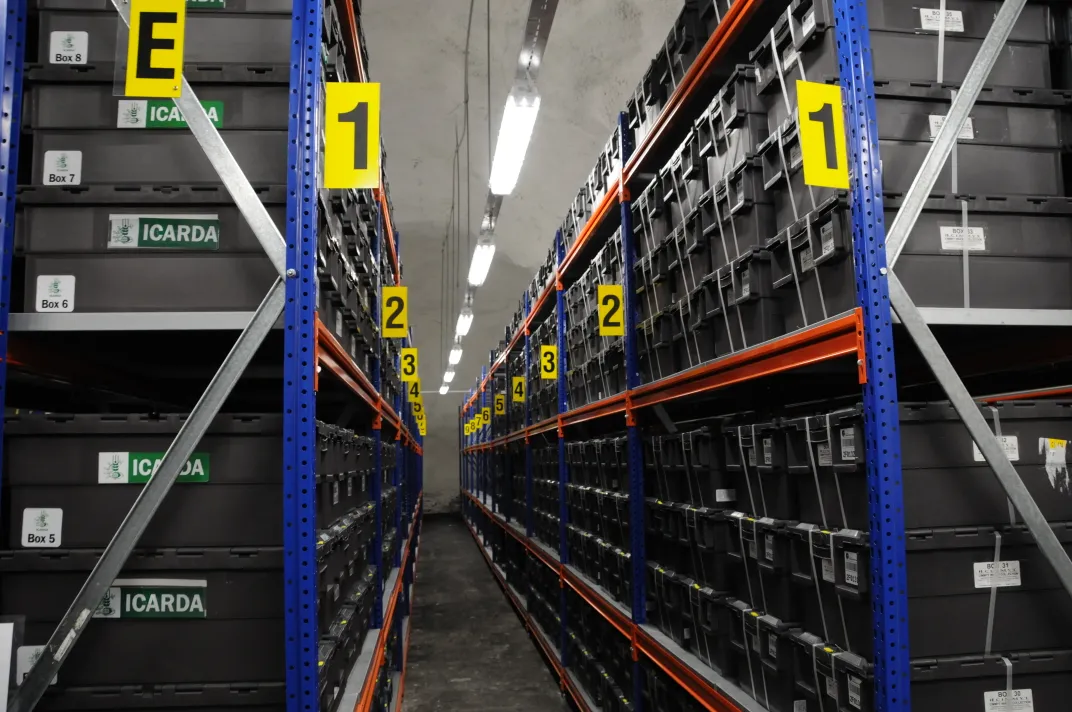 "It is a bit like being in a cathedral. It has high ceilings and when you're standing inside the mountain, there's hardly any sound. All you can hear is yourself," Lise Lykke Steffensen, executive director of NordGen, the gene bank of the Nordic countries that handles day-to-day operation of the vault, tells the Guardian's Patrick Greenfield. "When you open the door, it's minus 18 degrees Celsius—the international standard for conserving seeds—which is very, very cold. Then you see all of the boxes with seeds from all of these countries. I've been so many times and I'm still curious."
Since its establishment in 2008, the vault's collection has continued to grow. It is the largest global security reserve of seeds for food and feed crops, according to the Norwegian government.
In a tumultuous world where wars and extreme weather events wreak havoc, those who run the vault say it's an important symbol of cooperation and global community.
"The seeds don't care that there are North Korean seeds and South Korean seeds in the same aisle," Brian Lainoff, the former lead partnerships coordinator of the Crop Trust, told Time's Jennifer Duggan in 2017. "They are cold and safe up there, and that's all that really matters."