California Lost 36 Million Trees to Drought Last Year
The die-off is expected to continue despite this winter's rain storms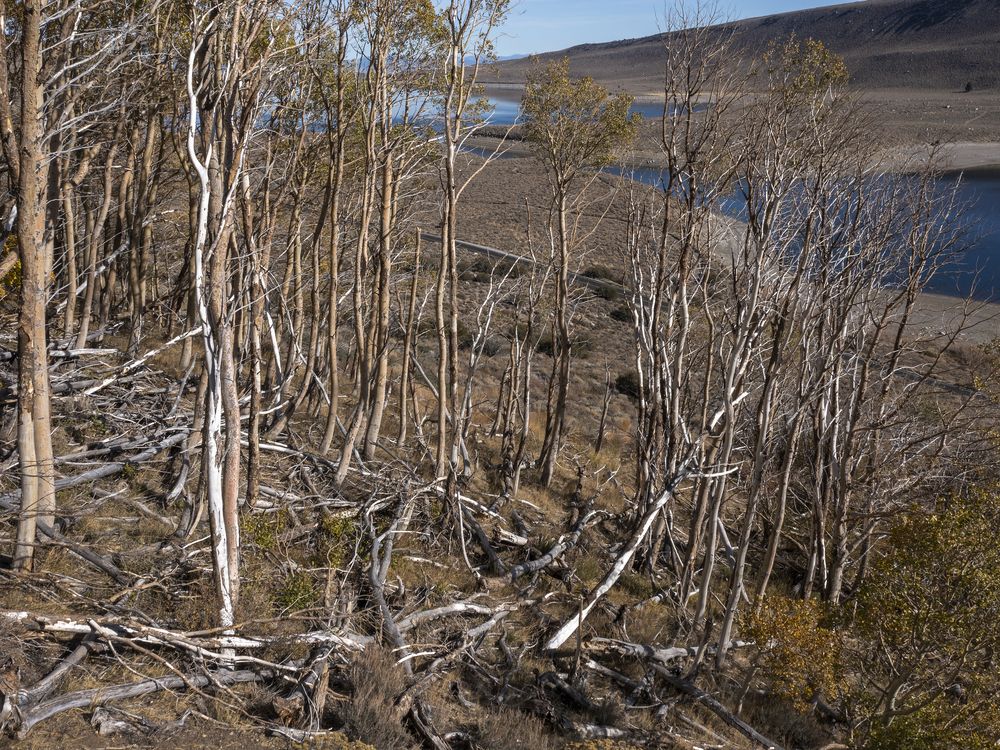 An estimated 36.3 million trees died in California in 2022, primarily because of drought, high temperatures, insects, disease and overcrowded forests, according to a recent report from the U.S. Forest Service.
An aerial detection survey, conducted from July 18 to October 7 last year, looked at 39.6 million acres of land and found that 2.6 million acres contained dead trees.
The primary cause of tree death was drought, according to the Los Angeles Times' Nathan Solis. Since 2020, California has experienced its driest and warmest years on record, per a statement released last week by the Forest Service. At the end of September last year, 94 percent of the state was experiencing severe, extreme or exceptional drought, according to the U.S. Drought Monitor.
Susie Kocher, a forester for the University of California Cooperative Extension, tells the Washington Post's Amudalat Ajasa that the results of the survey aren't shocking.
"Going into the start of last year, it was a dry year," Ryan Tompkins, a forester and natural resources advisor also with the Cooperative Extension, tells the Los Angeles Times. "A lot of people are saying, 'Oh, my gosh, this is a big tree mortality year.'"
Suppressing fires over the last hundred years has led to overgrowth in California's forests, according to CNN's Stephanie Elam. Last year, wildfires burned 363,917 acres of land across the state.
Drought, along with crowded trees and high temperatures, make trees more vulnerable to disease and attacks from bark beetles, per the Forest Service statement. Bark beetles lay their eggs in tree bark, where they feed on trees, per Gizmodo's Angely Mercado. Droughts also make it harder for trees to maintain their health and recover from adversity, Kocher tells the Post.
The 36 million dead trees is the survey's highest count since 2016, and nearly four times the estimated number of deaths in 2021, per the Los Angeles Times. Across the state, an estimated three million Douglas firs died, a dramatic increase of 1,650 percent from the year before. Over 15 million red firs and nearly 13 million white firs died.
This winter California suffered a series of devastating rain storms. Despite these storms, trees will continue to die at a high rate until the state receives at least a normal amount of rainfall for a few years, according to the Forest Service statement.
"There is probably going to be some continued die-off, even though it's been wet this year," John Abatzoglou, a climatologist at the University of California, Merced, tells the Post. "The trees are already sort of going."
"The real problem here is that our forests are far too dense," Tompkins tells the Los Angeles Times. "And when these forests are really dense, trees are competing for a finite amount of water, particularly in a dry year."
California has proposed a $2.7 billion package for wildfire resilience. Strategies include thinning crowded forests, spraying trees with insecticide and monitoring landscape conditions, per the Forest Service statement.
"In areas where we haven't had big die-offs, it's really important to thin the live trees out," Kocher tells the Post. "And in areas where we have had die-offs, it's important to take the dead trees out so they don't contribute so much to future fires."