Taiwan Unveils Its First Statue Honoring 'Comfort Women'
The monument has sparked diplomatic tensions with Japan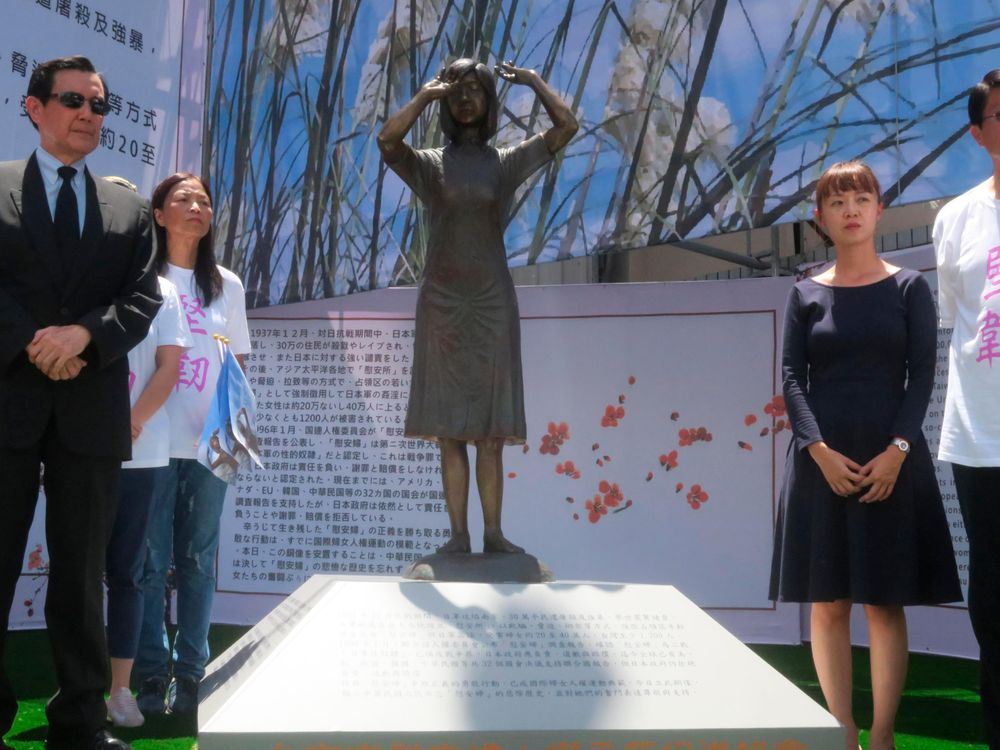 A statue honoring "comfort women" was erected in the Taiwanese city of Tainan this week, marking Taiwan's first public monument to women who were forced to work in Japanese military brothels during WWII.
According to the Japan Times, the monument was unveiled in a ceremony on August 14, which was timed to coincide with the inaugural "Memorial Day for Japanese Forces' Comfort Women Victims" recently instituted by South Korea. The statue depicts a girl with her arms raised "to show her resistance" and stands in the city's commercial district, writes Hideshi Nishimoto of the Asahi Shimbun.
The new monument was erected by a non-profit group called the Tainan Association for Comfort Women's Rights, and the Taiwanese government was not involved in plans for the statue. Former Taiwanese president Ma Ying-jeou did attend the ceremony, however, and called on Japan to issue an apology and provide reparations for its wartime actions.
Taiwan already has a museum dedicated to the women used as sex slaves by Japan's military, known euphemistically as "comfort women." But the new public memorial has nevertheless sparked tensions between Japan and Taiwan. Japanese Chief Cabinet Secretary Yoshihide Suga called the monument "extremely disappointing" during a news conference, prompting Taiwan's Ministry of Foreign Affairs (MOFA) to emphasize its support for comfort women.
"The government has always paid close attention to the issue of comfort women," MOFA spokesperson Andrew Lee said in a statement, according to Stacy Hsu of the Taipei Times. "Our stance on the matter, as well as our policy to fight for their dignity, remains unchanged."
This is not the first time that Japan has pushed back against efforts to commemorate the plight of comfort women. Last fall, the city of Osaka threatened to cut ties with San Francisco, its sister city, after a monument honoring comfort women was erected in San Francisco's downtown square. In the wake of that incident, Jun Yamada, the Japanese consul general in San Francisco, said that while Japan takes the issue of comfort women seriously, it opposes memorials that frame history in a "one-sided" manner, "without presenting credible evidence."
According to a United Nations report, Japan first began using military brothels, or "comfort stations," in 1932, but the practice became widespread as Japanese soldiers spread to various parts of East Asia during WWII. These military brothels "seem to have been found wherever the Japanese army was based," the report states, and are known to have existed in "China, Taiwan, Borneo, the Philippines, many of the Pacific Islands, Singapore, Malaya, Burma and Indonesia." To procure enough women to meet the demands of the army, recruiters resorted to "deception … violence and outright coercion," according to the report.
It is not clear how many women were forced into sexual slavery by the Japanese army; estimates range from 20,000 to 200,000. Many victims of the brutal system were South Korean, but the Taipei Women's Rescue Foundation has estimated that around 2,000 Taiwanese women were forced to work in the brothels, reports Hsu of the Taipei Times. Only two of these women are known to be alive today.
In 1993, Japan formally acknowledged its use of comfort women. In 1995, the government established the Asian Women's Fund, which offered compensation of 2 million yen (now worth around $18,000) and a letter of apology from then-prime minister Tomiichi Murayama to victims from South Korea, Taiwan and other countries.
But according to Ami Lynch, professor of women's studies at George Washington University, activists opposed the gesture because the compensation money came from private citizens, not the government. Hsu reports that some former Taiwanese comfort women "refused to accept the money as they felt it did not show that the Japanese government was taking responsibility for [its] actions." The fund stopped for Taiwanese victims in 2002.
On August 14, the same day that the Tainan statue was unveiled, a number of commemorative activities took place in South Korea, which has been at the forefront of efforts to gain acknowledgement and compensation for former comfort women.
"The comfort women issue is not just a historical problem between South Korea and Japan," South Korean President Moon Jae-in said during a ceremony at a national cemetery in Cheonan, according to the Japan Times. "But it is an issue of sexual abuse upon women during wartime and at the same time an issue of women's rights."