'Comfort Women' Statue Prompts Osaka to Cut Ties with San Francisco
The monument pays tribute to women who were forced to work in Japanese military brothels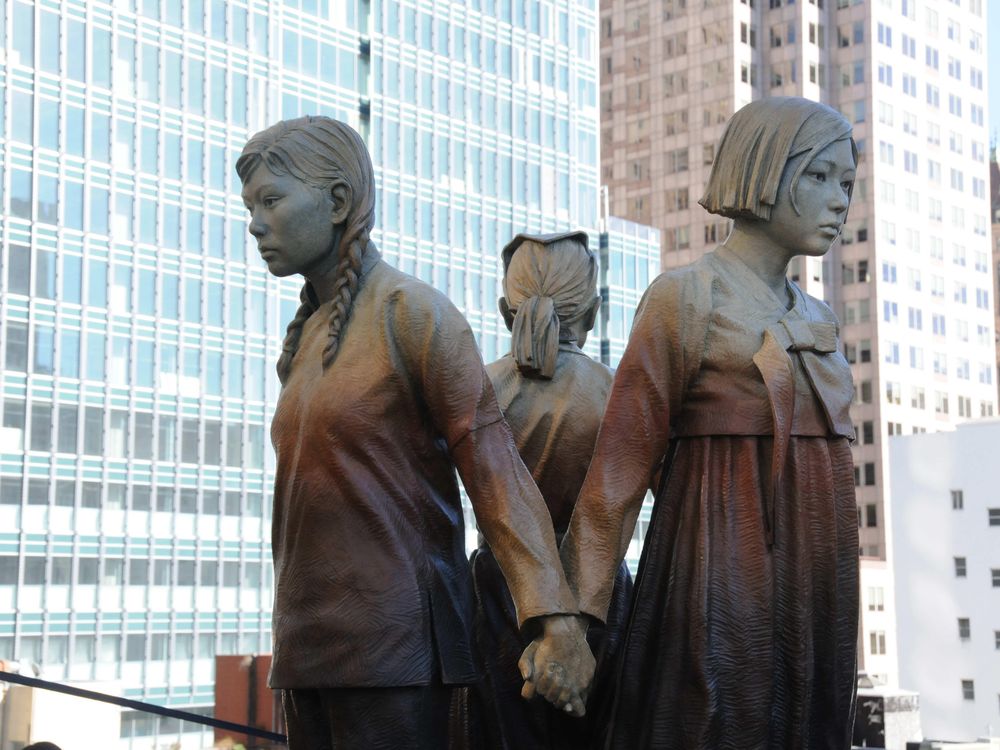 For the past six decades, San Francisco and Osaka, Japan, have been "sister cities," participating in special events and programs that promote cultural exchange. But as Jacey Fortin reports for the New York Times, Osaka has moved to sever the relationship after San Francisco approved a monument to "comfort women"—women who were enslaved and forced to work in Japan's military brothels during WWII.
The statue, which was unveiled in September, was erected in downtown San Francisco's St. Mary's Square. It features three women—representing individuals from the Korean Peninsula, China and the Philippines—holding hands on a pedestal. Next to the pedestal is a statue of Kim Hak-sun, who in 1991 became the first person to publicly testify about her experiences forced into sexual slavery as a "comfort woman."
"This monument bears witness to the suffering of hundreds of thousands of women and girls euphemistically called 'Comfort Women,' who were sexually enslaved by the Japanese Imperial Armed Forces in thirteen Asian-Pacific countries from 1931 to 1945," the memorial reads.
But the subject of comfort women has long inflamed tensions between Japan and South Korea (most comfort women are believed to have been Korean). Activists have accused Japan of minimizing the scale of its atrocities, while Japanese officials maintain that accusations against the country's wartime military are "one-sided," reports Fortin.
Osaka Mayor Hirofumi Yoshimura told journalists that the statue is "highly regrettable," according to Reuters, adding that the "relationship of trust has completely been destroyed." Yoshimura is expected to officially cut ties with San Francisco by the end of the year.
Japan's use of "comfort stations," or military brothels, began as early as 1932, according to a United Nations report. The practice escalated after 1937, when the Japanese Imperial Army captured Nanking, and continued throughout WWII, as the presence of Japanese soldiers increased in various parts of Asia. To procure enough women to meet the demands of the army, recruiters resorted to "deception … violence and outright coercion," the report states.
It is not clear how many women were forced into sexual slavery by the Japanese army; estimates range from 20,000 to 200,000, according to Krishnadev Calamur of the Atlantic. 
In 1993, Japan officially acknowledged that it had forced women to work in comfort stations. But activists—including survivors of Japanese comfort houses​—continued to demand a formal apology from Japan, and called on the country to provide compensation to the women who had suffered at the hands of its army. Those demands were met in a 2015 agreement between Japan and South Korea, which saw Japan make an apology and dedicate 1 billion yen (then an estimated $8.3 million) to the care of surviving comfort women. According to Reuters, the countries agreed that the issue would subsequently be "irreversibly resolved."
And yet, hostilities linger. Back in January, Japan temporarily recalled its ambassador to South Korea after a monument to comfort women was erected in the city of Busan. And Japanese officials protested when South Korea invited a former comfort woman to a state banquet for President Donald Trump earlier this month.
The San Francisco statue was donated to the city by the "Comfort Women" Justice Coalition, which advocates for survivors of Japanese comfort houses. Julie Tang, a chairwoman of the coalition, tells Fortin of the Times that the monument was not intended to cause offense to the people of Japan.
"The issue is women's freedom from sexual violence," she says, "especially from rape and assault during wartime."