T. Rex Skeleton Sells for More Than $5 Million at Auction
Just over half the skeleton is made of actual fossils, which come from three different specimens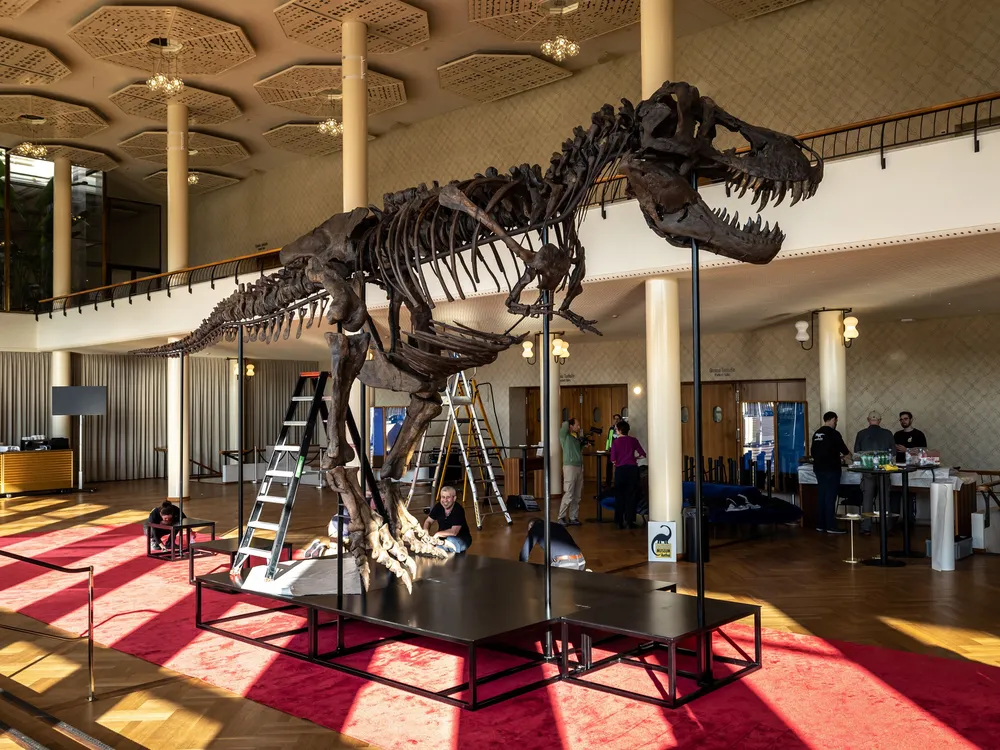 A skeleton of Tyrannosaurus rex sold for 4.8 million francs, or $5.3 million, at the Koller Auction House in Switzerland on Tuesday.
The T. rex, dubbed "Trinity," brought in less money than the auction house expected—prior to the sale, it had valued the skeleton between $5.4 million and $8.6 million. And some experts thought it was worth more: In March, Christian Link, who is in charge of natural history memorabilia at Koller, told the Agence France-Presse (AFP) that he considered the catalog's valuation a "very low estimate."
Trinity is not made of bones from one dinosaur—it's a combination of parts from three specimens, which could be part of the reason why the skeleton didn't sell for as much as expected. Researchers dug up the bones from fossil sites in the Hell Creek and Lance Creek formations in Montana and Wyoming between 2008 and 2013, according to Koller's catalog.
"It could be that it was a composite—that could be why the purists didn't go for it," Karl Green, the auction house's marketing director, tells the AP.
Original bone material comprises just over 50 percent of the skeleton—the rest is made from plaster and epoxy resin casts, writes the AFP.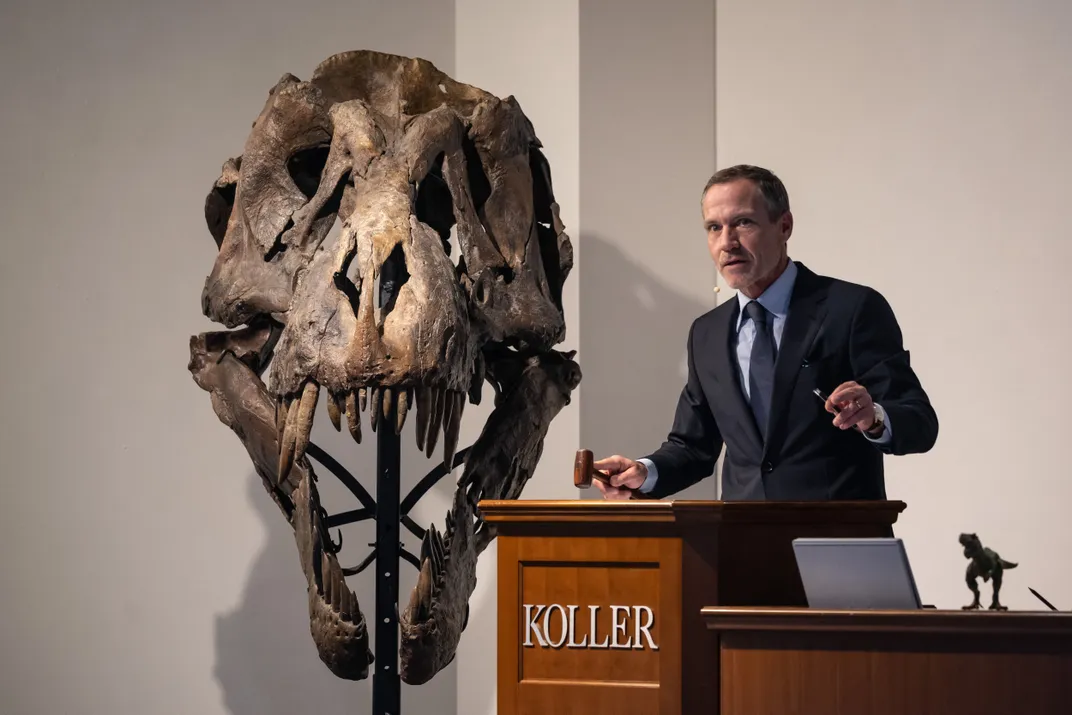 Still, Trinity is an impressive sight to behold: Made of 293 bones, the dinosaur stands 12.8 feet tall without its base, and the skeleton spans 38 feet in length. The skull, which is all from the same specimen, is 4.5 by 3.9 feet, according to Koller. T. rex had 60 teeth, each eight inches long, which it used to munch on flesh (though a recent study suggests these teeth may have been concealed by lizard-like lips).
The bones in Trinity date to around 67 million years ago, when T. rex ruled in western North America. The "king of dinosaurs" stood 12 feet tall, grew to 40 feet long and weighed between 5.5 and 8 tons. The carnivores ate other animals, carcasses and even each other. These massive dinosaurs would have numbered about 20,000 alive at once, but a 2021 study estimated some 2.5 billion in total lived in the late Cretaceous, according to USA Today's Natalie Neysa Alund.
In 1902, the first T. Rex skeleton was uncovered by fossil hunter Barnum Brown. He excavated the bones in Hell Creek, Montana, where some of Trinity's fossils were found. Other notable T-rex skeletons have gone to auction in recent years—one, named "Sue," sold for $8.4 million in 1997, and "Stan" was auctioned off for $31.8 million in 2020. Including fees, Trinity sold for about $6.1 million in total, per the AP.
The winning bid came from a private European collector of art and dinosaur fossils who was not publicly identified.
Steve Brusatte, a paleontologist at the University of Edinburgh, tells BBC News' Pallab Ghosh that he is concerned about private collectors obtaining dinosaur specimens and making them unavailable for public display. "Most museums can't compete with the deep pockets of the oligarchs and the super-rich," he says to the publication.
But some experts argue that specimens sold to private collectors eventually make their way back to the public. Auctioneer Cyril Koller thinks the skeleton could one day go back on display, telling the AFP that "I'm 100 percent sure we will see Trinity in the future somewhere again."