Storm Ophelia Unearthed an Ancient Skeleton in Ireland
Some of the skeleton's skin was still preserved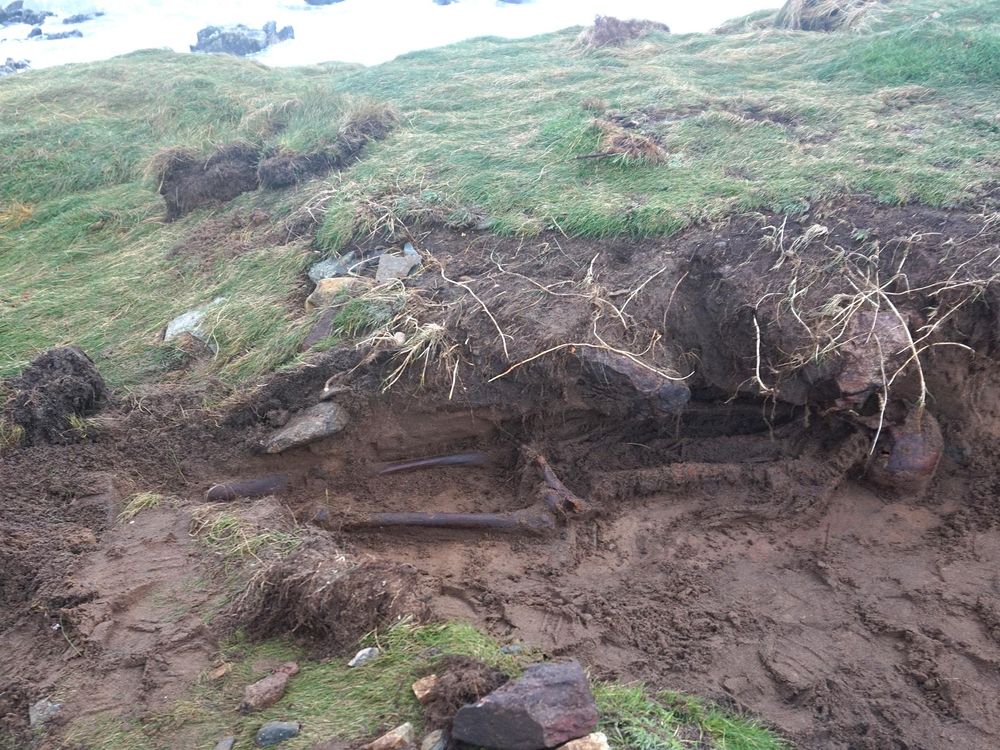 Tropical storm Ophelia pummeled Great Britain last month, knocking out power, shutting down businesses and schools, and leaving three people dead in Ireland. When Ophelia made landfall there, it caused the first severe weather alert for the entire country, and left coastal erosion, which led to a surprising archaeological find. As Erica Doyle Higgins reports for the Irish Post, the storm unearthed a skeleton that is estimated to be more than 1,000 years old.
Someone came across the skeleton while going for a stroll after the storm on a coastal walkway called Forlorn Point, which certainly sounds like the sort of place where ancient remains would resurface after hundreds of years. Ireland's state pathologist arrived soon after the discovery to examine the skeleton, which appears to have been buried in a grave. "[I]n other words it is not a body that was washed ashore," Jim Moore, a local councilor, told Saoirse McGarrigle of the Irish Mirror.
The exact age of the skeleton has yet to be determined, but it has been estimated that the bones date to the Iron Age, between approximately 500 B.C and 400 A.D., making the skeleton at least 1,600 years old. According to Tom Embury-Dennis of the Independent, some of the skeleton's skin has been preserved to the present day. The remains will be transported to the National Museum of Ireland in Dublin, where they will undergo further testing.
This isn't the first time that an intriguing archaeological discovery has been made in the region. In 2015, an ancient skeleton were uncovered at Ballyteigue Bay, located a short distance from Forlorn Point.