Stolen van Gogh Paintings Recovered After 14 Years
Italian police found the two paintings stolen from the Van Gogh Museum in Amsterdam while investigating organized crime in Naples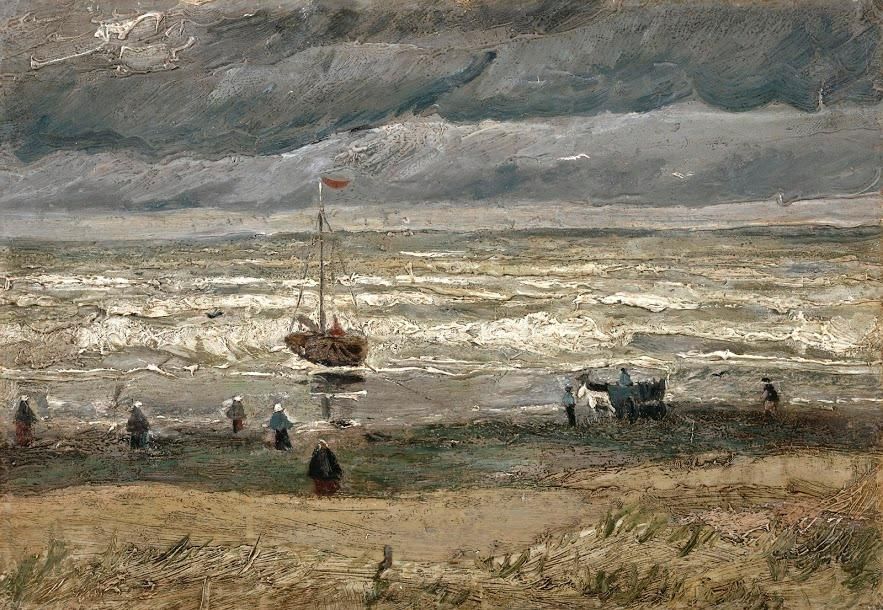 In December 2002, a pair of thieves used a ladder to scale the Van Gogh Museum in Amsterdam. Once on the roof, they used a sledgehammer to bust out a window. The dastardly duo were able to slip past the infrared security system, cameras and roaming guards and nab two paintings from the main gallery by Vincent van Gogh, View of the Sea at Scheveningen (1882) and Congregation Leaving the Reformed Church in Nuenen (1884). Now, the BBC reports that Italian authorities recently recovered the masterworks 14 years after the break-in.
According to Stephanie Kirchgaessner at The Guardian, the paintings were located during a broad investigation of the Camorra, a powerful group of criminal clans based in and around Naples. In particular, investigators were looking into the drug-trafficking Amato-Pagano clan, and were tipped off about the paintings by suspected gang leaders who were arrested in January.
Last week, the police received a judge's order to seize the clan's assets. The two paintings were found wrapped in cloth inside a warehouse in the town of Castellammare di Stabia, near Pompeii.
According to press release from the Van Gogh Museum, the seascape has a patch of damage on the bottom left corner, but otherwise the paintings are in good condition. It is not known when the works will return to the Netherlands since they will likely be used as evidence in a trial.
"After so many years I didn't dare to think they would ever return," says museum director Axel Rüger. "We've waited 14 years for this moment and of course we'd like to take them straight home. We'll need to exercise a bit of patience, but I am convinced we can count on the support of the Italian authorities."
Back in 2004, two Dutch art thieves were convicted of stealing the paintings after their DNA was recovered from the scene. Both thieves, Octave Durham and another man only identified as "Henk B," received prison sentences for the crime; the conviction brought authorities no closer to finding the van Goghs though.
Both paintings had special significance. The BBC reports that View of the Sea at Scheveningen is one of only two seascapes van Gogh painted depicting the Netherlands. Congregation Leaving the Reformed Church in Nuenen was the church where his father served as minister. After he died in 1885, van Gogh added mourners wearing shawls to the painting.
Editor's Note, October 3, 2016: This story has been updated to note that the Camorra crime syndicate is reportedly based in and around Naples, Italy, not Sicily. We regret the error.