StarCraft II Player Is Now Officially an Athlete, According to the U.S. Government
Kim Dong-hwan, a competitive StarCraft player, was just issued a P-1A visa—the type that's usually given to athletes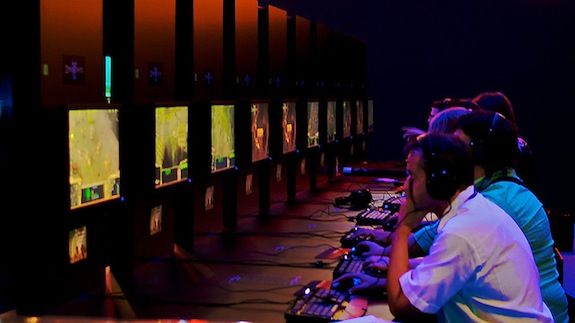 James Plafke at Geek.com reports that Kim Dong-hwan, a competitive StarCraft player, was just issued a P-1A visa—the type that, according to U.S. Citizenship and Immigration Services, is for people "coming to the U.S. temporarily to perform at a specific athletic competition as an athlete, individually or as part of a group or team, at an internationally recognized level of performance." Plafke:
Kim, who goes by the handle viOLet has been traveling between South Korea and the US in order to participate in pro-gaming StarCraft tournaments. He was using a visa waiver, and living at his manager's apartment between tournaments. Eventually, though, he was told he was traveling between the countries so much that he wouldn't be allowed back without a true visa. Dong-hwan tried to get a student visa, but was denied.
According to Plafke, both Blizzard, the company that makes StarCraft, and Twitch, the company who broadcasts the StarCraft World Championship, helped Kim by writing letters of recommendation to USCIS.
Kim isn't the first gamer to get a P-1A visa. This summer, a Canadian League of Legends gamer got one as well, according to Alan Yu at NPR. Yu says that issuing athlete visas to gamers could bolster the professional gaming community:
The move could bring more professional gamers to the U.S. and grow an already booming industry. This October, the final match for the game League of Legends almost packed the Staples Center, home of the Los Angeles Lakers, with more than 13,000 people. The combined prize money for the three StarCraft II world championship series next year is $1.6 million.
There are a few points in favor of treating games like athletes. The players get paid like athletes. Kim isn't even the highest ranked StarCraft II player around, and even at spot 63 worldwide, he's made $95,830 over the last three years from gaming. Choi Seong-hun, ranked fourth in the world, has earned $245,670 in prize money so far. And they practice like athletes too—10 to 12 hours a day. Then again, you could say the same of a musician or writer, and neither of those professions gets lumped in with athletes.
But for Blizzard, the athlete visa might be the ticket to getting pro gamers from Asia to come live in the United States. Blizzard told Yu that they had a few more players with pending visa applications, looking to make the same jump Kim did.
More from Smithsonian.com:
The Essentials: Video Games
What Does Citizen Kane Have to Do With Mass Effect 2?