Someone Ate Maurizio Cattelan's Banana Again
A student in Seoul feasted upon the fruit from "Comedian," an artwork featuring a banana taped to a wall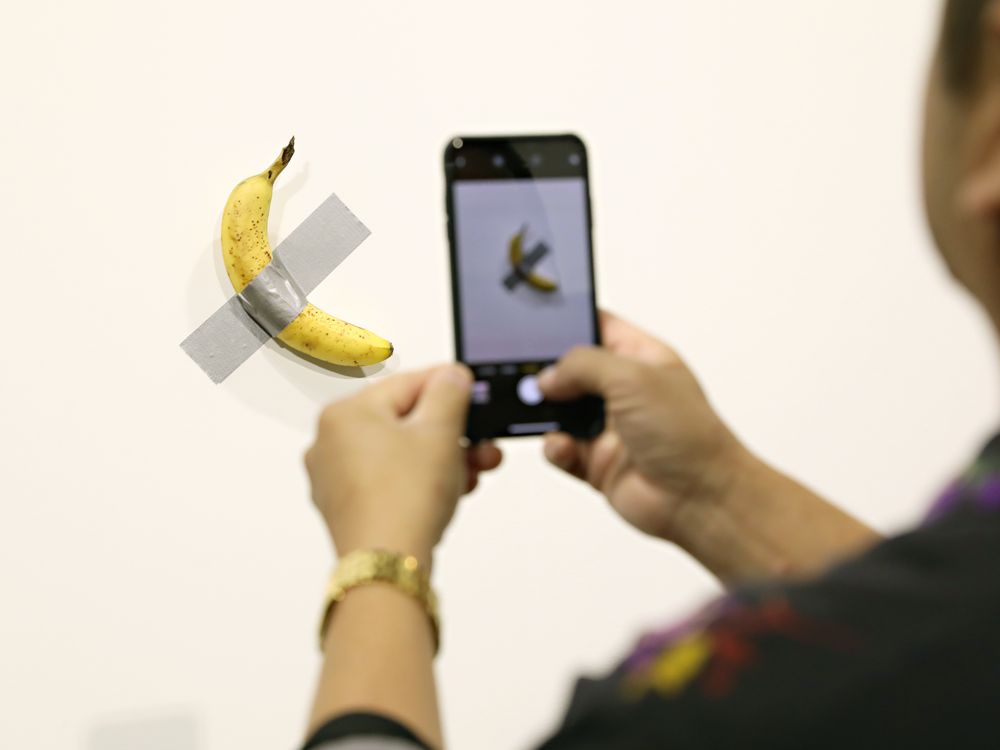 Versions of Maurizio Cattelan's Comedian have sold for as much as $150,000, but the artwork is simple to make: All you need are a blank wall, a banana and a few inches of duct tape. The intentionally ridiculous piece is "meant to evoke everything from Charlie Chaplin's slapstick comedy to the fruit's status as an emblem of global trade," writes NPR's Bill Chappell.
Symbolism aside, however, the fruit on display is also a real banana, one that can be a snack if you're brave enough. Last Thursday, Seoul university student Noh Huyn-soo made the bold choice to pluck the fruit off its wall at Seoul's Leeum Museum of Art and eat it. When he was finished, he restored the peel to its spot.
"It happened suddenly, so no special action was taken," a museum spokesperson tells Yoonjung Seo and Kathleen Magramo of CNN. "The artist was informed of the incident but he didn't have any reaction to it."
Within half an hour, museum staff installed a new banana, something they usually do every two or three days, reports Sarah Cascone of Artnet.
Initially, "the student told the museum he ate it because he was hungry," the museum spokesperson says to CNN. Noh, however, who studies aesthetics and religion at Seoul National University, has since said that he had a different motivation.
He told the broadcaster KBS's Kim Seok that he sees Comedian, one of Catellano's many absurd installations, as "a rebellion against a certain authority," and that his act "could be another rebellion against the rebellion," per Google Translate. He adds, "Isn't it actually put [out] to eat?"
Noh isn't the first to have this idea. In 2019, the performance artist David Datuna ate the banana in a version of Comedian on display at Art Basel in Miami. Datuna called the act Hungry Artist and said the performance was partly to show the absurdity of a banana worth more than $100,000. He later teamed up with the Dole Sunshine Company to sell fruit-themed NFTs with the goal of raising awareness about food insecurity and malnutrition while fundraising for the Boys & Girls Clubs of America.
Cattelan has been unfazed by both incidents. He says that Noh's actions are "no problem at all," according to BBC News' Fan Wang. Similarly, after Datuna made Comedian a snack, Cattelan said that eating the banana couldn't destroy the work since "the banana is the idea," reports Artnet.
The idea itself is what owners of the artwork, a version of which was gifted to the Guggenheim Museum in 2020, have purchased. When they buy a copy, they receive a certificate of authenticity, which is, as the New York Times' Graham Bowley wrote in 2020, "a surprisingly detailed, 14-page list of instructions, with diagrams, on how the banana should be installed and displayed."