Seventy Five Years Ago, the Bronx Tried to Take Over Part of Manhattan With Just a Limo And a Flag
James F. Lyons drove over to Marble Hill and planted his flag, claiming it as his. It didn't work.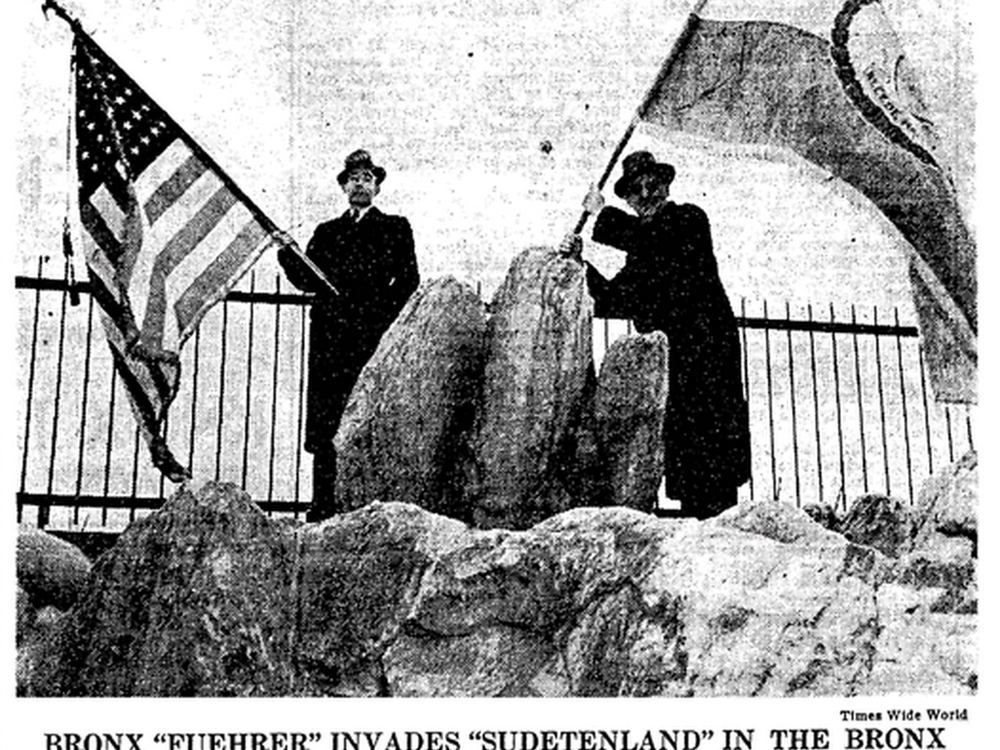 There's long been a friendly rivalry between the different boroughs of New York, but seventy five years ago that rivalry turned slightly less friendly. In 1939, Bronx borough president James F. Lyons brought a few flags over to Marble Hill—a little piece of land at the northern tip of Manhattan—and declared: "I hereby proclaim this territory of Marble Hill to be part of my borough."
According to a 1939 article from the New York Times:
Unarmed and escorted only by his chauffeur, who drove General John J. Pershing during the World War, Borough President James J. Lyons of the Bronx invaded Marble Hill yesterday, clambered up a rocky premonitory and firmly wedged there the flag of Bronx County and claimed the territory for the "Borough of Universities." 
Marble Hill had once been, physically, part of Manhattan, separated from the Bronx by Spuyten Duyvil Creek. But in 1895, the Harlem Ship Canal separated Marble Hill from Manhattan and in 1913, the creek was filled in, making the area physically contiguous with the Bronx. But the Times also reported that most residents were not impressed by Lyons' attempt to recruit them politically:
And in the manner of outspoken citizens of a democracy, these men and women showed no compunction against showing their resentment against the malis (misfortune). One man, after hearing the Bronx Fuehrer proclaim territorial sovereignty, which was neither du jure nor de facto, brazenly thumbed his nose—a non-military salute with an international reputation. At this signal the other natives booed lustily the standard-bearer of Bronx Kultur. 
According to the Times' more modern CityRoom blog, residents of Marble Hill today might not have the same reaction. "Marble Hill residents identify so much with the Bronx that they often don't realize they live in Manhattan until they're summoned for jury duty," the borough's current president, Rubén Diaz, told the Times. According to New York City historian Michael Miscione, while Lyons's attempt to annex Marble Hill did not succeed, the island did almost become part of the Bronx many years later:
Lyons' stunt and bluster did not change the official status of Marble Hill. But an otherwise unremarkable murder trial in 1984 nearly did. That case generated a startling legal decision in which the judge concluded that Marble Hill was part of Bronx County after all! If it stood, that ruling threatened to wreak havoc with New York's criminal justice and electoral systems. 
Today, Marble Hill remains part of Manhattan, but if you want to learn more about the saga of the tiny island you can venture there tonight and see Miscione speak on its odd and interesting history.