Send Your Valentine a Secret Message in the Language of Flowers, Updated for Modern Lovers
Certain flowers had well-understood meanings back in Victorian times, and now a London startup is trying to revive floriography for current times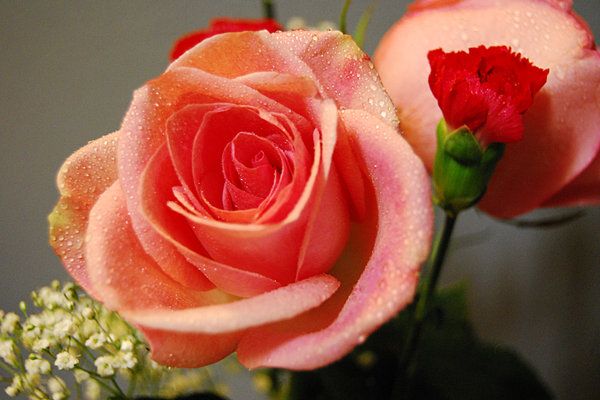 Nothing says "I've never felt this way before" like two roses and two gerbera daisies. At least, that's the idea beyind a new London-based startup called Cryptofloricon, which aims to "send coded messages with a secret language of flowers" and just opened for online orders in time for Valentine's Day. 
This idea is not new. Victorians were all about sending subtle or not-so-subtle messages via petal, using the well-established language of flowers to profess their love, play coy or send mixed signals. (Each flower had multiple meanings, and floral dictionaries were sold to help decode the plethora of possibilities a given bouquet might be conveying.) Shakespeare used flower codes in plays like Hamlet and the Prince of Denmark, while Edith Wharton communicated conveyed character intricacies through flowers in The Age of Innocence, as the Big Read explains:
Every morning during his engagement, Newland Archer sends lilies-of-the-valley to May Welland. Lilies-of-the-valley symbolize purity, modesty, and return of happiness. Newland believes May to be as naïve and innocent as these white flowers suggest.

After Newland's first visit to Ellen Olenska's home, he sends her a bouquet of yellow roses. The message of a yellow rose is more complicated. Yellow roses can represent jealousy, infidelity, friendship, or a decrease of love.
In their flower language revival, Cryptofloricon has revamped this message system slightly. It's less ambiguous, more sassy, informal and direct. Bouquets send messages such as "Laugh out loud," "For old times' sake?," "You'll do," "It's not you, it's me," or even "Aaaaaaaaaa." An online decoder allows the lucky (or unlucky) recipient to instantly grasp what his or her suitor was trying to say.  
"It's a dictionary of emotions in the sense of emoticons," Cryptofloricon's creator,  Edward Saperia, told Wired UK. As for some of the ruder flower emoticons on offer, he explained "This idea that we keep special things for special times when there's no need to annoys me." 
(Photo featured on hompage courtesy of Ana.)