See the Face of a Bronze Age Woman Who Lived in Scotland 4,000 Years Ago
A forensic artist created a facial reconstruction based on the skeletal remains of a woman who died in her late 20s or early 30s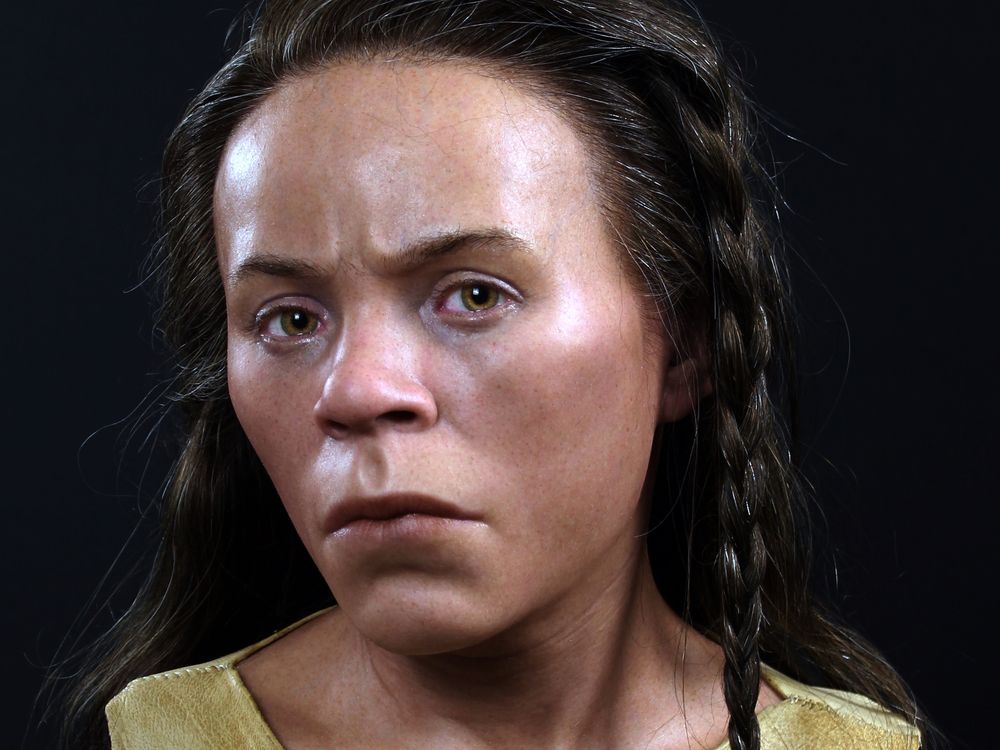 In the '90s, a team excavating a stone quarry in Scotland unearthed the 4,000-year-old skeletal remains of a young woman. She'd been laid to rest in a crouched position in a stone-lined grave. Archaeologists nicknamed her the Upper Largie Woman after the Upper Largie Quarry, where she was found.
Now, an artist has created a reconstruction of what she may have looked like during her lifetime in the early Bronze Age. Her remains have been carefully reburied, but the reconstructed bust is now on display at the Kilmartin Museum in Scotland. The museum reopened earlier this month after being closed for three years during a $8.4 million (£7 million) renovation project, per Sandra Dick of the Herald.
The new reconstruction is the work of Oscar Nilsson, a sculptor and archaeologist in Sweden. In his depiction, the woman has dark wavy hair falling down her back, with a small braid near her face held in place by a string. Her amber eyes peer quizzically at the viewer, with her brow slightly furrowed.
Typically, when Nilsson makes reconstructions, he imagines that museum-goers are looking into the world of a figure from the past—and that the figure can't perceive their presence. In this case, however, he decided to try flipping that notion on its head: What if Upper Largie Woman was looking out at museum-goers?
"As you can see, she looks a bit critical to us (I don't blame her for that...)!" writes Nilsson in an email to Live Science's Laura Geggel.
In the few weeks since the museum's reopening, the bust has made an impression on visitors.
"The people who have already seen her are surprised," says Sharon Webb, director and curator at the museum, to the London Times' Mike Wade. "If you see a human skeleton in a museum, it might give you a sense of your own fleeting life, but when you look directly into the face of a person who lived in Kilmartin Glen 4,000 ago, and walked near here, the impact is altogether different."
To create the lifelike bust, Nilsson started with a 3D-printed scan of the woman's skull. Her lower jaw was missing, and the left side of her cranium was in bad shape, so Nilsson had to rebuild those areas.
He then contemplated her age, weight, sex and ethnicity. She died in her late 20s or early 30s, following bouts of malnutrition or illness—details that archaeologists determined by studying her bones and teeth. She lived between 1500 B.C.E. and 2200 B.C.E. and likely grew up in what is now Scotland.
With this information in mind, Nilsson attached pegs to the replica skull and began shaping the woman's facial muscles and tissue.
"For more than 100 years, there have been analyses made of tissue depth in the human face," Nilsson tells the Times. "If I know the woman is from Scotland and of normal weight, 30 years old, I can search charts and tables for the context."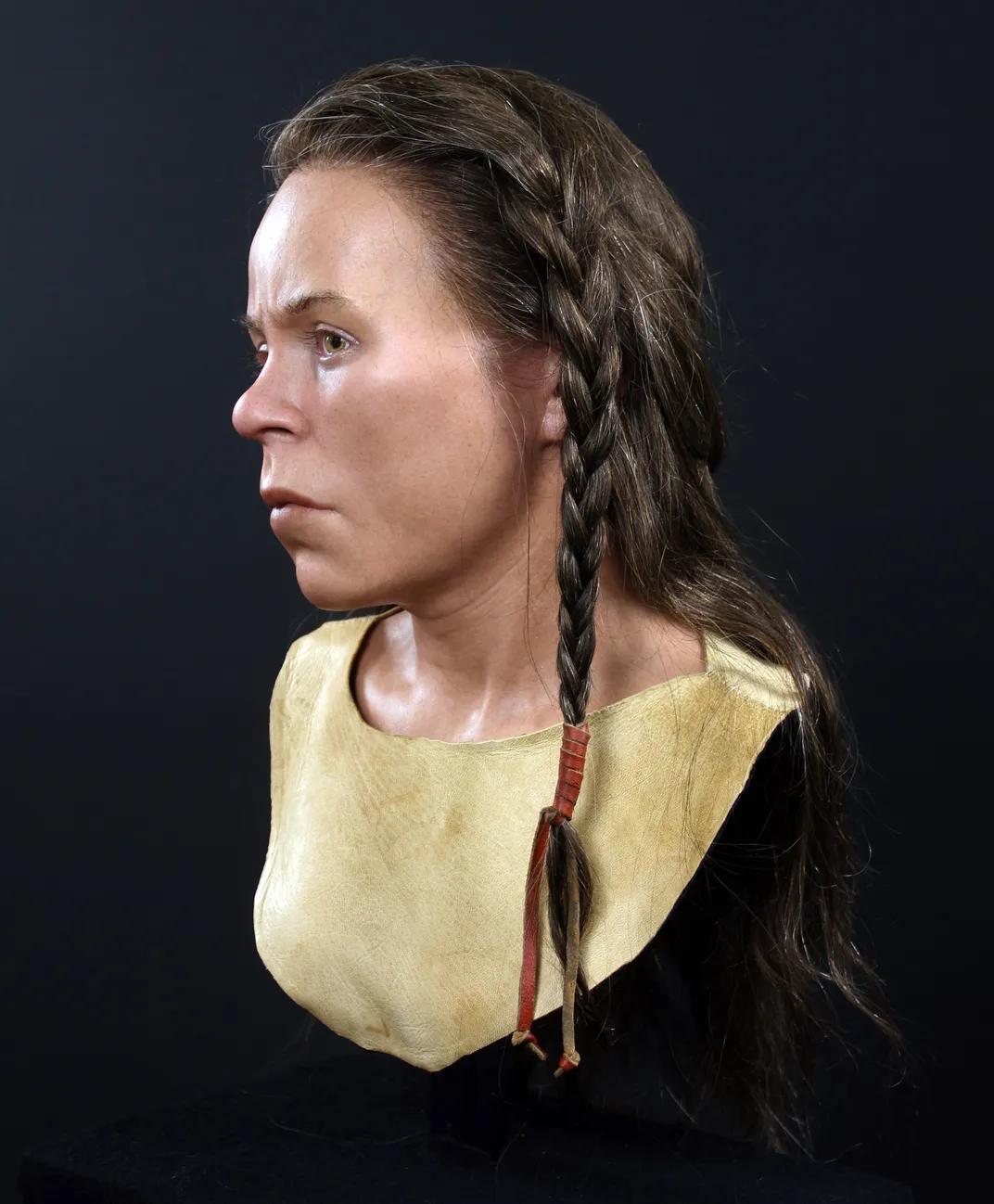 Archaeologists also found remnants of Beaker pottery in the woman's grave, indicating she may have been part of the Beaker culture, known for making pieces of distinctive pottery shaped like bells. This culture likely began in Central Europe before moving to present-day Britain around 2400 B.C.E. Beaker people quickly dominated, replacing the Neolithic communities and other groups living there.
"The carbon dating suggests she might be a descendant of the first Beaker newcomers," Webb tells Live Science.
Because archaeologists couldn't extract any DNA from Upper Largie Woman's skeleton, Nilsson had to make educated guesses about her skin, hair and eye color. In studying her skull, he determined that she had a broad, slightly upturned nose, a broad mouth, a rounded forehead and wide-set eyes. ("Some might say there's even a passing resemblance to Spice Girl Victoria Beckham," writes the Herald.)
Upper Largie Woman is among many exciting archaeological discoveries made in the area. Within six miles of the museum, researchers have unearthed more than 800 structures dating back thousands of years, per the Times. They've also discovered more than 22,000 artifacts.