See Stunning Tudor Tapestries Restored to Their Former Glory
The 13 panels are on view as a set for the first time in 24 years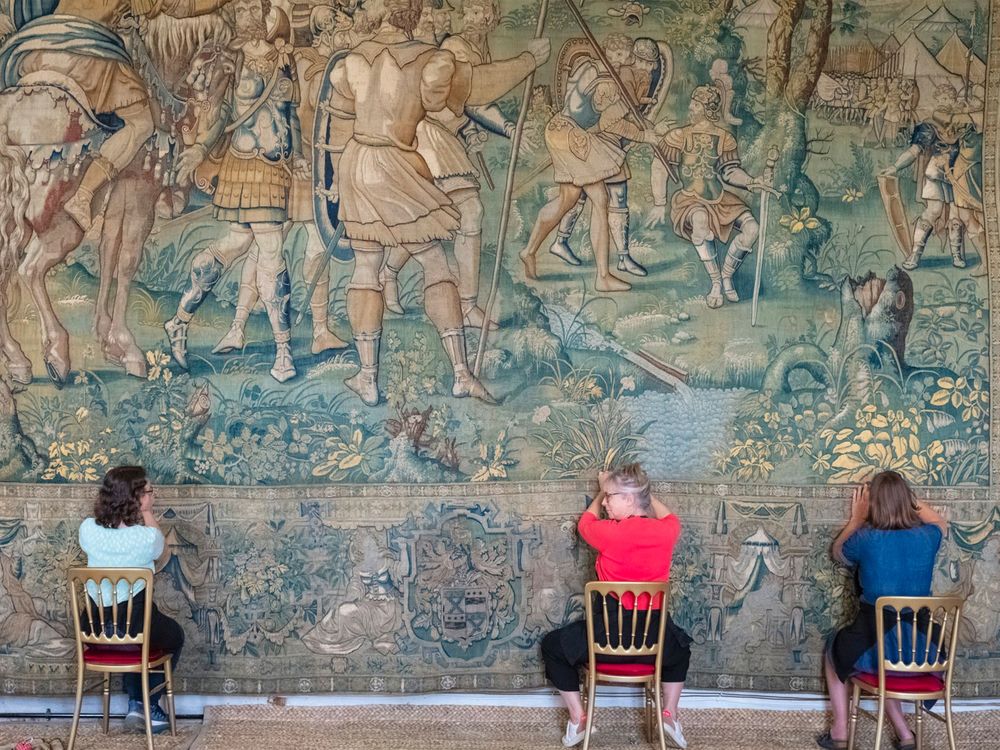 After a painstaking 24-year restoration effort, a set of 16th-century tapestries is back on display at Hardwick Hall in Derbyshire, England. The 13 panels, each measuring nearly 20 feet tall and more than 230 feet long, represent some of the most ambitiously scaled tapestries of the Elizabethan era.
The last time the entire set was on display was in 1999. According to a statement from the National Trust, the charity that cares for Hardwick, the restoration project cost £1.7 million (around $2.2 million) and required more than 5,470 hours of conservation stitching, lining and reconstruction. Experts spent two years conserving each individual panel.
The enormous works depict the story of Gideon, a biblical leader who won the Israelites a decisive victory over the Midianites despite being greatly outnumbered. Originally commissioned for Christopher Hatton, a nobleman at Elizabeth I's court, around 1578, the set was transferred to his nephew upon his death in 1591. The following year, Elizabeth Talbot, Countess of Shrewsbury, "went on a shopping spree" and bought the tapestries for her Hardwick Hall estate, notes the National Trust.
They're more than 70m long, date from the 16th century and have taken 24 years to conserve. We're thrilled to have the Gideon tapestries back up @NThardwick.

It's through your support and help from funders, including @royal_oak_us, that this was made possible. Thank you. pic.twitter.com/O86ca9rARt

— National Trust (@nationaltrust) July 22, 2023
Better known as Bess of Hardwick, the countess was one of Tudor England's richest women. She "lived through six reigns and four husbands," establishing herself as "not only a great survivor, but one of the most successful builders of dynasties—and houses—that England has ever seen," wrote historian Tracy Borman for History Extra in 2022. Before her death in 1608, Bess amassed a significant collection of textiles, including rare carpets, appliqué wall hangings featuring noblewomen of the ancient world and tapestries telling the story of Ulysses.
The Gideon tapestries cost Bess £326,15 shillings and 9 pence (about $97,000 today). To make them her own, she had her coat of arms layered over Hatton's. Additionally, wrote Helen Wyld for West 86th: A Journal of Decorative Arts, Design History and Material Culture in 2012, she had antlers added to Hatton's crest, a golden hind, to turn it into a Cavendish stag.
"Bess collected them, and unlike many tapestries, they've never been moved to another home, dispersed or cut up," says curator Emma Slocombe in a separate National Trust statement. "As one of the richest women in England, when she planned her decorative schemes, she was thinking about what they could convey about her and her lineage. The Gideon tapestries were designed to be seen, as well as enjoyed privately."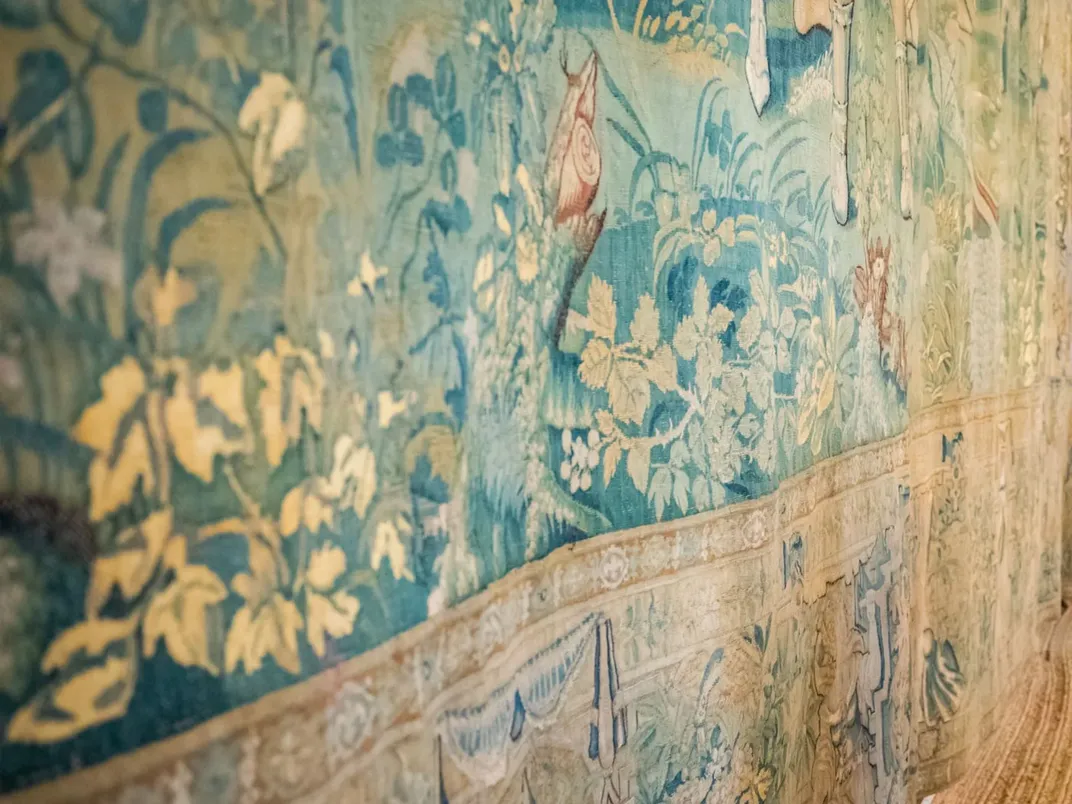 Since they were hung in Hardwick Hall's long gallery shortly after July 1598, the tapestries have experienced their fair share of wear and tear.
"One of my favorite stories about them is that there used to be whippet racing in the long gallery," says Denise Edwards, former general manager of the estate, to the Guardian's Jessica Murray. "And in one of the early tapestries they cleaned, they analyzed the water they washed them with and found dog urine. So the whippets obviously peed against these precious Gideons."
Edwards also points out that Hardwick Hall sits on a hilltop that was once surrounded by nine coal mines. Over the years, the mines polluted the air, which poured in through "leaky windows" and damaged the set.
The final monumental tapestry has now returned to the hall, one of the greatest houses of the Elizabethan age.

Find out more: https://t.co/fd13IyDAJ9

National Trust Images/James Dobson, pictured Icon members Yoko Hanegreefs ACR and Elaine Owers pic.twitter.com/r1ncCwyXKN

— Icon - The Institute of Conservation (@Conservators_UK) July 24, 2023
To restore the panels, the National Trust sent them to Belgium for specialist wet cleaning. Experts also vacuumed each tapestry to pick up dust, soot and loose fibers. They used specialist stitching and hand-dyed yarns to strengthen the pieces' structure, improve earlier restoration efforts and repair damaged areas. To keep the look of the project consistent, the team wrote recipe books for bespoke dyes and spaced stitches following a standard pattern distinct from one used by the original 16th-century weavers.
The restoration was supposed to be completed in 2021, the year Edwards was set to retire. But when the pandemic delayed the project, she decided to stay on longer.
"To me, [the restoration] symbolizes everything the National Trust stands for," Edwards tells BBC News' Greig Watson and Navtej Johal, "the fact that we as an organization would invest 24 years, and all that funding and resource, into looking after something that is so special. I felt quite emotional and almost cried. You just don't get to do things like this."