From the tip of a lily to a frozen water droplet, the annual Close-Up Photographer of the Year (CUPOTY) Challenge asks artists to take a fresh look at the Earth's tiny details. The winners, finalists and shortlist for the 2022 contest were released last week, and the gallery is a breathtaking collection of images from around the world.
CUPOTY was founded to highlight the wonder of the natural world through a magnified lens, and this year's main competition results were released in January. In a separate competition called the CUPOTY Challenge, entrants submitted photos that fit the theme: "minimal." The winners of this contest, shown here, put a spotlight on simple marvels.
"Essentially, what we were looking for was clean, uncluttered images with few elements," Tracy Calder, who co-founded the CUPOTY competition in 2018 with her husband, Dan Calder, says in a statement. "What we got was so much more. Everything from stink bugs to springtails and plant seeds were put before the judges—each picture a beautiful example of how simplifying a scene can really amplify its message."
The organization is now encouraging photographers to submit entries for the 2023 main competition with 11 different categories, including insects, animals and human-made objects. Entries will be accepted until July 9.
Here are some of the stand-out images from the "Minimal" challenge that caught the attention of the competition's four judges.
"In Her Wedding Dress" by Ferenc Kocsis—Winner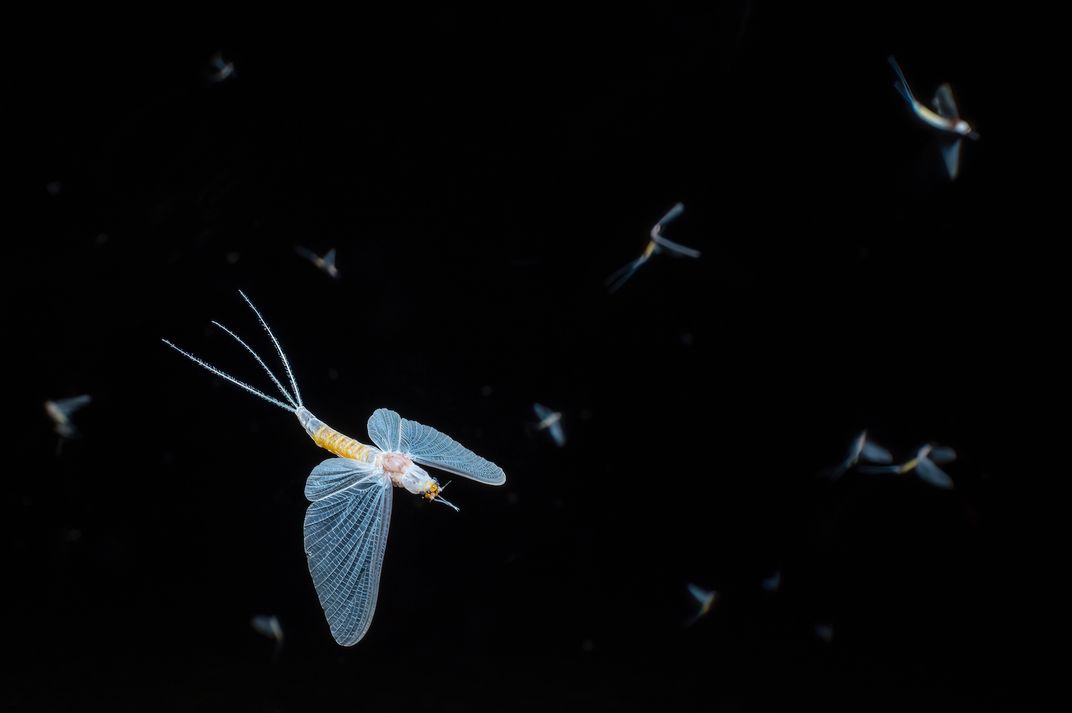 Economist by occupation and photographer by passion, Ferenc Kocsis, the challenge champion, took home first prize and the lead spot in the winner's gallery with his picture displaying Danube mayflies.
The Hungarian photographer snapped this image in the middle of the night, timed during the approximately one-hour-long period that the insects are active in the dark. The key to capturing this scene, he says in a statement, was being ready at exactly the right time. 
"This female Danube mayfly, swollen with egg clusters, flies over the Danube River in Hungary and lays its eggs close to where it was born," writes Kocsis in a statement. "The larvae that live in the riverbed hatch in April, and in the last stage of their development, in August, they fly for the last dance of their one-year life."
"Colour Study 39" by Paul Gravett—Second Place
Canadian photographer Paul Gravett created this abstract image by placing multiple sheets of paper and color transparencies onto a stack of glass shelves. With a light pad illuminating the glass from below, Gravett captured layered photographs that he blended together with a computer. The snapshot is an attempt to combine photography and modern art in surprising ways.
"The hallmark of this experimental process is unpredictability and discovery, leading to startling and unexpected images that blur the boundary of photography and contemporary art, tricking the eye and testing our assumptions about photography," writes Gravett in a statement.
"Goose Bumps" by Stefan Gerrits—Third Place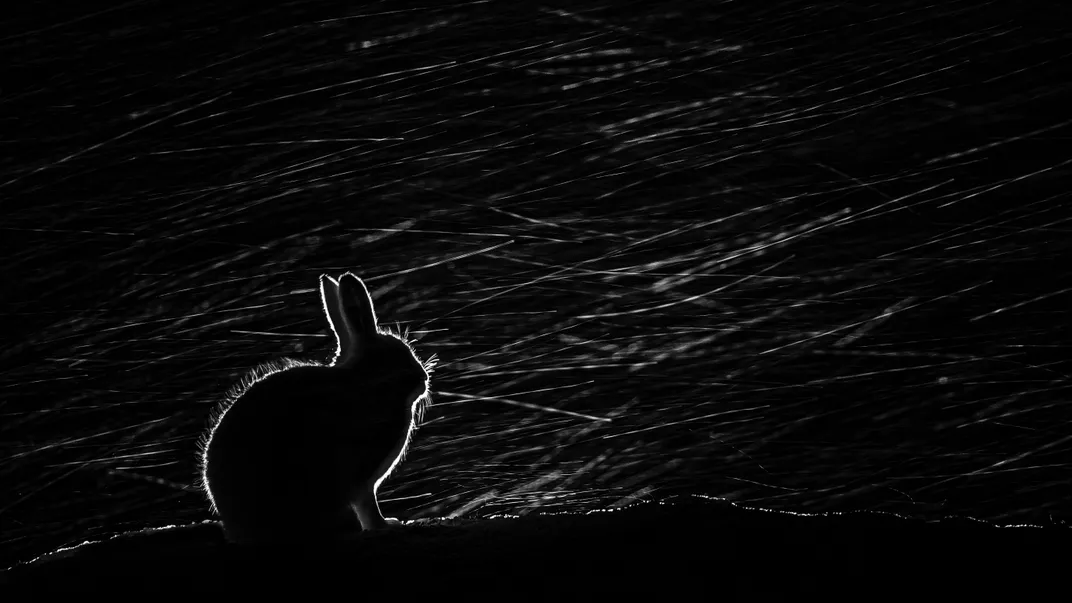 On a cold Norwegian night, Dutch and Finnish photographer Stefan Gerrits waited for the perfect photograph. As it approached midnight, he captured this picture of a mountain hare sitting silently in a heavy snowstorm. 
"It was a rough winter evening in the very far north of Norway, I was sitting down, and my goodness I was cold, chilled to the bone, waiting for signs of life," writes Gerrits in a statement. "Thankfully, I got lucky. This hare seemed to have some form of piloerection (the equivalent of human goosebumps), which made its hair stand on end."
"Murky Waters" by Lovre Culina—Finalist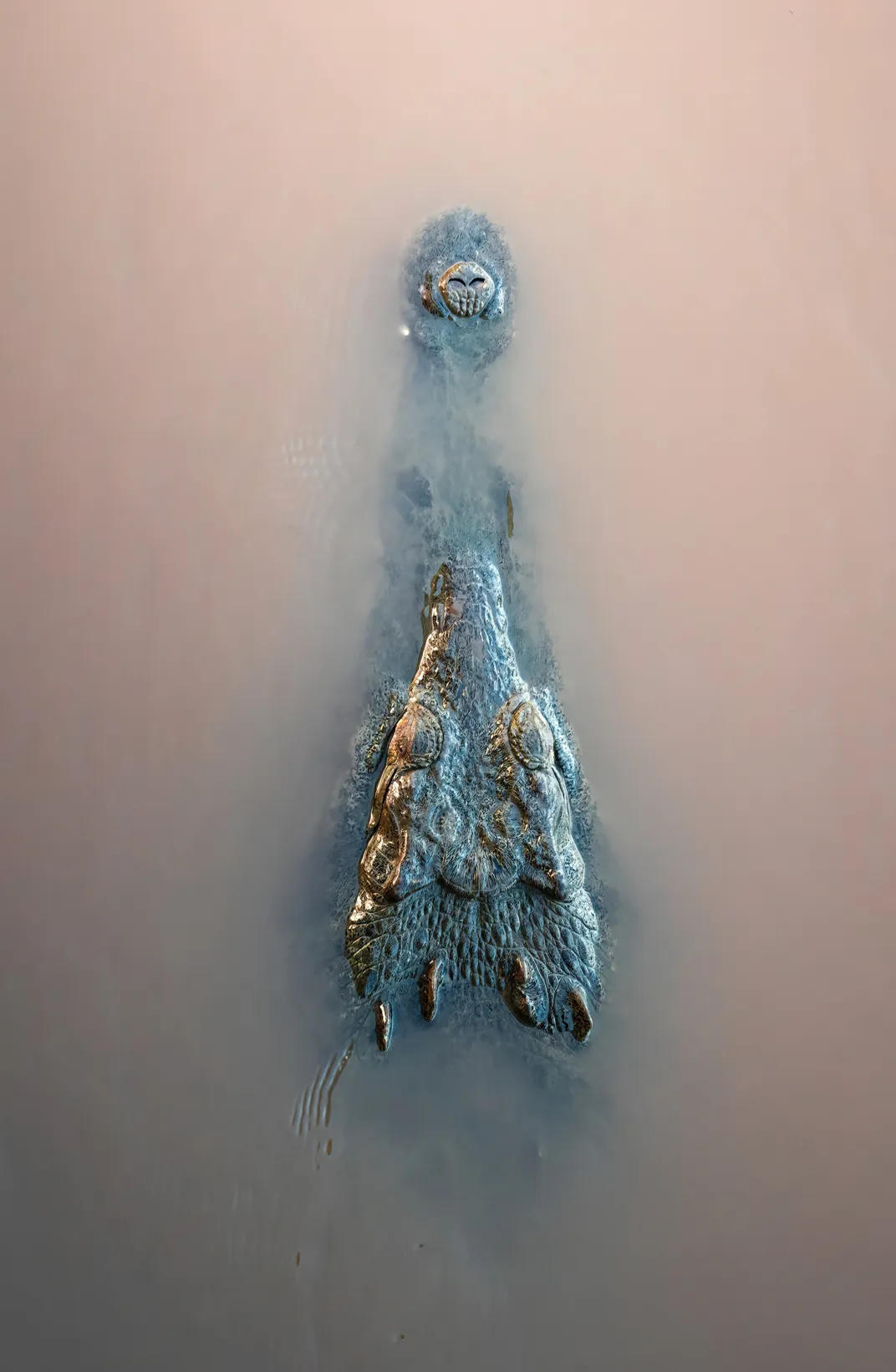 Standing on a bridge over the Tarcoles River in Costa Rica, Lovre Culina stretched his arms over the bridge's edge to snap this photograph of an American crocodile. These reptiles often remain hidden and still—then ambush their prey.
"My aim was to depict this incredible marvel of nature in its element, while leaving the viewer slightly unsure about what is being shown," the German geologist and photographer writes in a statement.
"Ice Droplet" by Morey Gers—Shortlist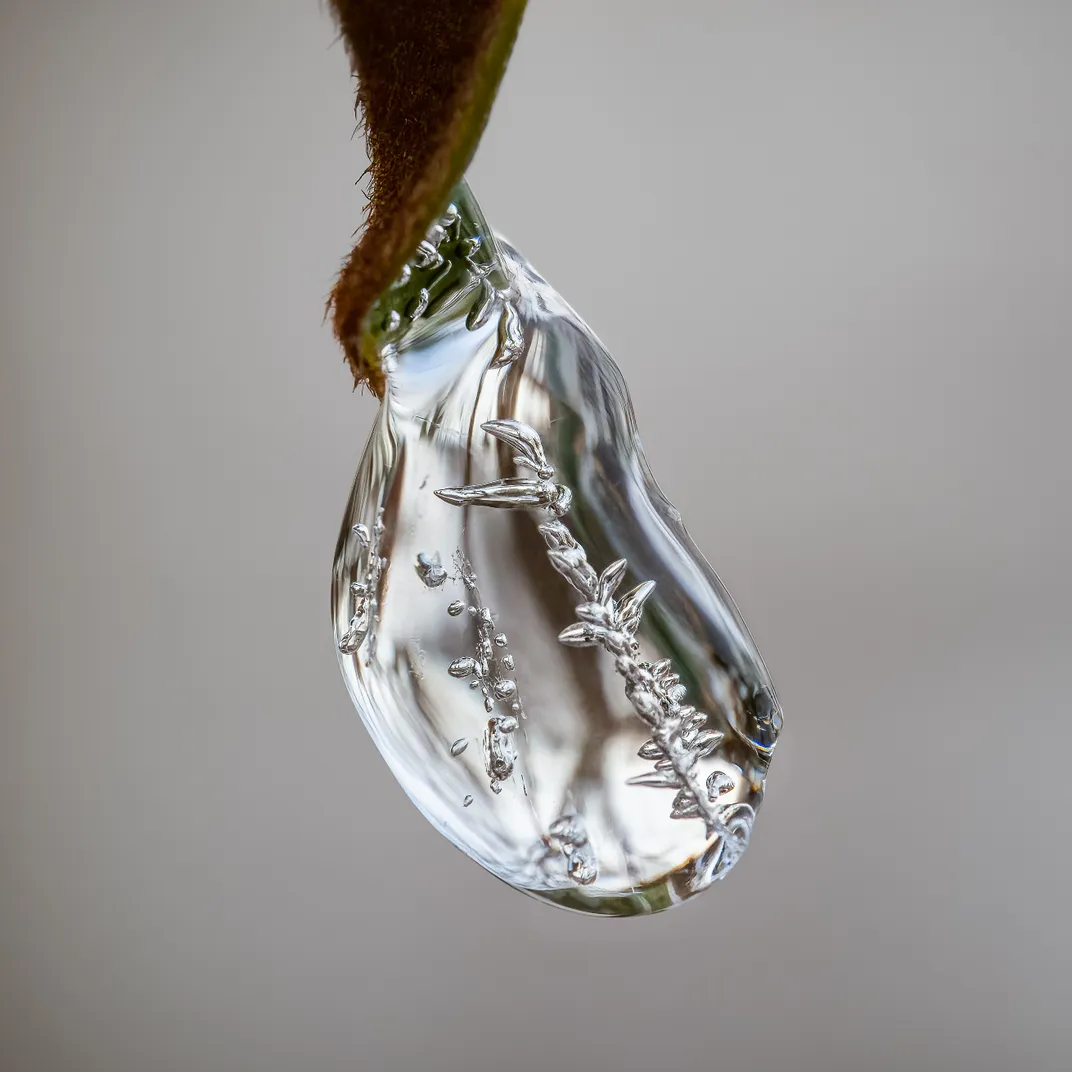 In his St. Louis, Missouri, backyard, Morey Gers took this image of crystalized water. He was looking for interesting ice formations to photograph, when this frozen droplet hanging from a magnolia tree caught his attention. 
"This ice drop, showing the internal crystal formations, is only around a quarter inch long," writes Gers in a statement.
"Inconspicuous" by Roman Willi—Shortlist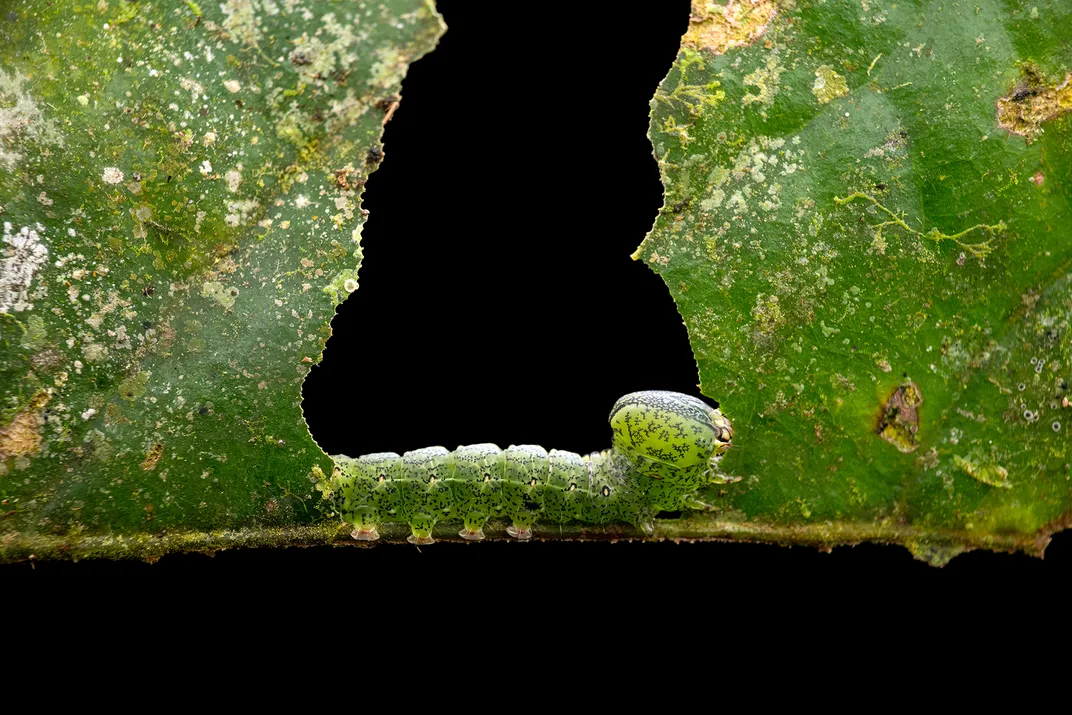 Swiss photographer Roman Willi captured this photograph of a caterpillar in Costa Rica. The caterpillar, which is eating the leaf that it resides on, is nearly indistinguishable from the leaf itself. 
"I found this caterpillar on a nightwalk in the jungle of the Osa Peninsula, Costa Rica, and was drawn to the way it had eaten parts of the leaf," writes Willi in a statement.
"Details of a Rough Stink Bug" by Benjamin Salb—Finalist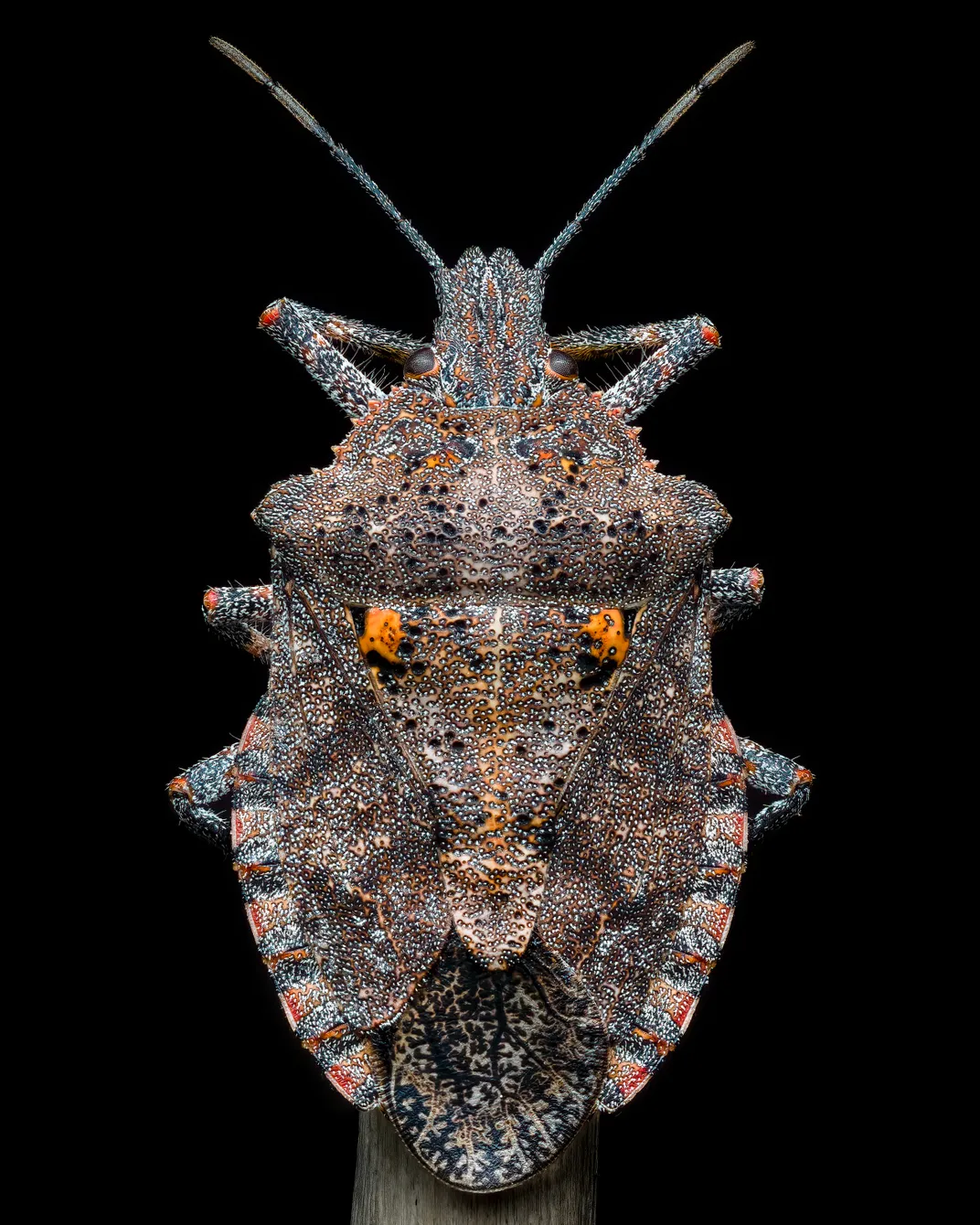 While hunting for photography subjects at 4 a.m. last fall, American IT manager and photographer Benjamin Salb found this rough stink bug. Salb was able to position the insect on a stick and isolate it from the background, showing off the intricacies of its back. 
"I love finding hidden details within ordinary macro subjects, and this rough stink bug was no exception," writes Salb in a statement.
"Outer Space" by Alex Pansier—Finalist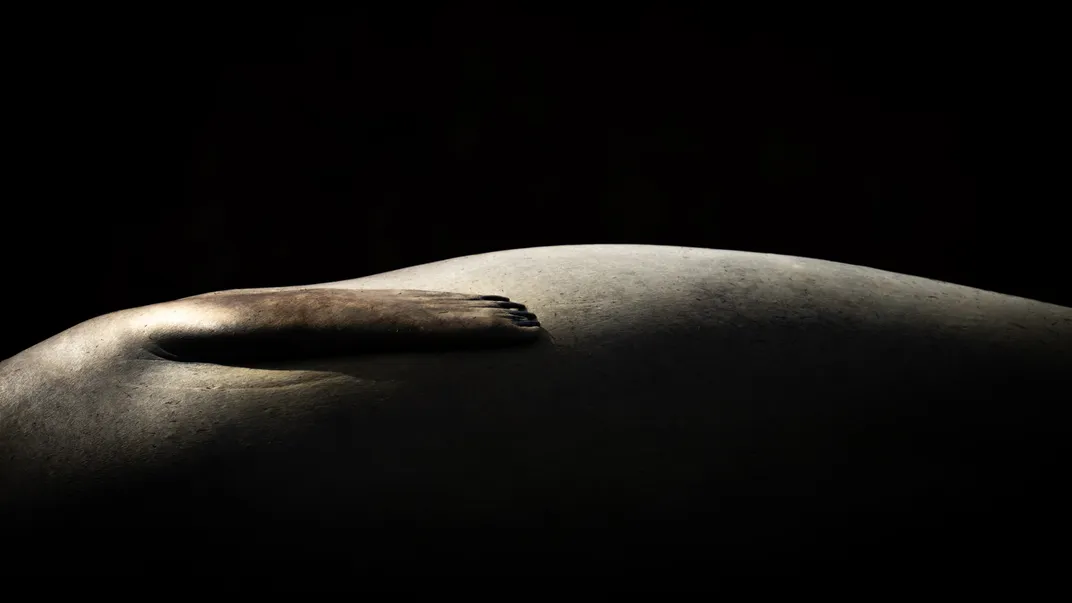 Dutch photographer Alex Pansier spied this elephant seal during a photo tour that stopped in South Georgia, an island in the South Atlantic Ocean. With the soft, eerie light, the seal resembles a planet or moon glimpsed from outer space, hence the photograph's name.
"The beaches were teeming with fur seals and elephant seals. This particular one was so relaxed I managed to photograph it quietly with some nice backlight in low key—my favorite style," writes Pansier in a statement.
"Marpissa Radiata—The Jumping Spider" by Adrian Truchta—Shortlist
Polish photographer Adrian Truchta took this photograph of a jumping Marpissa radiata spider, known commonly as a jumping spider. The arachnid was living in a rolled-up leaf near a pond.
"Like every jumping spider, this one has huge eyes, but in this case, they were an unusual blue color," Truchta writes in a statement.
"Spider" by Gabi Swart—Finalist
Gabi Swart, a German geologist, tweaked the camera settings to overexpose this image. Effectively, the light behind the spider made its web disappear from view, giving the impression that it is floating.
"A spider had spun its web right in front of our attic window, allowing me to photograph it against the sky," writes Swart in a statement.
"Shell" by Kristina Zvinakeviciute—Finalist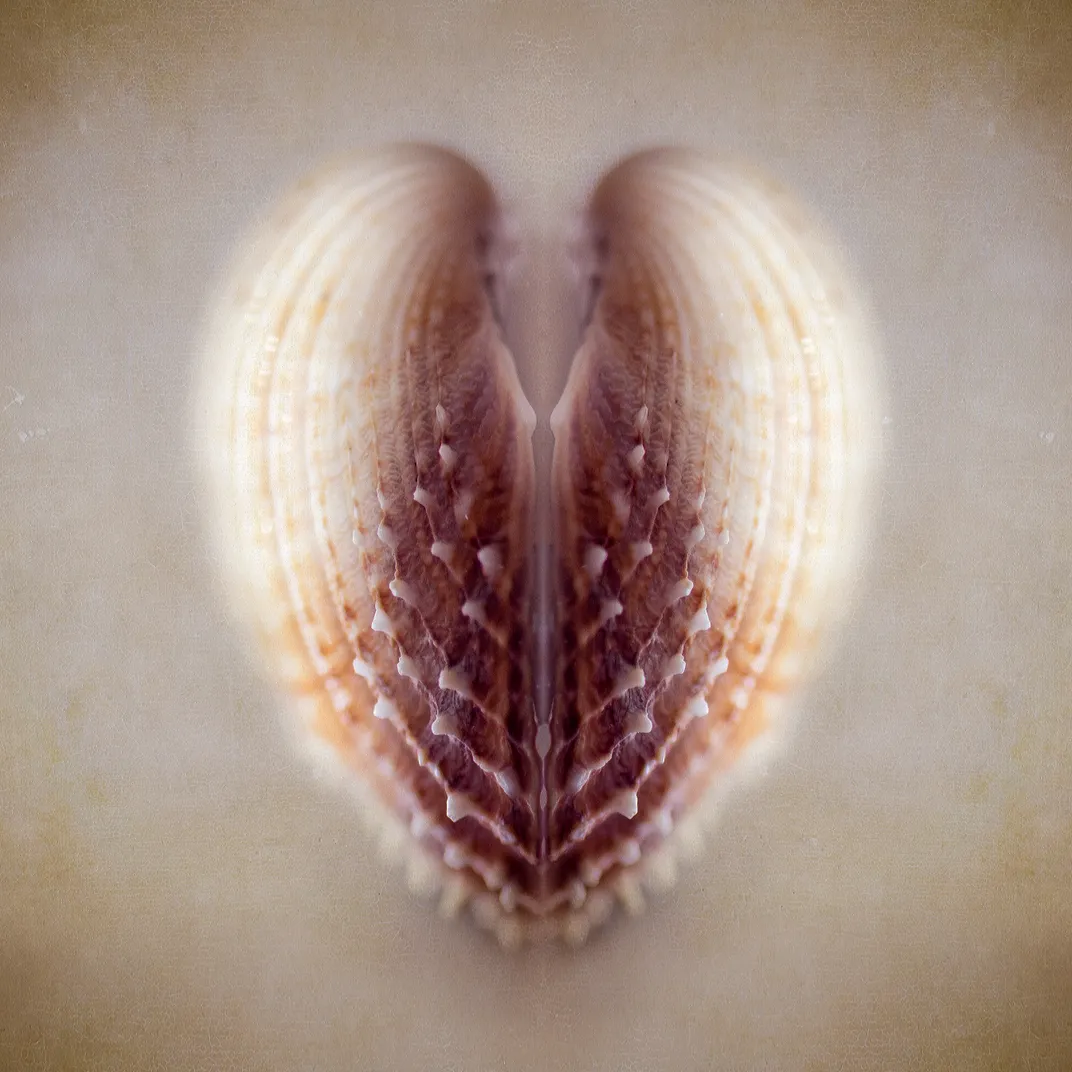 The photograph of this shell was captured by Lithuanian photographer Kristina Zvinakeviciute on Formby Beach in the U.K. She further developed this photograph by using the mirror effect in Photoshop and adding a textured background. 
"The result pleasantly surprised me, as it looked like wings or a heart," she writes in a statement.
"Lily Tip" by Jane van Bostelen—Finalist
British graphic designer Jane van Bostelen took this photograph of a calla lily using a studio lightbox, a green background and LED lighting. The result was a clean photo to present to the judges.
"I love the beautiful trumpet shape of the calla lily and wanted to create a minimal, uncluttered image with simple lines," writes van Bostelen in a statement. "After shooting from different angles, I found the strongest composition to be one where the tip of the petal was in focus and the rest was thrown out of focus using a shallow depth of field."
"Air Tunes" by Angelo Richardson—Shortlist
Cockchafers, like the one pictured here, are beetles with fan-like antennae on either side of their heads. The antennae are used for finding food or a mate, and the number of "leaves" on each antenna signals the cockchafer's sex—males have seven, and females have six. This male beetle climbing a green reed stood out to Dutch photographer Angelo Richardson.
"In May, while walking our dog just before sunset in the Netherlands, I spotted this cockchafer beetle perched on a water reed, with its antenna nicely unfolded," writes Richardson in a statement. 
"Sawfly Larva" by Alexis Tinker-Tsavalas—Shortlist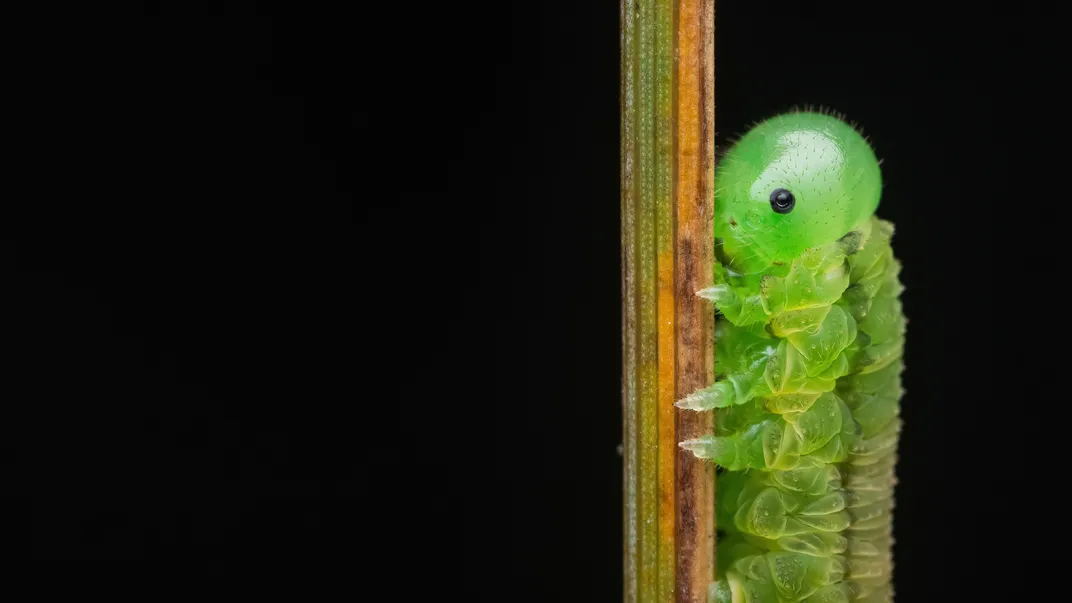 This young sawfly looks larger-than-life as it climbs a blade of grass in this close-up image. German photographer Alexis Tinker-Tsavalas captured the moment in a meadow last summer.
"I decided to leave a black background to contrast the bright green of the larva and went for a slightly wider shot to leave some negative space to one side," Tinker-Tsavalas writes in a statement.
"Stand By" by Krisztina Mácsai—Finalist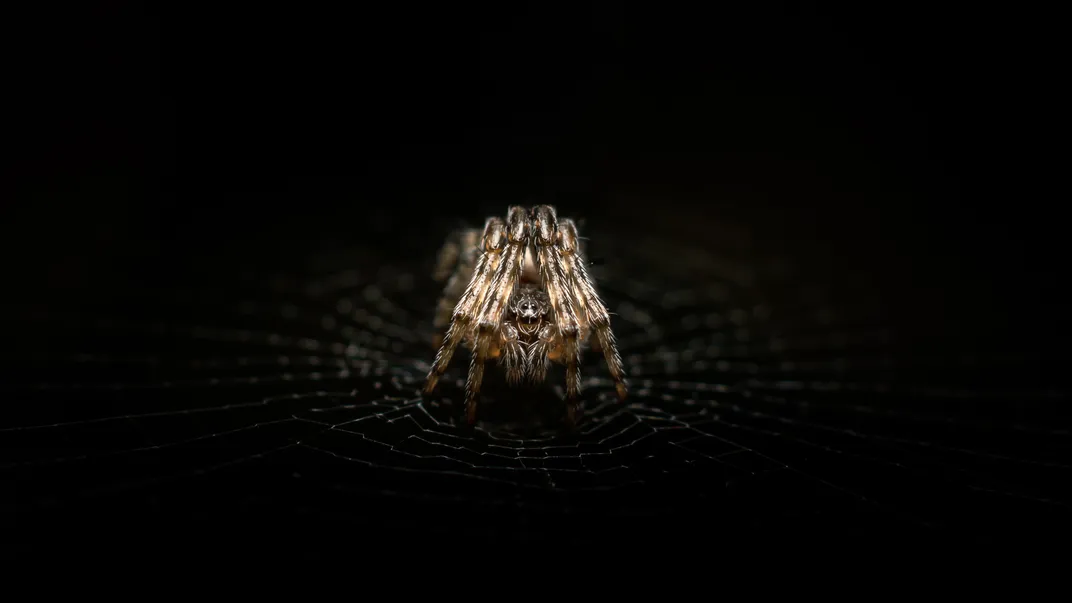 Hungarian photographer Krisztina Mácsai took this photograph of a Cyclosa, or orb-weaver, spider while walking in a forest with some of her photography classmates in Budapest. Mácsai was looking to shoot a close-up picture and ended up capturing this snapshot of a spider peeking through its own legs. 
"It was autumn, and the forest was full of Cyclosa spiders. I searched to find one of these orb-weavers that would allow me to photograph it at this unusual angle," writes Mácsai in a statement. "I had to be very careful not to harm its web."