These Awe-Inspiring Images Capture the World's Little Details
See this year's winners of the annual Close-up Photographer of the Year competition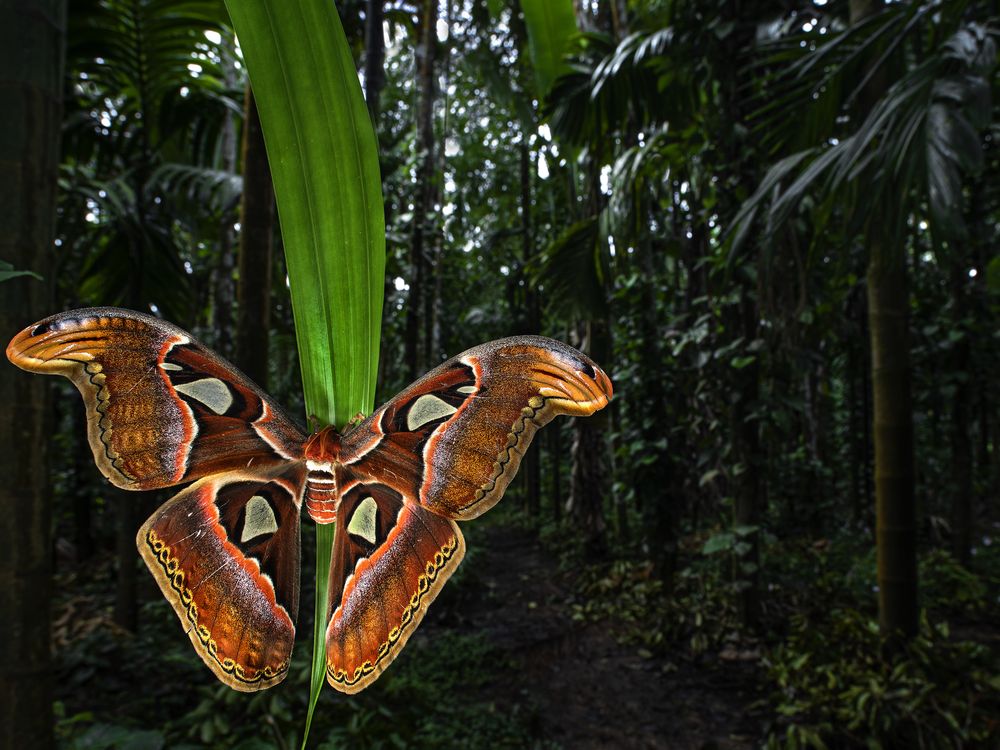 Many of us would walk right by a slime mold-covered log or glance only briefly at a pair of dead salamanders, without giving them a second thought. But for a select few photographers with a keen eye for detail, these small, seemingly insignificant scenes are a window into a deeper understanding of the Earth and its impressive biodiversity.
Since 2018, shutterbugs from around the world have submitted their snapshots to Close-up Photographer of the Year (CUPOTY), an annual competition that celebrates the tiny moments most people overlook. This year's winners showcase the awe-inspiring natural and man-made phenomena occurring all around us, if we would only pause to appreciate it.
"Countless times … I have sat in astonishment at the skill and curiosity of the entrants in capturing the incredible wonder of the world," Tracy Calder, who co-founded the competition with her husband, Dan Calder, says in a statement.
This year, the competition drew more than 9,000 submissions from 54 countries in 11 categories: animals, insects, plants, fungi, intimate landscape, underwater, butterflies and insects, invertebrate portrait, manmade, micro (for photos captured with a microscope) and young close-up photographer of the year (for photographers aged 17 or younger).
A panel of judges made up of photographers and photo editors sifted through the entries to determine the winners. These were some of their favorites.
Salamanders in a carnivorous pitcher plant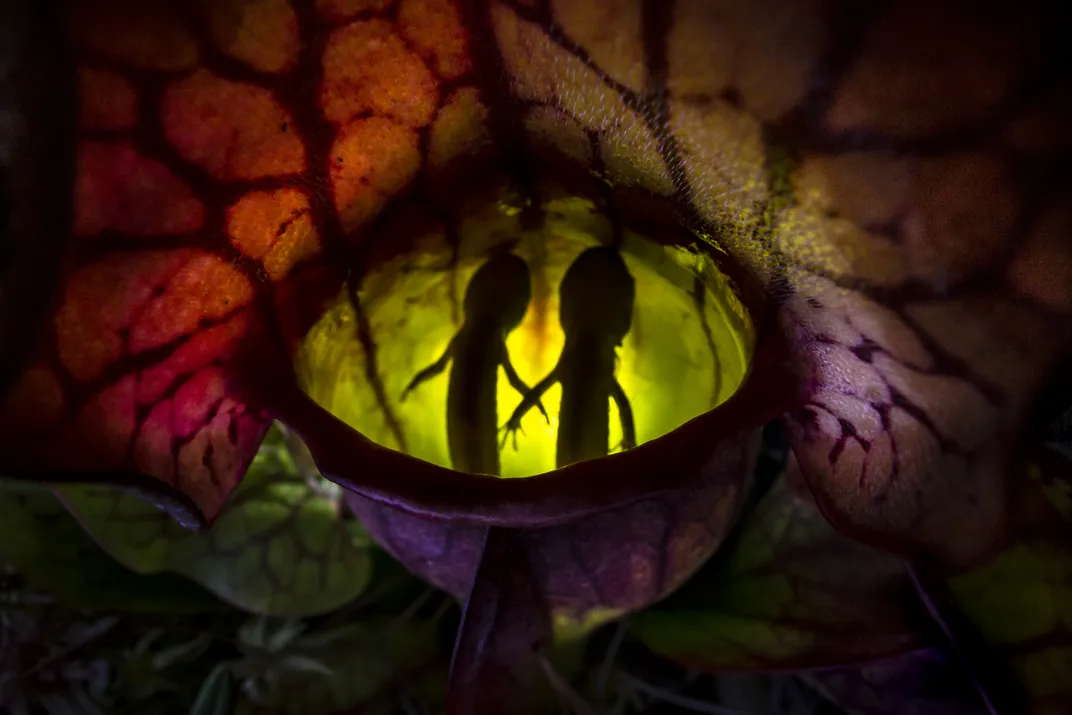 Samantha Stephens, a Canadian photographer, took home this year's top prize with her otherworldly image of a carnivorous pitcher plant preparing to devour a pair of dead salamanders near the Algonquin Wildlife Research Station in Ontario, Canada. As this year's Close-up Photographer of the Year, she won $3,000.
"On the day I made this image, I was following researchers on their daily surveys of the plants," she says in a statement. "Pitchers typically contain just one salamander prey at a time, although occasionally they catch multiple salamanders simultaneously. When I saw a pitcher that had two salamanders, both at the same stage of decay floating at the surface of the pitcher's fluid, I knew it was a special and fleeting moment. The next day, both salamanders had sunk to the bottom of the pitcher."
Slime mold fruiting bodies on a log
With his snapshot of slime mold fruiting bodies on a log, Nathan Benstead, a 17-year-old from Britain, won Young Close-up Photographer of the Year. His winning entry, taken in his local woodland, shows a cluster of yellowish-orange, oblong bulbs protruding from a damp piece of wood—Benstead even managed to capture a delicate bubble perched atop one.
Red algae under a microscope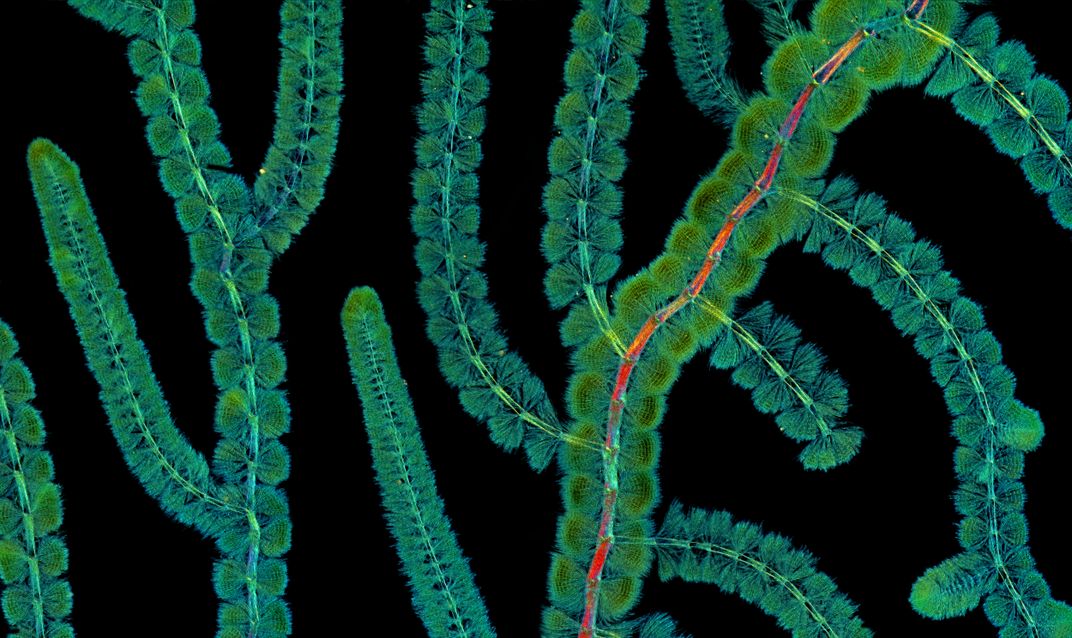 Polish biologist and photographer Marek Miś won the top prize for micro photography with his up-close-and-personal view of Batrachospermum red algae under a microscope. He used a combination of darkfield and polarized light techniques to illuminate the sample he gathered from a small river in Poland's Wigry National Park. To show multiple "twigs" of the algae, he combined more than 100 separate shots to form a panorama that wowed the judges.
'Walking' jellyfish
Georgian photographer Viktor Lyagushkin impressed the judges with his picture of a stalked jellyfish (Lucernaria quadricornis) under the ice of Russia's White Sea as spring arrives in the region. He earned first prize in the underwater category.
"The 'leg' of the jellyfish helps it to attach to a stone or seaweed," says Lyagushkin in a statement. "Its tentacles project up or down, waiting for prey. If its hunt is successful, it catches the prey and collapses its tentacles into a fist. If the hunting site is no good, Lucernaria walks away on its 'leg' or sometimes its 'hands.'"
Frozen slime mold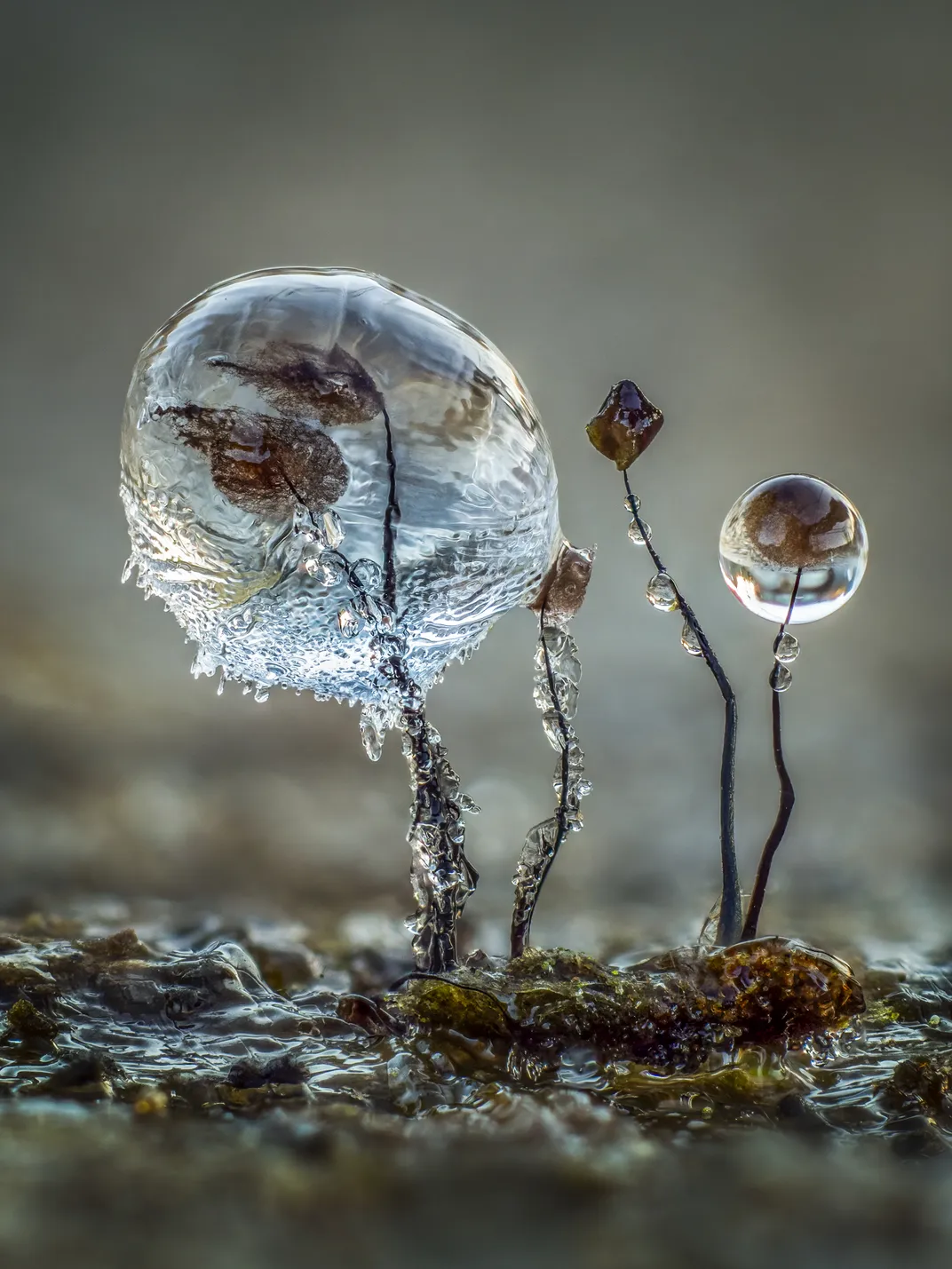 After two days of freezing fog and below-zero temperatures, British gardener and photographer Barry Webb stumbled upon some mature Comatricha slime mold growing from a pile of rotting wood. For his efforts, he won first place in the fungi category.
"I was attracted to the way the ice had encased the slime mold, creating strange, windswept, leaf-like shapes," he says in a statement.
Swarming termites
Near a gas station in Cooch Behar, India, a sight stopped high school teacher and wildlife photographer Anirban Dutta in his tracks: thousands of termites swarming near a streetlight. A black drongo bird, meanwhile, spent nearly 20 minutes diving and swooping through the bugs for a tasty snack. Dutta's resulting snapshot earned him the top prize for the insect category.
Damselfly covered in dew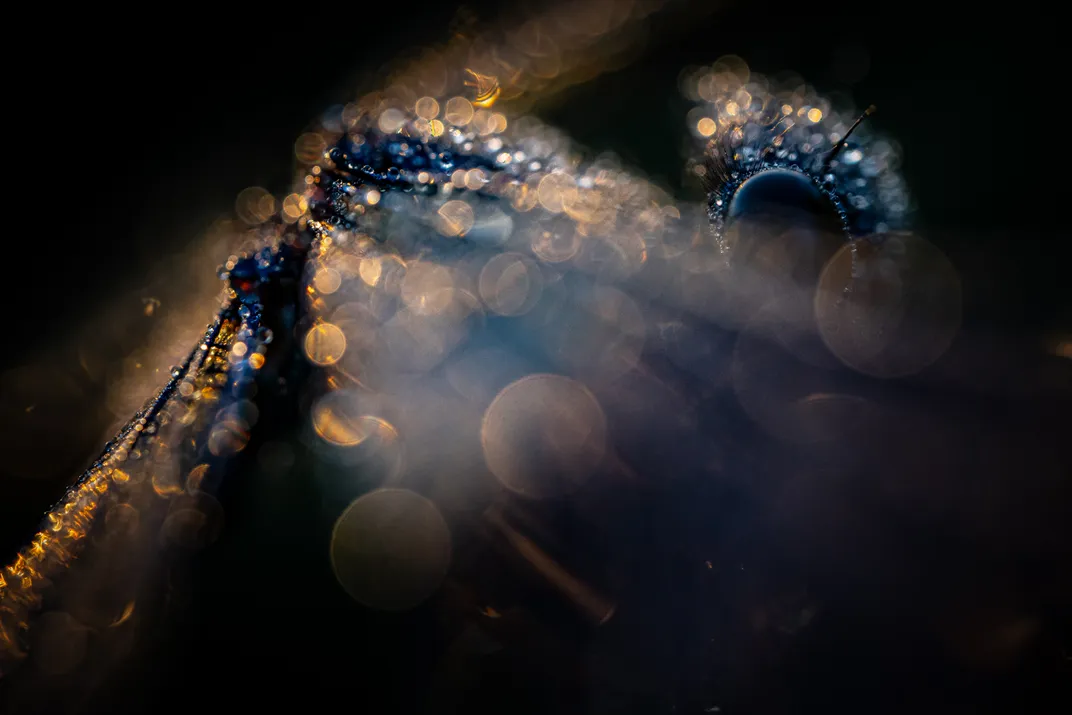 Dutch process consultant and photographer Wim Vooijs spotted a male banded demoiselle damselfly, covered in morning dew drops, near his hometown of Ede, Netherlands. His sparkling image netted him top honors in the butterflies and dragonflies category.
"I like to emphasize the beauty of these insects by showing their strength and vulnerability," he says in a statement. "I'm not after a record shot, more an emotional portrait—maybe this is due to my background as a portrait photographer."
Runners-up: flowers, wildlife and coral