Seattle Is Seeking a Writer to Work on a Bridge
Free studio space in a bridge tower is up for grabs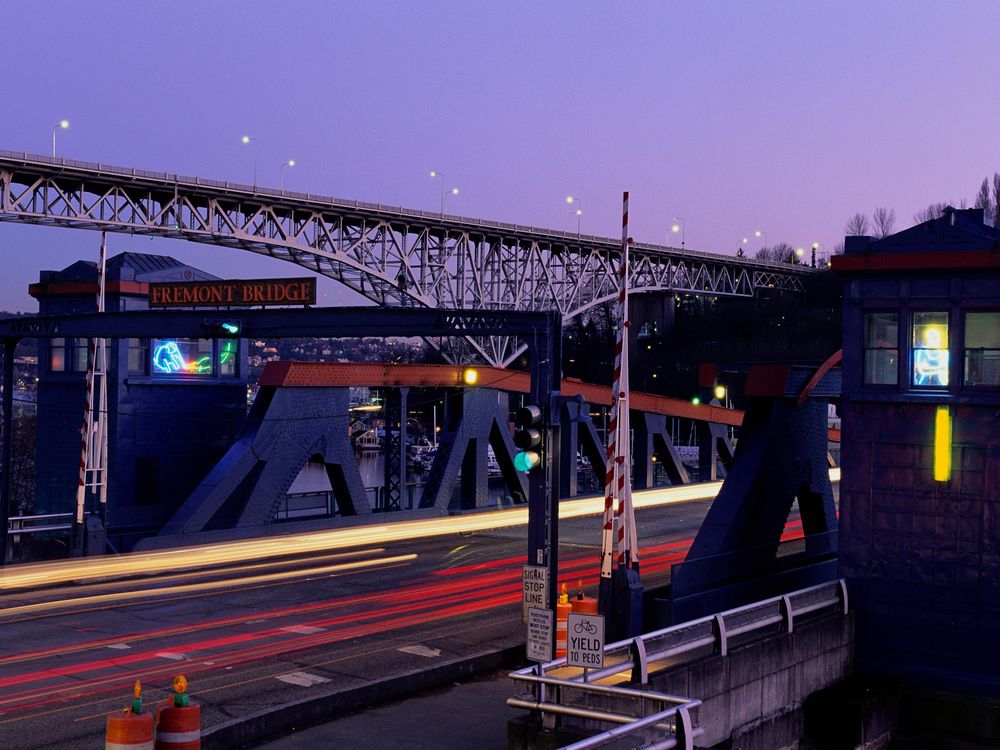 Artists and poets based near Seattle might want to give this one a look: the City of Seattle wants to give free studio space to two lucky artists. The catch? You have to do it on a bridge.
Seattle's Office of Arts & Culture is offering a pair of residencies to artists in need of studio space: one for a writer or poet to work in a simple studio in a tower on the city's historic Fremont Bridge and another for a visual artist to be based in a space in the nearby University Bridge's southwest tower, Levi Pulkkinen writes for the Seattle Post-Intelligencer. The winning artists will also be awarded grant money to cover the residency, paid for by the Seattle Department of Transportation.
This isn't the first time the city has offered space on the Fremont Bridge to artists. During the 1990s, the city installed two neon sculptures by local glass artist Rodman Miller in the Fremont Bridge's north towers called "Rapunzel" and "The Elephant's Child," respectively. Then, in 2009, the bridge's first artist-in-residence, Kristen Ramirez, created a temporary sound installation for the bridge.
"The art takes a lot of different forms," Office of Arts & Culture deputy director Calandra Childers tells Pulkkinen. "Sometimes it's a freestanding sculpture, like you'd think of. … Sometimes it's something that's really integrated into the building design."
Over the years, the city of Seattle has funded hundreds of public artworks thanks to an ordinance that requires 1 percent of all eligible capital improvement project funds go toward funding public art. The art, which range from temporary installations to permanent displays, are installed throughout the city, Pulkkinen writes. For these projects, the winning writer based at the Fremont Bridge will be awarded a $10,000 grant to create a series of writings inspired by the bridge, while the visual artist will be given a $15,000 grant to design and install a lighting display on all three of its historic bascule bridges: the University, Fremont, and Ballard.
While Seattle features almost 150 different bridges crisscrossing inlets and channels around the Puget Sound, these three bascule bridges are among the oldest, having all been built over local shipping lanes between 1917 and 1919, according to the Seattle Department of Transportation. The Fremont Bridge is one of the world's busiest bascule bridges, opening an average of 35 times a day to let marine traffic by. Childers hopes that these residencies will allow the winning artists to reflect on the bridges' importance, both to themselves and to Seattle at large.
"Having an artist reflect on what they are to the city … helps us see things that we might not have seen," Childers tells Pulkkinen.
Luckily for the artists, the term "residency" is a bit misleading: while they will be given access to studio space on the bridges, they won't have to live there while they pen their odes to the city's bridges or design new lighting displays.
"It's not a living residency," Childers tells Pulkkinen. "It's a working residency. It's a small space. It's not super well-heated. There's no running water. It's a place for them to work. It's a studio space."
The Seattle Office of Arts & Culture is accepting applications for both writing and visual projects until February 16.