San Diego Is Dousing Its Streets With Bleach to Contain Hepatitis A Outbreak
The outbreak is primarily affecting the city's homeless population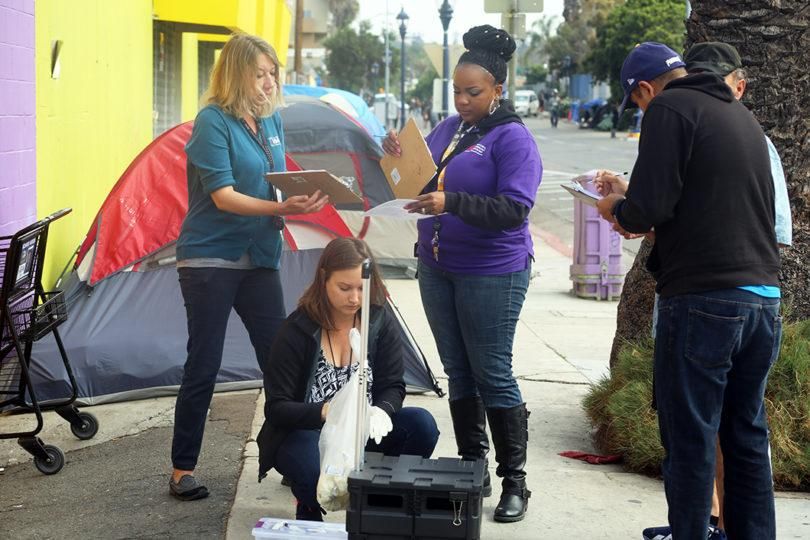 Earlier this month, California's San Diego County declared a public health emergency over a rampant hepatitis A outbreak that has killed 16 people and sent 300 others to the hospital. Now, in an effort to curb the spread of the disease, the city of San Diego has started to douse its streets with bleach, Lindsey Bever reports for the Washington Post.
The majority of people affected by the outbreak are "are homeless and/or illicit drug users," according to a statement from San Diego County's Health and Human Services Agency. The disease is being spread through "contact with a fecally contaminated environment," the statement adds. It is believed that a lack of public restroom access in areas where homeless populations congregate is in part to blame.
To combat the disease, workers in San Diego began washing downtown streets with diluted bleach earlier this week. As Merrit Kennedy of NPR reports, the process involves spraying bleach onto hazardous materials like needles and human waste, waiting ten minutes, removing the materials, spraying the area again and then pressure-washing it with water.
Workers are expected to finish the street cleaning process by Friday. After that, the city will continue to spray the streets with bleach every two weeks.
San Diego has also announced that 14 restrooms in Balboa Park, a popular location among the city's homeless population, will be open 24 hours a day. The city's efforts come in response to an August 31 letter by the County, calling on San Diego to wash its streets and expand public washroom access.
"By disinfecting our sidewalks and making additional public restrooms available 24/7, we're following the direction of County health officials to address the unsanitary conditions that have helped fuel this outbreak," Craig Gustafson, senior director of communications for Mayor Kevin Faulconer, tells Gary Warth of the San Diego Union-Tribune. "We're taking swift action to eradicate this virus from our streets and keep our most vulnerable residents safe."
The County has implemented a number of other containment measures. More than 19,000 people, including 7,300 at-risk individuals, have been immunized with hepatitis vaccinations. Dozens of hand washing stations are being installed in areas where homeless people gather, and 2,400 hygiene kits—equipped with sanitary materials like water, alcohol-free hand sanitizer and cleaning wipes—have been distributed.
Hepatitis A is a highly contagious liver disease that can cause a range of symptoms, including fever, jaundice, joint pain, stomach pain, vomiting and dark colored urine. In rare cases, it is fatal. According to the World Health Organization, the spread of hepatitis A is closely associated with poor sanitation and hygiene. The disease can be effectively controlled with the hepatitis vaccine.