Ruth Pfau, "Mother of Leprosy Patients," Has Died
Over five decades, the German-born physician and nun treated thousand of patients and got the leprosy epidemic under control in Pakistan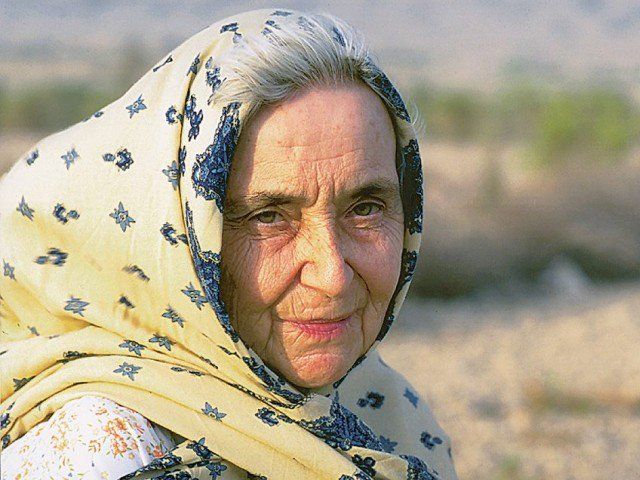 Yesterday, Ruth Pfau died at the age of 87 in a hospital in Karachi, Pakistan. While not well-known in the United States, Deutsche Welle reports that in Pakistan, the German doctor and Catholic nun is known as the "mother of leprosy patients," for her five decades of work treating those afflicted by the disease.
Colin Dwyer at NPR reports​ that Pfau's order, the Daughters of the Hearts of Mary, sent her to India when she was 29 years old. But before she began her work there, a visa snafu left her stuck in Karachi. Mark Lobel at the BBC reports that's when she saw leprosy up close for the first time and decided that would be her life's work. "Actually the first patient who really made me decide was a young Pathan," she told Lobel.  "He must have been my age, I was at this time not yet 30, and he crawled on hands and feet into this dispensary, acting as if this was quite normal, as if someone has to crawl there through that slime and dirt on hands and feet, like a dog."
After a brief stint in India, she returned to Pakistan, where she lived and worked the rest of her life. According to the BBC, she began rescuing children who were disfigured by leprosy who had been forced to live in cattle pens and caves, bringing them to clinics set up around the nation. She helped found the National Leprosy Control Centre and trained doctors and aides at the Marie Adelaide Leprosy Center.  She was granted Pakistani citizenship in 1988. ​
Harald Meyer-Porzky of the Ruth Pfau Foundation based in Würzburg says that over the decades Pfau had "given hundreds of thousands of people a life of dignity."
With Pfau's help, Pakistan was able to declare leprosy under control in 1996. "Leprosy elimination is successfully being achieved; however, elimination is not the end of leprosy," said Pfau at the time. 
Since its inception in 1956, the Marie Adelaide Leprosy Center, which Pfau worked for, has treated more than 56,500 leprosy patients at 157 centers across Pakistan. Even still, Pfau continued to push for public awareness of leprosy in her last years, pointing out that there were still 300 to 400 new cases of the disease reported each year, and it would take at least another 20 years of concentrated effort to eliminate it from Pakistan. And even after that, those disfigured by the disease would still need help overcoming the physical disabilities caused by the disease and the social stigma associated with it.
Lobel reports that it took some effort on Pfau's part to get the government to cooperate with her anti-leprosy efforts, but she eventually got its cooperation and was named the nation's federal advisor on leprosy. "We are like a Pakistani marriage. It was an arranged marriage because it was necessary," she told Lobel. "We always and only fought with each other. But we never could go in for divorce because we had too many children."
Prime Minister Shahid Khaqan Abbasi has announced that Pfau will receive an official state funeral. "Ruth Pfau may have been born in Germany, her heart was always in Pakistan," he writes in a statement. "She came here at the dawn of a young nation looking to make lives better for those afflicted by disease, and in doing so, found herself a home. We will remember her for her courage, her loyalty, her service to the eradication of leprosy, and most of all, her patriotism."
Pfau wrote several books about her work in Pakistan, with a new volume in English titled, The Last Word Is Love: Adventure, Medicine, War and God, due out in November. Her funeral is scheduled for August 19 at St. Patrick's Cathedral in Karachi.