Runaway Sprinkles from the Museum of Ice Cream Create 'Environmental Hazard' in Miami Beach
Here's the scoop: officials are worried that the museum's fake sprinkles will get washed into oceans and eaten by marine creatures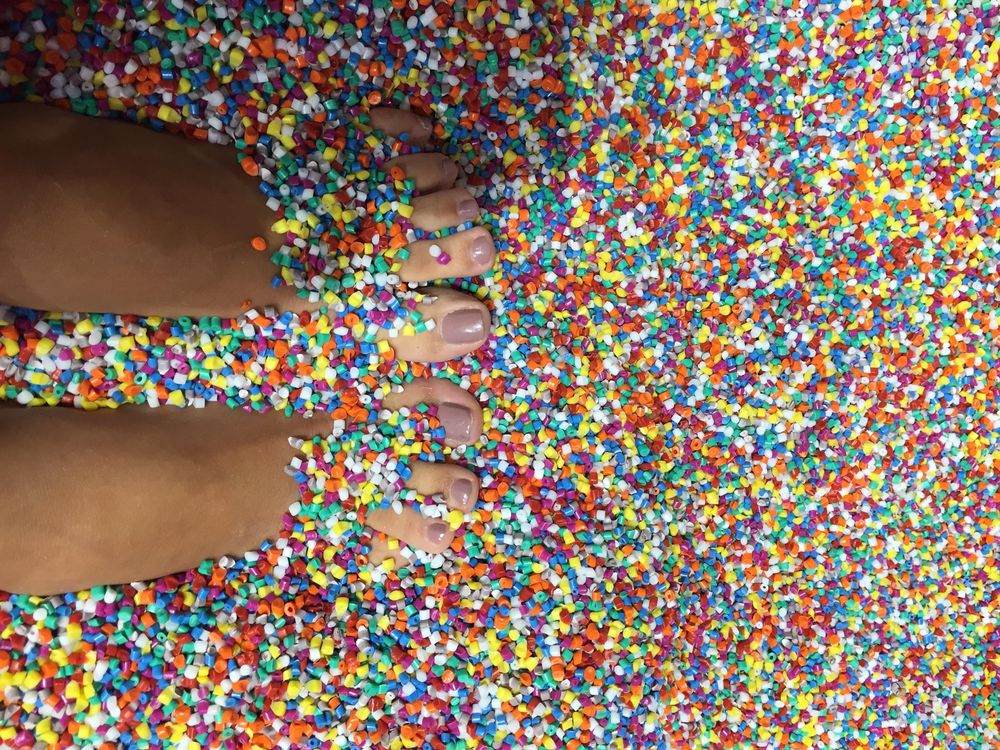 One of the main attractions of the Museum of Ice Cream, a pop-up that has been touring the country and taking over your Instagram feed, is a giant pool filled with fake sprinkles, where visitors can frolic and temporarily forget that they are adults with responsibilities. But in Miami Beach, where the Museum of Ice Cream is currently stationed, runaway sprinkles have prompted city officials to slap the museum with a $1,000 fine for creating an "environmental hazard," according to Brittany Shammas of the Miami New Times.
As it turns out, fake sprinkles are like glitter: They get everywhere.  After the Museum of Ice Cream opened in Miami Beach last month, local environmentalist Dave Doebler filmed little bits of candy-colored plastic—which most likely hitched a ride on visitors—scattered on the sidewalks and streets around the museum. Activists are concerned that rain will wash the sprinkles into storm drains and then into Biscayne Baye, where they could entice marine animals to take a bite.
The Museum of Ice Cream, in other words, could be contributing to a much bigger problem. As Mindy Wiesberger of Live Science notes, the world's oceans are believed to contain 5.25 trillion pieces of plastic, which pose a threat to sea creatures that mistake the plastic for food.  
This isn't the first time that environmentalists have raised alarm bells about the sprinkle pool. The Museum of Ice Cream launched in New York in 2016, and then traveled to Los Angeles and San Francisco before reaching Miami Beach. In October of last year, Alix Martichoux of SF Gate reported that the faux confections were making their way out of the museum and onto city streets.     
"Most plastic has a purpose, like bottle caps and food wrappers," Eva Holman, an environmentalist affiliated with the Surfrider Foundation, told Martichoux at the time. "What is the purpose of this tiny piece of plastic other than a selfie moment?"
In Miami Beach, city officials acted quickly to curb the sprinkle fallout, issuing a courtesy notice and sanitation violation, which carries a $1,000 penalty. City spokesperson Melissa Berthier tells Shammas of the Miami New Times that the museum has instituted a number of measures to insure that its sprinkles stay confined to their pool, "including but not limited to the hiring of a cleaning crew, instituting checkpoints to remove sprinkles indoors, vacuums to remove sprinkles that escape, and relocating the pool to the beginning instead of the end of the museum." Drains near the museum have reportedly been layered with felt to catch any rogue sprinkles.
Museum spokeswoman Devan Pucci says in a statement to the New Times that the attraction is also "planning to install blowers that hit visitors on three different door entrances when they leave from the sprinkle pool." At some point in the "near future," Pucci notes, the museum hopes to introduce biodegradable versions of the colorful toppings, so humans can have their sprinkles and animals won't eat them too.