To Save Cannonballs on Henry VIII's Flagship, Researchers Looked to X-ray Tech
The more than 1200 cannonballs found on The Mary Rose are facing a major problem—corrosion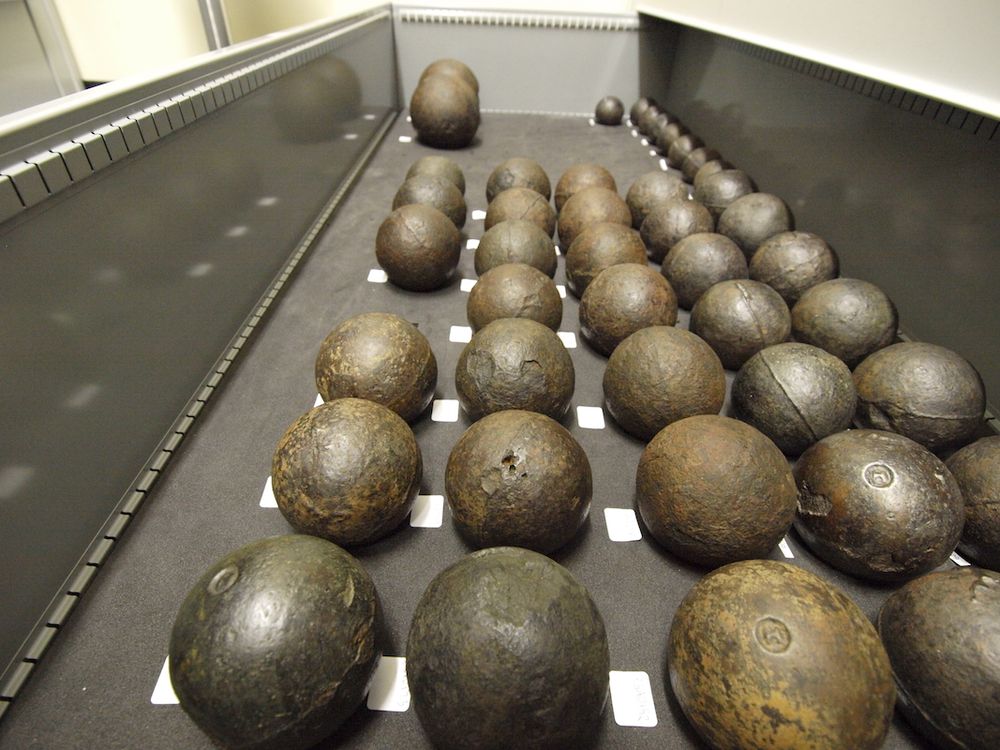 In 1982, The Mary Rose was raised from the sea.
The famous Tudor-era ship sank off the south coast of England during an engagement with the French in 1546. Resurfaced some 400 later, researchers found Henry VIII's flagship housed a time capsule of ancient artifacts, including more than 1,200 cannonballs. While some were made of lead, stone and other materials, the majority were made of iron.
Since they've been exposed to air, however, the cannonballs face a major problem: chlorine from the sea is making them corrode.
Now, as Pallab Ghosh reports for BBC News, a newly published paper details an ongoing project to conserve the historical artifacts.
The research team is headed by Eleanor Schofield, head of conservation for the Mary Rose Trust, which runs the Mary Rose Museum in Portsmouth, United Kingdom, with the help of a team from University College London and X-ray facility Diamond Light Source.
Earlier, Schofield's team had tried to soak the cannonballs in solution to remove the chlorine. But after the cannonballs started disintegrating when they were on display, they realized the process couldn't remove all of the chlorine.
That's when Schofield realized a larger research project was need to figure out what was going on inside the cannonballs.
With Diamond Light Source, the team has used X-ray technology to take a look at what's inside 12 of the cannonballs in the stock.
In hopes of saving the rest of the collection, the team made the decision to cut segments from six of the cannonballs, some of which were damaged, to gain new insight into what was causing the corrosion.
"We knew that we needed to really delve into the material and find out what was going on, and that this would require destructive sampling," Schofield says in a press release. "This decision was not taken lightly, and was justified by sacrificing a small percentage of our collection for the benefit of the rest and other collections around the world which suffer the same problem."
The results of Diamond's bright light X-rays has given the team some insight into iron production during this time period. The perspective of how elements work in the corrosion process, they hope, will lead to conservation solutions.
This is the first time a project of this kind has been performed on such a uniform set of artifacts.
The team will now work on developing new techniques to protect the artifacts, which will involve testing in a lab to mimic the corrosion process by exposing metal and corrosion products to different solutions.