Have Researchers Unraveled the Six-Decade Mystery of a Kansas Museum Portrait?
The team believes it has identified the rightful artist behind 'Mrs. Thomas Pelham,' a nearly life-size portrait depicting an 18th-century aristocrat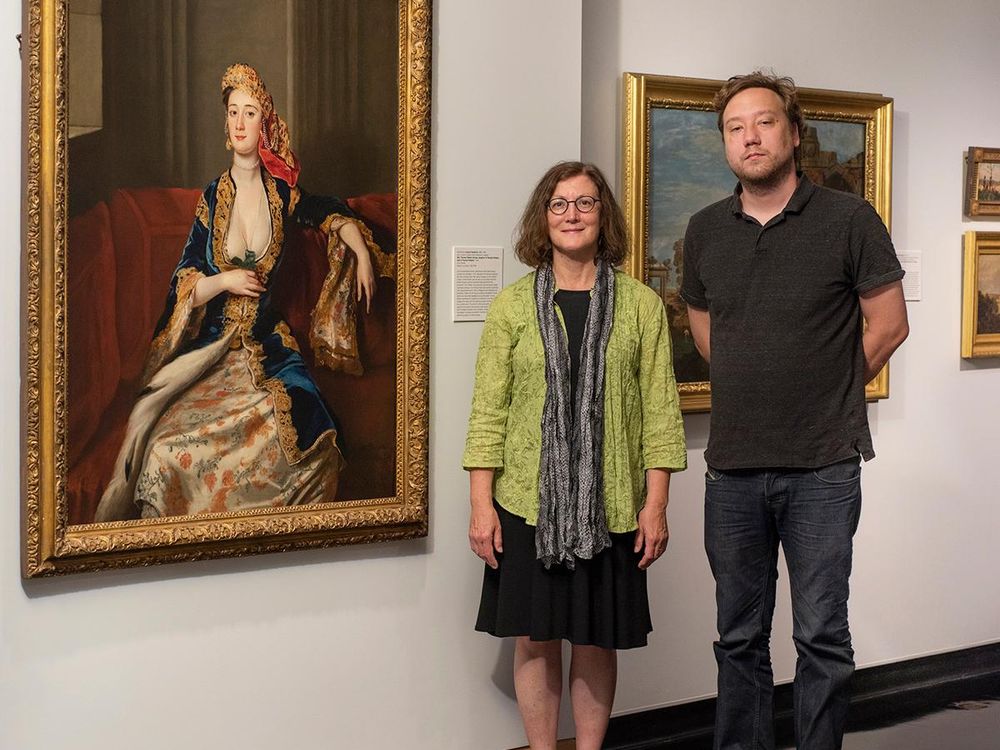 In the portrait, Annetta Pelham meets the viewer's gaze head-on. If the slightest hint of a smile beneath her patronizing stare wasn't enough to suggest that she's a woman of high standing, the plunging neckline of her blue velvet gown and sumptuous glitter of the jewels adorning her headdress leave little room for uncertainty.
It's been nearly 300 years since the real Pelham sat for the portrait described above, but her appeal remains undiminished. Since 1950, her likeness—fittingly entitled "Mrs. Thomas Pelham"—has hung on the walls of the Spencer Museum of Art in Lawrence, Kansas, drawing in visitors and curators alike with its magnetic sensuality.
The artist behind the canvas has long been a mystery, but according to Joanna Hlavacek of local news outlet the Lawrence Journal-World, researchers have finally attributed the painting to British portraitist and illustrator John Vanderbank.
Born in London in 1694, Vanderbank rose to fame during the reign of King George I. He illustrated an early edition of Miguel de Cervantes' "Don Quixote" and was acclaimed for his portraits of high-class subjects such as Sir Isaac Newton. Unfortunately, Vanderbank's skill was matched only by his extravagant lifestyle, and in 1729, he fled to France in an attempt to avoid creditors.
This truncated timeline of English residency enabled curator Susan Earle and doctoral student Tyler York to identify the Pelham portrait as a Vanderbank work.
Soon after the Spencer Museum's acquisition of the painting, it was erroneously attributed to William Hoare, an Englishman who fine-tuned his craft in Italy during the late 1720s and '30s. Sometime before the 1980s, Joseph Highmore, a lawyer-turned-portraitist who painted in the Rococo style, was given credit for the work. But Earle long-suspected neither artist was the rightful creator of the painting.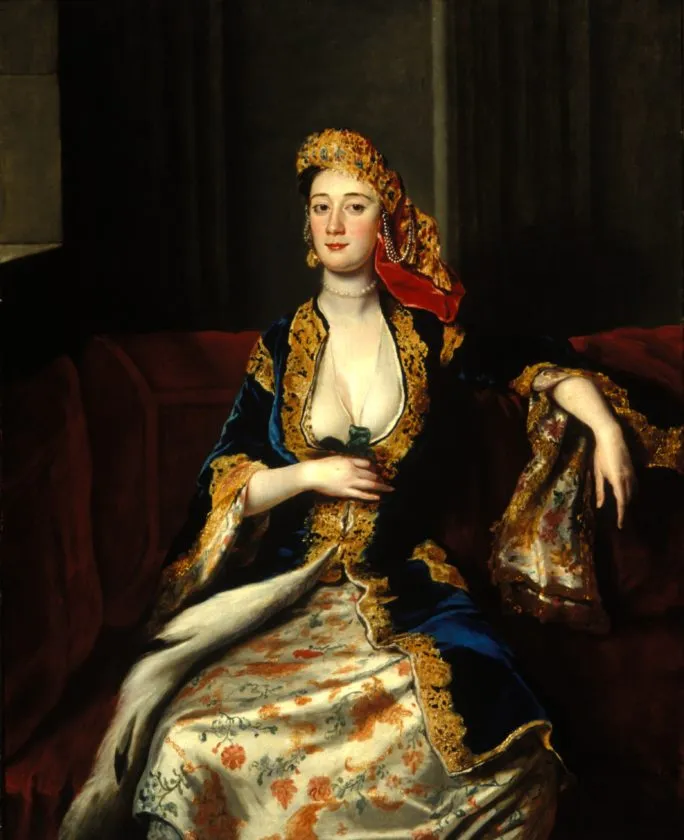 "We knew the prior names associated with the maker were not quite right," Earle says in a statement.
As Hlavacek reports, York, serving as the Spencer's Andrew W. Mellon Foundation/Loo Family intern for European and American Art, built on the work of predecessor Chassica Kirchhoff by analyzing digitized records from British archives. He discovered that Pelham, who was born in 1707, married merchant Thomas Pelham—nicknamed "Turk" due to his frequent trading jaunts to Constantinople—when she was just 18. Less than 10 years later, she was dead of unknown causes.
Pelham sat for the portrait around 1726, the year after her marriage to Thomas. At this point, Highmore and Hoare had not yet established themselves as eminent portraitists, York explains in a statement, whereas Vanderbank was painting royalty and members of the British elite.
Connections between the Vanderbank and Pelham families also point to the identity of the portrait's creator: York notes that Vanderbank's father, John Vanderbank the Elder, headed a prestigious tapestry workshop known for its renderings of exotic Middle Eastern subjects. It's likely that Thomas Pelham, a textile merchant, supplied fabrics for the elder Vanderbank.
Also of note is Moses Pelham Vanderbank, son of the artist's brother, whose name hints at a potential tribute to the families' relationship.
The most convincing evidence for the newfound attribution, York and Earle argue, are the stylistic hallmarks seen in both "Mrs. Thomas Pelham" and a known Vanderbank work, "John Dodd, of Swallowfield, Berkshire." The portraits share a focused approach to their foregrounded subjects, as well as a precise method of depicting embroidered clothing against a sketchy background.
Cosmetically speaking, little has changed for the portrait of Pelham; it remains one of the highlights of the museum's collection, enticing visitors with Pelham's knowing expression and intricate Turkish-inspired attire. The only difference—at least if Earle and York's proposed reattribution is accepted—will be a new wall tag for the display, informing visitors of the portait's storied, finally resolved past.