NASA Announces World's New Lightning Hotspot
The electric capital tops the charts with lightning storms 297 nights per year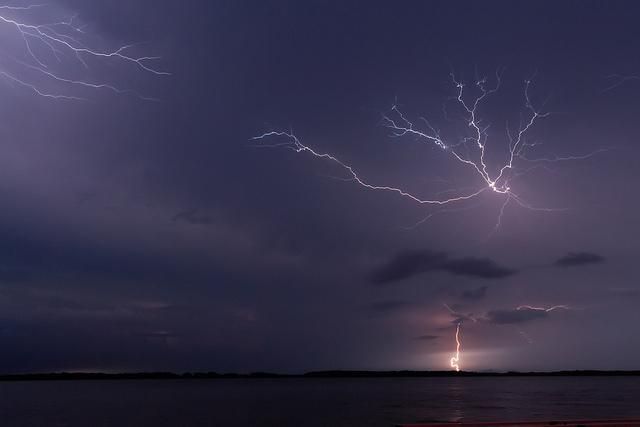 In 1997, NASA launched the Tropical Rainfall Measurement Mission Observatory, expecting the little satellite to last for three years. But the mission didn't close up shop until 2015, providing researchers years of climactic data, including rainfall and more. Scientists have crunched the numbers from one little gadget aboard the satellite, the Lightning Imaging Sensor, and recently announced that the Earth has a new top location for lightning: Lake Maracaibo in the Andes Mountains of northwest Venezuela.
Maracaibo unseats the Congo Basin as the planet's flash center. According to a press release from NASA, Lake Maracaibo has been on their radar (literally) for years, but until now, no one had crunched the 16 years' worth of data.
According to the study, which will be published in the Bulletin of the American Meteorological Society, in a single year, each square kilometer of Maracaibo experiences an average of 232.52 lightning flashes. The thunderstorms over the lake are so frequent that sailors in the Caribbean used the flashes as a lighthouse in colonial times. According to a Spanish poem, the lightning once thwarted an attack by English pirates. Named for the river entering at the southwest edge of the Lake, the storms are known locally as Catatumbo lightning, The Never-Ending Storm of Catatumbo, or the Lighthouse of Catatumbo and are so regular and spectacular boats take tourists out to see it.
Why so much lightning? As cool breezes from the nearby mountains flow down the slopes of the Andes, they converge with the warm, moist lake air. This mingling sets off 297 nightly thunderstorms per year, with a pyrotechnics peak in the month of September.
The location of the lighning, however, is unexpected. "One of the most interesting aspects was to discover that the place with the most lightning on Earth is over water, and during the night," lead author Dr. Rachel I. Albrecht of the University of São Paulo in Brazil tells The American Meteorological Association. This opposes the global trend of lightning strikes that occurr most commonly over land in the afternoon.
The study also reveals that out of the 500 top lightning hotspots the most are located in Africa, which hosts 283 sites. Asia claims second place with 87 sites, then follows South America with 67, North America with 53 and Oceania with 10. Six of the top ten spots are in Africa near Lake Victoria and other bodies of water in the East African Rift Valley, where climate patterns similar to Lake Maracaimbo produce fantastic storms.
It's unlikely Maracaibo will be unseated anytime soon, but researchers will continue to count flashes with the new Geostationary Lightning Mapper, which will be aboard the GOES-R mission, a 20-year climate observation satellite that launches in October, 2016.
Here are the world's top ten lightning hotspots, each listed with the average lightning flashes per square kilometer per year:
1 Lake Maracaibo, Venezuela, 232.52
2 Kabare, Dem. Rep. of Congo, 205.31
3 Kampene, Dem. Rep. of Congo, 176.71
4 Caceres, Colombia, 172.29
5 Sake, Dem. Rep. of Congo, 143.21
6 Dagar, Pakistan, 143.11
7 El Tarra, Colombia, 138.61
8 Nguti, Cameroon, 129.58
9 Butembo, Dem. Rep. of Congo, 129.50
10 Boende, Dem. Rep. of Congo, 127.52