Replicas of a Temple Nearly Destroyed by ISIS Are Coming to New York and London
A surviving archway from Palmyra will be recreated as a symbol of defiance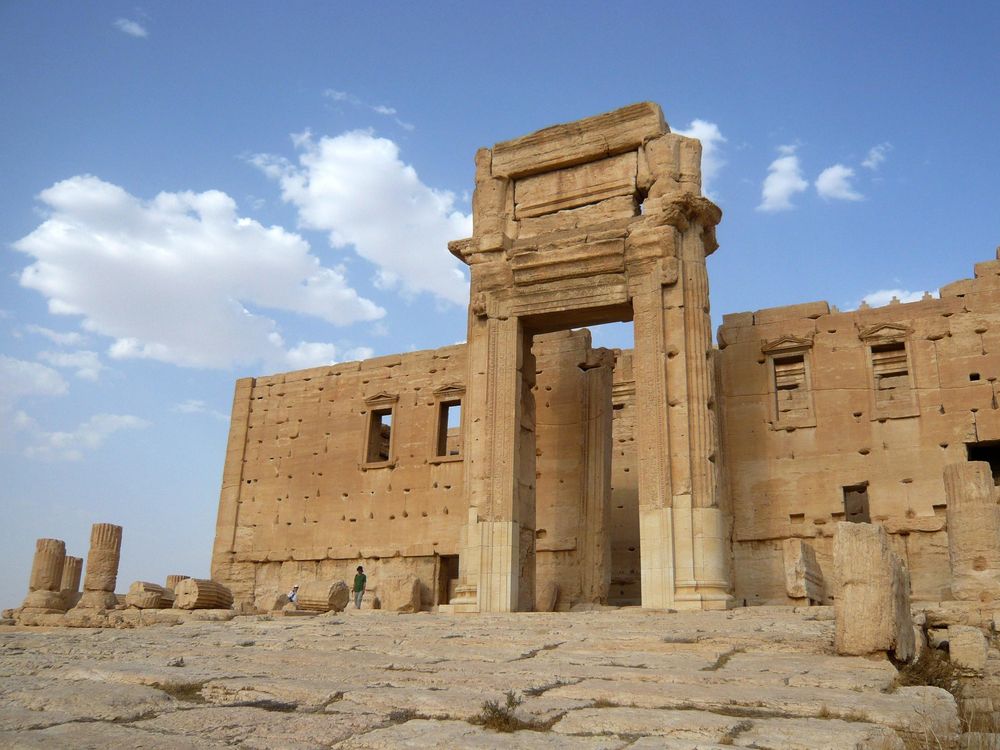 Earlier this year, some archaeologists' worst fears were realized when the militant group known as ISIS took control of the ancient Syrian city of Palmyra in May and proceeded to systematically destroy many of its ancient buildings and monuments. Now one Palmyran monument that appears to have escaped damage is being replicated in New York City and London as a "gesture of defiance" against the militant group's mission to destroy historical artifacts, Damien Gayle reports for the Guardian.
Soon both Times Square and Trafalgar Square will feature replicas of the 50-foot-tall archway marking the entrance to Palmyra's Temple of Bel. The structure was built around 2,000 years ago as a temple to a Mesopotamian god but was used as a Christian church and an Islamic mosque, Brian Boucher writes for artnet News. While satellite images taken in September revealed that the militants had destroyed most of the ancient temple, recent reports suggest that other parts of the site, including the archway, sustained damage but still somehow managed to remain mostly intact.
"[The reconstruction] is really a political statement, a call to action, to draw attention to what is happening in Syria and Iraq and now Libya," Roger Michel, executive director of the Institute for Digital Archaeology (IDA) tells Gayle. "We are saying to them 'if you destroy something we can rebuild it again'"
As ISIS has gained territory throughout the Middle East, its soldiers have waged a methodical campaign to destroy ancient, pre-Islamic monuments, which they consider "idolatrous." Historians and archaeologists around the world have also repeatedly released warnings to museums and private collectors to watch out for artifacts that may have been looted from the region, as ISIS has been smuggling antiquities to fund its operations.

Meanwhile, researchers from the IDA are working with Unesco to equip volunteers with 3-D cameras to document other potentially endangered historic sites throughout the Middle East and North Africa. Representatives from the IDA and Unesco hope that the replicas on view in New York and London will help raise awareness of the value of preserving these monuments for people around the world, the BBC reports.
Since the archway was damaged before it could be scanned, IDA researchers are using thousands of previously catalogued photographs in order to construct a model. The two monuments will be built using a 3-D printer and installed during Unesco's World Heritage Week in April, the BBC reports.

"We tend to think about cultural heritage in a somewhat parochial way. We also think of other people's cultural heritage as being something that's particular to them," IDA's director of technology Alexy Karenowska tells Gayle. "The idea is to underline that cultural heritage is something that's shared between people. It's about people's roots and it's important to recognize also that this is something that as humans we do all understand on some deep level."